Spanning two Atlantic coastlines and known as one of the world's top surf and yoga destinations, you're spoilt for choice when it comes to yoga retreats and surf camps in the Algarve.
This slice of paradise in the sunny south of Portugal is dotted with traditional white washed Portuguese fishing villages, picture perfect beach coves with dramatic cliffs and unspoilt natural beauty perfect for active and healthy holidays.
The Best Yoga Retreats and Surf Camps in The Algarve, Portugal for 2023
With the surf scene in Portugal only going from strength to strength and the huge amount of yoga retreats and surf camps in the Algarve on offer, it can be tricky to determine which are the best.
Many Algarve retreats combine surfing and yoga for the perfect active holiday so you don't even to need to choose between the two – they compliment each other perfectly!
So, to help you narrow it down, I've put together this post with my top tips and  recommendations for the best surf and yoga retreats in the Algarve.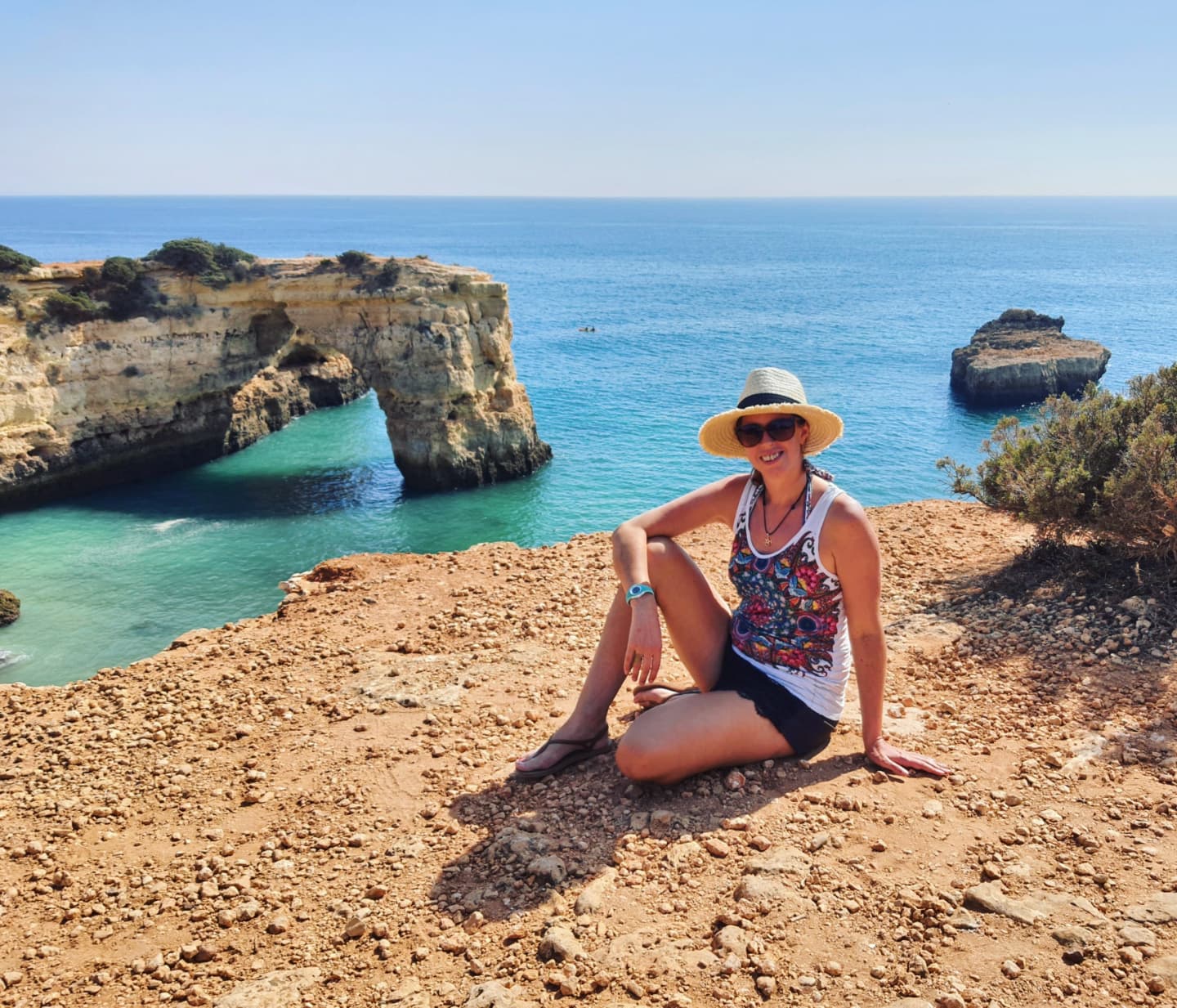 Best Places for Yoga and Surfing in The Algarve
The Algarve is a region with many historic towns and beautiful beaches to explore. While places around Faro and Lagos are some of Portugal's most popular and busy tourist destinations, many of the best surf spots and yoga retreats in the Algarve are away from the main resorts on unspoilt beaches and surrounded by natural beauty.
Some of the most famous places to surf in Portugal include Peniche, Nazare and Ericeira on the coast between Lisbon and Porto. While the best Algarve surf spots are found around Sagres, Arrifana, Aljezur, Odeceixe, Carrapateira and Lagos and offer warmer and more beginner friendly conditions with a wide variety of surf camps, lodges and hostels that are great for learning to surf.
Lagos, Aljezur and the mountains of Monchique are home to some great yoga and mediation retreats.
Best Time for Surfing in the Algarve
The best time to visit the Algarve will depend on your surf level. Beginners will find conditions easier for learning to surf in the summer months, while intermediate and more advanced surfers will enjoy the bigger winter waves.
The sea temperatures in the Algarve are higher than in the rest of Portugal but you'll still need a wetsuit apart from the middle of summer.
Pin Me! 😉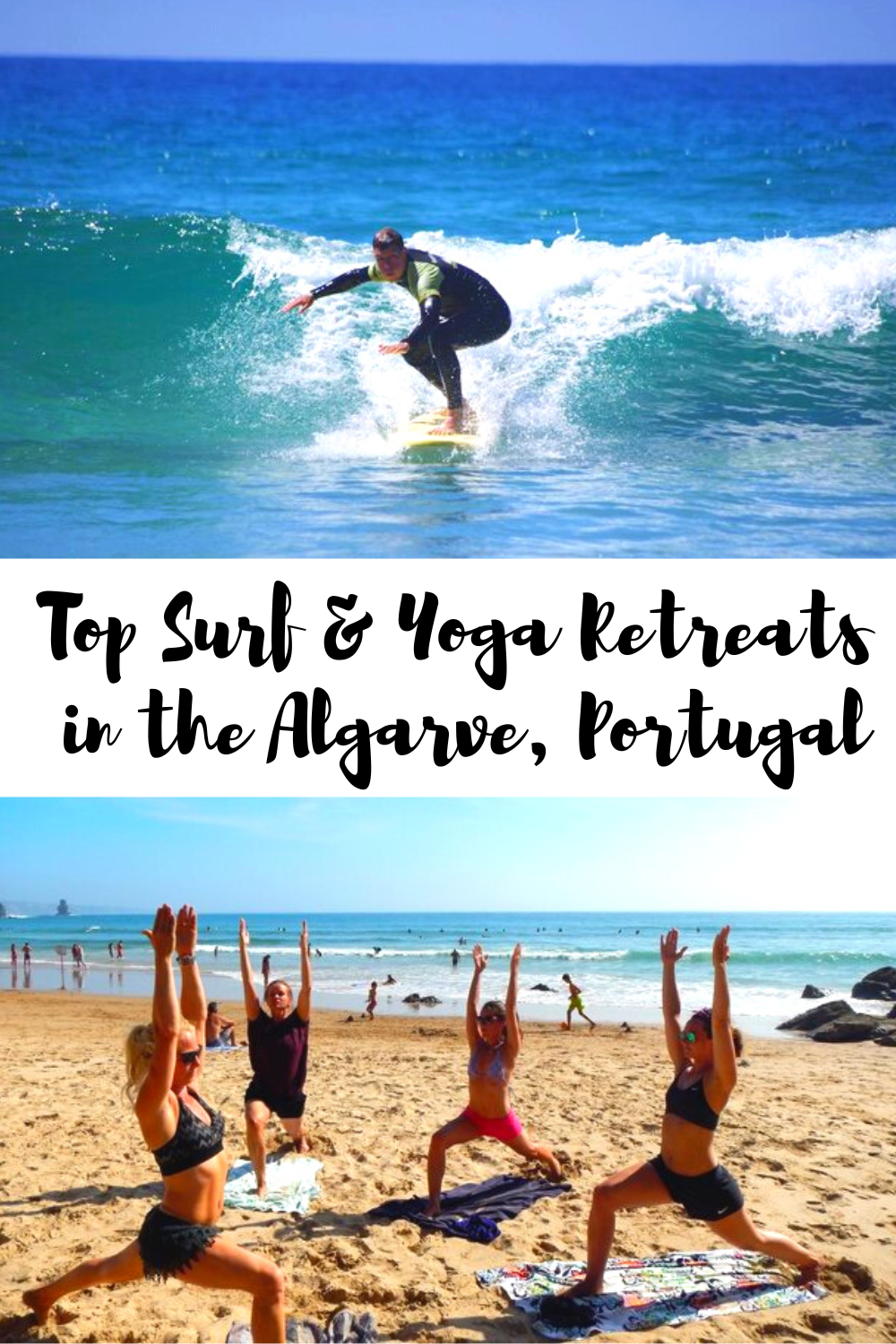 Reasons to Join a Yoga and Surf Camp
Surfing is not as easy as it looks so I really recommend joining a surf camp in the Algarve to learn to surf or improve your skills in a fun and safe way.
Having experienced instructors teach you how to catch a wave safely is important plus they also have invaluable expert local knowledge so they will take you to the best surf spots for your level depending on the forecast that day.
When you join a surf camp you get to progress much quicker and have a better and safer experience. You'll also get to meet other like-minded people in a fun, friendly and sociable environment.
Most surf camps include accommodation, meals, lessons, board hire, and some also include yoga classes, transfers and local excursions, so they are also great value for money.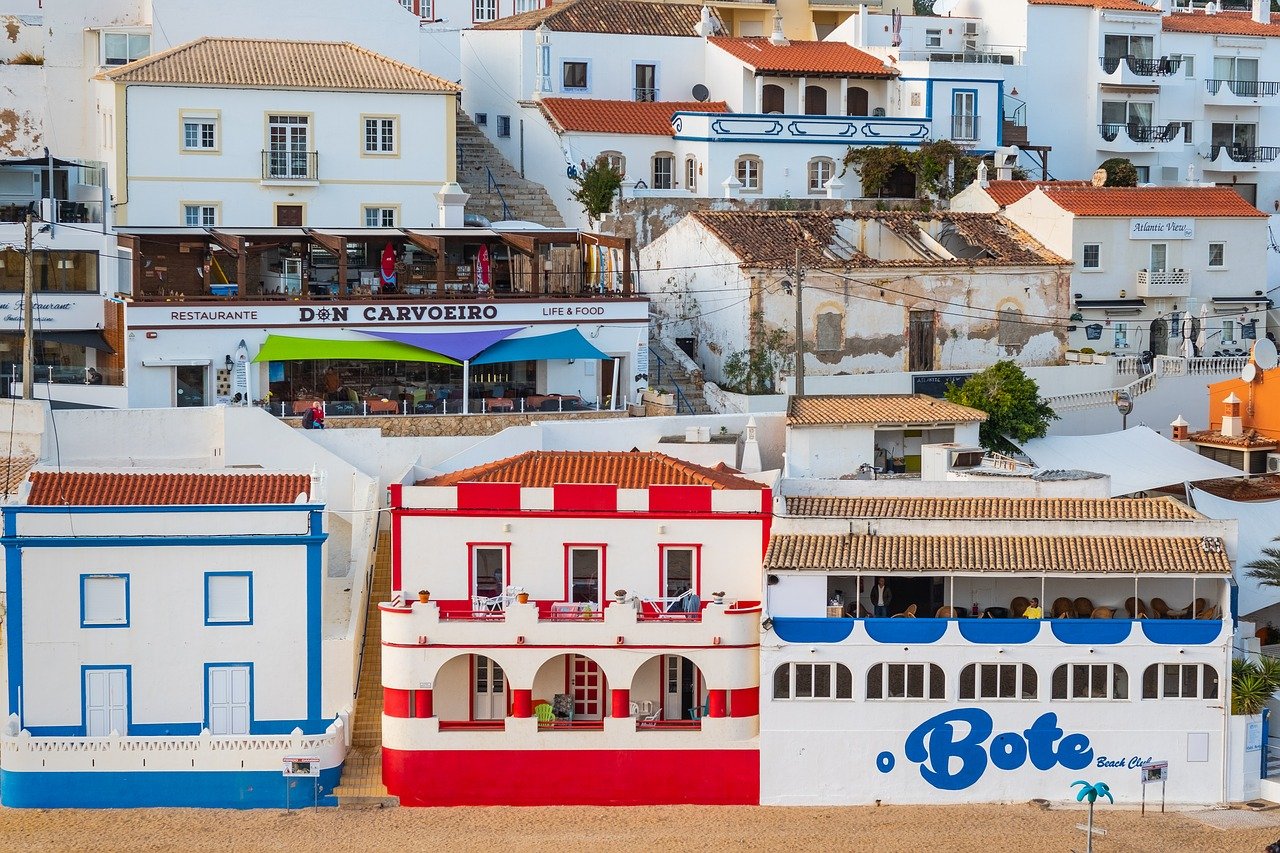 But of course not all yoga retreats and surf camps are equal. If you're considering joining an Algarve surf camp, I recommend checking out booksurfcamps.com to read the testimonials and reviews from previous students.
No two surf camps are the same and can have very varied facilities so it's really worth checking out this site first – it's like TripAdvisor or Booking.com for surf camps! For Algarve yoga retreats go to bookyogaretreats.com to check out the reviews.
COVID-19 Update: Portugal has reopened for tourism, but be aware that pandemic-related travel permissions can change at any moment and be dependent on your nationality. Check out the Portugal travel and tourism website for the most up-to-date information and remember to check the re-entry rules for your home country.  Also make sure you have travel insurance which covers Covid-related cancellations. Mine is with Safety Wing.
Here is my pick of the Best Yoga Retreats and Surf Camps in The Algarve
The Surf Experience is one of the most popular surf camps in the Algarve. The experienced, fun and friendly team here offer surf tuition for all abilities, with classes taking place daily, on either side of lunch. As well as traditional surfing lessons, guests have the opportunity to try stand-up paddle boarding and kayaking.
Situated in the heart of vibrant Lagos, The Surf House is the main accommodation, and in the perfect spot for anyone seeking proximity to nature and sightseeing, with all the convenience of a buzzing coastal town. They are also known for their amazing Surfaris in the autumn months!
Breakfast and lunch are included on this surf retreat, and The Surf Experience team take their culinary offerings very seriously, with rave reviews of the dishes prepared. Thanks to the central location there are plenty of bars and restaurants nearby to explore too should you wish to vary your dining.
See more details, dates, prices, reviews and book here!  
Read More: The Best Surf Camps in Peniche, Portugal

With a focus on the shared depths of yoga and surf practices, Prana Casa is one of the best Algarve yoga retreats curated to foster mindfulness and connection with nature in Vale da Telha, a beautiful and lesser developed part of the Algarve.
Mornings start with yoga and pranayama (breathing exercises) to prepare you for the day, physically and mentally. After a healthy buffet breakfast, it's out to the surf for a full day on the waves. Afternoons are rounded off with yin or nidra yoga, a mindful nature walk, or a group reiki session.
The surf house is located in Costa Vicentina Natural Park, with plenty of hiking trails and only 3km to the nearest beach. In your free time, take a dip in the saltwater pool, or relax under the garden's olive trees.
See more details, dates, prices, reviews and book here!  
Read More: The Best Yoga Retreats in Portugal

Nestled in lush green forest, with views across the Atlantic, Russo Surf Resort in Vale Figueiras welcomes surfers of all levels for step-by-step tuition with this all inclusive surf camp package.
The Surf team is headed by Luis Marreiros, the most famous Algarve surf coach, and is recognised for running one of the best surf camps in the Algarve, taking pride in offering high-quality surf training to help all guests take their techniques to the next level.
As well as time on the waves, there are plenty of other activities on offer. Fridays are barbecue and live music night – an opportunity to socialise with your campmates and enjoy some Portuguese talent. The camp is also conveniently situated near to hiking trails, unspoilt beaches, and abundant natural landscapes to explore.
If you find yourself with any sore muscles as a result of conquering the waves, book in for a session with the resident massage therapist, or join one of the optional yoga classes.
See more details, dates, prices, reviews and book here!  
Read More: The Best Surf Camps in Portugal

Surrounded by lush gardens, Tiny Whale Surf Lodge is situated in the peaceful Bensafrim countryside near Lagos. The lodge boasts a pool, jacuzzi, yoga space, and even resident chickens!
The friendly and experienced surf team offer incredibly personalised tuition, with only three students to each instructor. Surf sessions are carefully structured and perfect for beginners and intermediates. The school sets itself apart from other Algarve surf camps by describing their approach as coaching, rather than teaching, to ensure you build long-lasting surf skills you can take home with you.
Daily yoga classes are delivered by the resident teacher, who makes sure that muscles are stretched and released through a variety of traditional disciplines. In case you haven't had your fill of activity, other optional activities include diving, horse riding, and kayaking.
The lodge's chef will prepare sumptuous dishes, using fresh, local ingredients, to keep your body nourished throughout your active days. This surf camp is perfect if you want a relaxing and intimate experience whilst still being close to the popular beaches and sights.
See more details, dates, prices, reviews and book here!  
Read More: The Best Yoga Teacher Training Programs in Portugal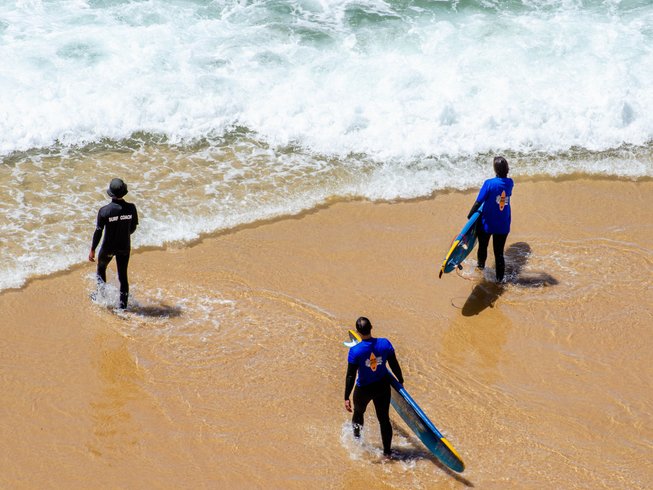 Located in Sagres, the biggest surf town in the Algarve and the most south-westerly point of Portugal, Sagres Sun Stay is a brand new eco-friendly hostel and surf camp with a wide range of very affordable surfing and windsurfing packages.
Choose from dormitory rooms to deluxe private rooms depending on your budget and enjoy all the facilities including a T-shaped salt water pool, fitness machines, communal kitchen, yoga classes and a bar and cafe. A varied and healthy breakfast and dinner is served and packed lunch boxed provided for when you're out surfing.
Their learn to surf program has been expertly created by coupling professional knowledge and teaching method with a friendly and interactive coaching approach combing theory and practical skills that guarantee quick, fun and safe progression.
See more details, dates, prices, reviews and book here!
Read More: The Best Surf Camps in Ericeira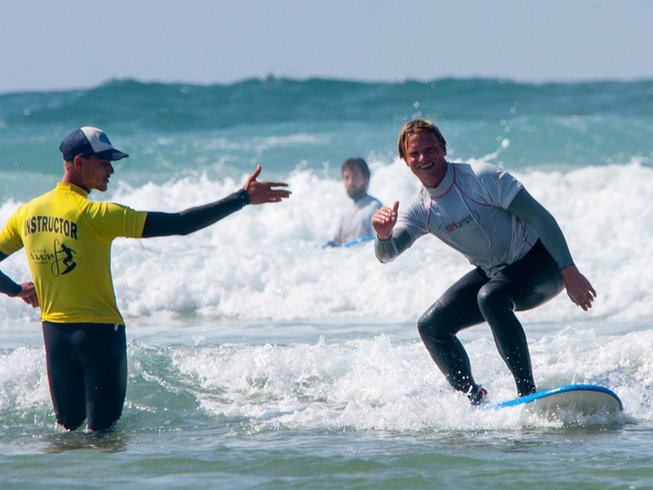 Located at one of the best surf spots in the Algarve, the Arrifana Surf Lodge experience is intended to be a cosy, welcoming, home away from home. The friendly hosts are dedicated to creating a personalised experience – balancing fun and adventure with relaxation and reconnection with nature.
The surf school offers three levels of tuition: Beginner, Intermediate, and Advanced – each designed to guide guests to take their surf to the next level. There are three incredible surf spots within ten minutes of the surf lodge, and your experienced hosts will decide which beach to head to depending on the conditions of the day.
This is one of the most popular surf camps in the Algarve for all levels. Your stay includes airport transfers, so you don't need to worry about getting to the lodge once you land. There's also a yoga class as part of the experience, to help you ease out any sore muscles. Guests are also invited to use the lodge's plunge pool, hammocks, and sun loungers for ultimate post-surf relaxation.
See more details, dates, prices, reviews and book here!  
Read More: Where to Stay in Lisbon
Moinhos Velhos Detox and Yoga Retreat has been holding some of the best yoga retreats in Portugal for 25 years. They have even been listed as one of the ten best detox retreats in the world by The Times for their detox juice fasting program that benefits body, mind and spirit.
The original concept was inspired by the pioneering work on cleansing and detoxification by Bernard Jensen, Swami Sivananda and Dr. Gerson. There's a daily morning Sivananda style yoga class and a relaxing mediation session each evening.
These eight day detox and yoga retreats are located in a secluded valley away from the touristy areas of the Algarve, the perfect setting to relax, unwind, recharge and detox.
There's also an day trip to the beach or Lagos town each week and plenty of free time to relax, explore the nearby beaches and countryside or soak up the sun on your private patio or by the saltwater swimming pool in the spacious and lush retreat center.
Meals aren't served as this is a juicing and detox retreat, but you won't go hungry with the range of delicious fresh fruit and vegetable juices and vegetable broth mixed with herbs, vitamins and minerals. There is also a range of spa, massage and healing treatments available to help with the elimination of toxins and the balancing of your entire system.
See more details, dates, prices, reviews and book here!
I hope this post has helped your plan your trip and find the ideal yoga and surf retreat in the Algarve. If you're still looking for the perfect yoga or surf retreat check out my round up of the best retreats in Portugal and the very best yoga retreats around the world
Have you been on any amazing yoga retreats or surf camps in the Algarve?
Leave your recommendations in the comments below the post and help out other surfers and travellers!
Also Read:
The new, unique, silent, mediation and yoga retreat in Monchique, Algarve