The laidback fishing village of Ericeira carries the accolade of as Europe's only World Surfing Reserve, thanks to the concentration of seven incredible waves within a 4km radius.
Ericeira, along with Peniche, are the best surf towns in Europe and the best places in Portugal to learn how to surf so you're spoilt for choice with the fantastic surf camps in Ericeira.
My Guide to The Best Surf Camps in Ericeira, Portugal
There are plenty of surf spots and surf camps for surfers of all levels in Ericeira, some of the most famous breaks include Praia do Sul and Foz do Lizandro for beginners or Ribeira d'Ilhas and Coxos for advanced surfers.
You can surf all year round in Ericeira but the best time to visit will depend on your experience level. Beginners will find the surf more manageable between May and October, when waves are smaller.
Winter is the best time to visit Ericeira for more experienced surfers as the atmospheric circulation in the area is stronger, meaning bigger waves. More advanced surfers can expect thrilling challenges at this time, with peak waves between November and February.
Surfing is not as easy as it looks so I really recommend joining a surf camp in Ericeira if you want to learn how to surf or improve your technique in a safe and fun way.
Not only will the experienced instructors teach you how to catch a wave safely but they also have expert local knowledge so they will take you to the best surf spots suitable for your level depending on the forecast that day so you get to have the best experience and progress so much quicker.
You'll also get to meet other like minded people in a fun, friendly and sociable environment. Most surf camps include accommodation, meals, lessons, board hire, and some also include yoga classes, transfers and local excursions, making surf camps great value for money.
Ericeira itself is a pretty town to explore with blue and white Portuguese buildings and plenty of cool cafes and bars to grab a coffee and smoothie bowl or try the local seafood and vino verde. It's one of the best surf towns in all of Europe and there's also something going on and plenty of yoga classes too.
It's only 40 minutes drive from Portugal's beautiful capital city of Lisbon so you could combine your surf camp with a few days exploring Lisbon, the UNESCO listed colourful, fairytale castles at Sintra and the baroque palaces at Mafra.
Whether you're a beginner seeking a sociable surf hostel experience, or a wellness enthusiastic looking to immerse in the elements – Ericeira surf camps have it all. To help you make the best choice for you, here's my pick of the five best surf camps in Ericeira.
Read More: The Best Places to Stay in Lisbon
Pin Me! 😉
If you're considering an Ericeira surf camp, I recommend checking out www.booksurfcamps.com to read the testimonials and reviews from previous students. No two surf camps are the same and can have very varied facilities so it's really worth checking out this site first – it's like the TripAdvisor or Booking.com for surf camps!
COVID-19 Update: Portugal has reopened for tourism, but be aware that pandemic-related travel permissions can change at any moment and be dependent on your nationality. Check out the Portugal travel and tourism website for the most up-to-date information and remember to check the re-entry rules for your home country.  Also make sure you have travel insurance which covers Covid-related cancellations. Mine is with Safety Wing.
Here is my pick of the 5 Best Surf Camps in Ericeira
The Omassim Guesthouse team believe that the embodied practices of yoga and surf are the perfect pairing. Throughout this 8-day retreat, you can discover how to connect with the elements and your inner peace by bringing yourself fully to each of these practices.
Your hosts will welcome you to the homely guesthouse, where bright, comfortable rooms overlook the lush surrounding hills. Days start with an energising vinyasa class, followed by a morning on the waves, after which you'll return for a delicious vegetarian lunch with your co-retreaters.
Evenings include a yin yoga class, optional ayurvedic spa treatments, and explorations of the beautiful Ericeira area.
Read More: Best Yoga Retreats in Portugal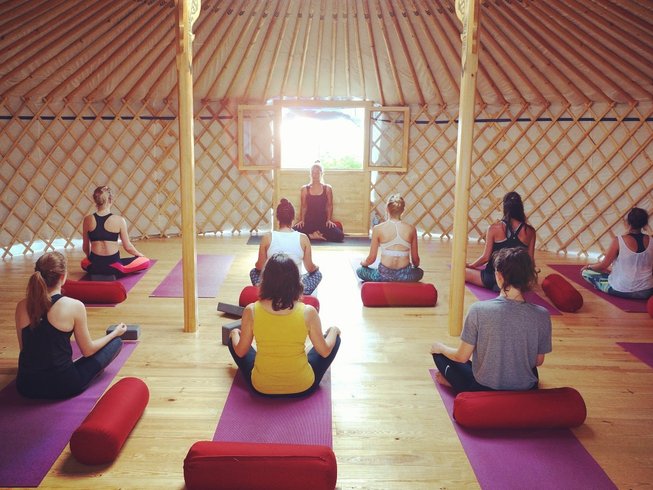 With the intention of building strength and flexibility while finding harmony in nature – this amazing 6-day retreat offers yoga from a large Mongolian yurt and surf from which spot offers the best conditions that day. The Moka team will guide you through daily yoga classes, including Hatha, Vinyasa, and Restorative with Nidra.
This holiday experience offers two different surf level packages, so beginners can get to grips with the foundations, while intermediate surfers can receive personalised tuition to hone their practice. Between classes, guests can lounge in the hammocks of the garden, or socialise with other guests in the central courtyard of the traditional Portuguese villa. Your hosts will keep you nourished with healthy breakfasts and delicious dinners.
Read More: Best Surf Camps in Peniche, Portugal
This all-inclusive package is packed with surf tuition perfect for total beginners and progressing intermediate surfers. Instructors help you to set surf objectives, and then guide you to achieve them as your develop your skills throughout the week, with around three hours on the waves each day.
The ocean-front Hostel & Surfcamp 55 is conveniently located in the centre of bustling Ericeira town, with easy access to shops, restaurants, and bars for your meals. The communal hostel vibe is perfect for anyone looking for a sociable surf camp experience, where you're guaranteed to meet some kindred spirits to share new experiences. Guests are also invited to use the terrace and barbecue facilities.
Read More: The Very Best Surf Camps in Portugal
If you're looking for a vibrant, adventurous surf camp in Ericeira without breaking the bank, the B&B Art House team have created this seven-day experience with you in mind. Suitable for surfers of all levels – your hosts will take you to uncrowded areas to make sure you can get the most out of your time on the waves.
The B&B has recently renovated rooms with an eclectic mix of decor. Guests can enjoy amazing views from the property, and make use of the large terrace for yoga sessions. Located only a few minutes from local shops and restaurants, you can easily pick up food and supplies for your stay. The kitchen is available for preparing light meals and snacks. Optional activities include horse riding, cycling, and excursions to the nearby cities of Lisbon, Sintra, and Obidos.
Read More: The Best Yoga and Surf Camps in The Algarve 

For those seeking a short break that combines the thrill of the waves with the calm introspection of yoga – this could be it. La Casa Atlantica is a dedicated surf house, designed to be a meeting place for enthusiasts of all types – including authentic Italian food, which is lovingly prepared for many mealtimes.
Surf lessons are kept to a maximum of four students per instructor, so that personalised attention can be given to newbies, while others are guided to advance their techniques. While at La Casa Atlantica, you'll also have the option to discover Kinesiology through an exploratory session with one of your hosts. Between activities, explore the beautiful surroundings complete with clifftop ocean views.
I hope this blog has helped you to find the perfect surf holiday in Ericiera. If you haven't found the one for you yet don't worry because Portugal has so many surf spots.
Check out my other blog posts on my favourite Peniche surf camps and my favourite yoga and surf retreats in The Algarve too.
Portugal is also a yoga hotspot with many amazing yoga retreats and yoga teacher training courses. 
Have you been on any amazing surf camps in Ericeira? Leave your recommendations in the comments below the post and help out other surfers and travellers!