Greece is one of the oldest countries in the world with a fascinating history that dates back to 270,000 BC. It's considered to be the cradle of Western civilization, but also has a more modern side to it, and it's fast becoming one of the best places to do yoga teacher training abroad.
The stunning landscapes and islands, ancient history and culture match well with the teaching of yoga, making it a great destination for yoga retreats, and yoga teacher training in Greece is fast becoming popular.
Reasons to do yoga teacher training in Greece
Greece is one of the best places to train to be a yoga teacher in Europe and there's a fantastic variety of amazing schools offering yoga teacher training in Greece both on the magnificent islands and on the mainland.
This means that you can do your YTTC on a Greek beach or in a historic city while soaking up the sun and some of the most spectacular scenery and history in Europe.
People from all walks of life and all levels of experience do their yoga teacher training in Greece. Whether you simply wish to deepen your personal yoga practice or whether you want to change your career and become a yoga teacher there are yoga teacher training courses in Greece to suit all yoga styles and levels of experience – you don't need to be expert yogi!
Yoga teacher training is physically, mentally, spiritually and emotionally challenging but also life changing and very rewarding and could be the start of a really healthy and rewarding future career.
How to choose the right yoga teacher training course
Doing any yoga teacher training course is a big investment of your time and money so it's more important that ever to do your research.
Always make sure your YTT is Yoga Alliance approved and for more tips see here for things to look out for when choosing your YTT.  Make sure that the style of yoga taught matches what you wish to teach in the future.
I also recommend going for the course with the longest duration you can as you'll have more time to relax those aching muscles, absorb all the information you're learning and explore the location.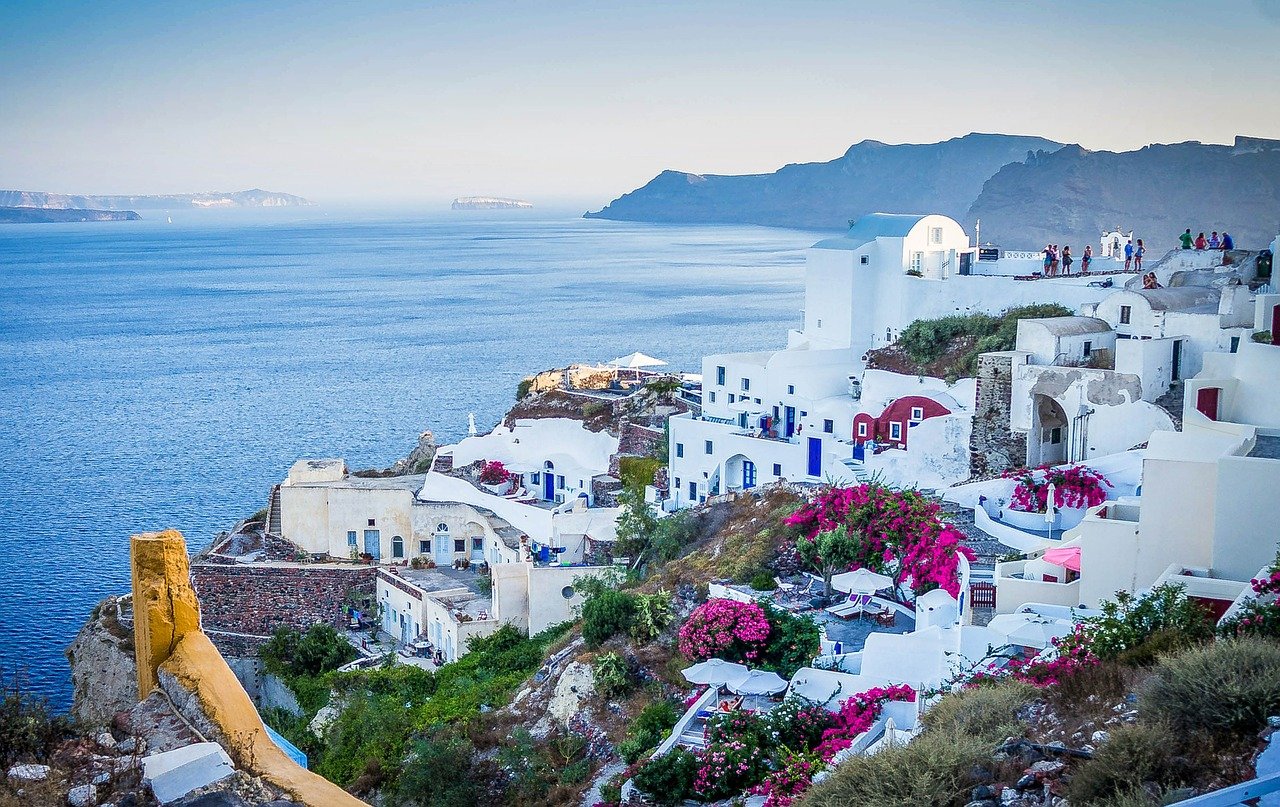 While most Yoga Alliance approved schools have similar curriculums, quality can vary so it's useful to get reviews from previous students before you book your yoga teacher training in Greece.
I find www.bookyogaretreats.com and www.bookyogateachertraining.com really useful, because you can read real reviews from people who've already been there as well as seeing all the information about the style of yoga taught, instructors and accommodation in one place.
Pin Me 😉
To help you pick your perfect YTTC here are my recommendations for the best yoga teacher training in Greece.
The Best Greece Yoga Teacher Training Programs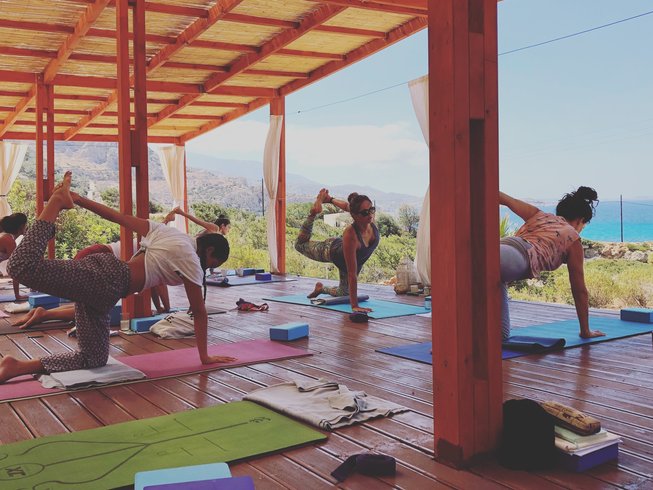 Spend 22 days on a quiet corner of the stunning island of Karpathos getting your 200-hour YTTC. Learn all about the art of teaching yoga whole being surrounded by pine trees and bougainvillea, and enjoying magnificent views of the coastline.
On top of that, the instructors from Conscious Yoga Academy will make sure that you learn all about yoga philosophy, the 8 limbs of yoga, yoga mundras, bhandas, anatomy and the scientific benefits of yoga. This will help to remove energy blockages by cleansing the body and mind and by going deep in the practises of traditional yoga.
This amazing Hatha and Vinyasa yoga teacher training in Greece takes place at Kathy's Island Retreat in Adia where you'll be practicing in a beautiful yoga terrace overlooking the Aegean Sea. There are eight guest rooms in total; six in the main house and two in a smaller house. All of the rooms have private bathrooms, a fridge and a balcony with magnificent ocean views.
Vegetarian and Vegan brunch and dinner are included and cooked at the onsite restaurant that serves up healthy Mediterranean food. Raw food diets can also be accommodated on request. It's not surprising this is one of the best yoga teacher trainings in Greece. Click here for more info, to check dates, reviews and prices and to book.
This therapeutic yoga teacher training in Greece is run by the people at Soma Yoga Institute, and includes an in-depth study of vinyasa flow yoga and anatomy informed alignment principles. At the end of this 18 day Greece yoga teacher training, not only will you leave with a 200-hour YTTC, but also the knowledge of putting together a transformational sequence and guiding others along the path of yoga as a framework for holistic health.
Your days will start with sunrise meditation on the beach and you'll not only learn about the physical and philosophical aspects of yoga but also the spiritual side as well as developing and understanding of Ayurveda and chakras.
The course is held at Okreblue Yoga Retreat Center, just a few steps away from the stunning Filizi beach on the island of Paros. There are both apartments and rooms to choose from, all of which are clean, cosy, tastefully decorated and boast verandas where you can chill out and soak up the views and the sunshine between practicing and studying yoga.
The property also features an open-air indoor/outdoor yoga hall and a cafe where chef Suresh cooks up amazing Indian cuisine using ingredients for the centre's very own organic garden. Daily smoothies, brunch and dinner are included and some apartments also have kitchenettes.
This is one of the very best yoga teacher trainings in Greece for those who want to focus on the therapeutic side of yoga. Click here to check dates, read reviews and to book.
Learn all about the foundations of asana practice, pranayama and meditation at one of the best yoga teacher trainings in Greece. Hatha Yoga is the main focus, and anatomy, breath and movement based on this ancient practice.
And what better place to spend 22 days doing this then on the stunning island of Paros is in the traditional village of Naoussa. Learn all about the yogic lifestyle, strengthening the immune system, and developing focus and awareness, while staring at the Vermio Mountains and being surrounded by orchards and vineyards.
In addition to yoga asanas and theory, you'll also learn about Ayurveda, sound healing, mediation, chanting and mantras. While doing this 200-hour integral Hatha, Vinyasa and Yin YTTC You will be staying in a room or an apartment that's just a stone's throw away from the area's numerous dining and nightlife options.
A vegetarian brunch and dinner are included, as are 21 nights stay in a cosy, relaxing room designed with traditional Greek architectural elements. You can also enjoy exploring the local tavernas and cafes. Click here to read reviews, get info on dates and prices and to book.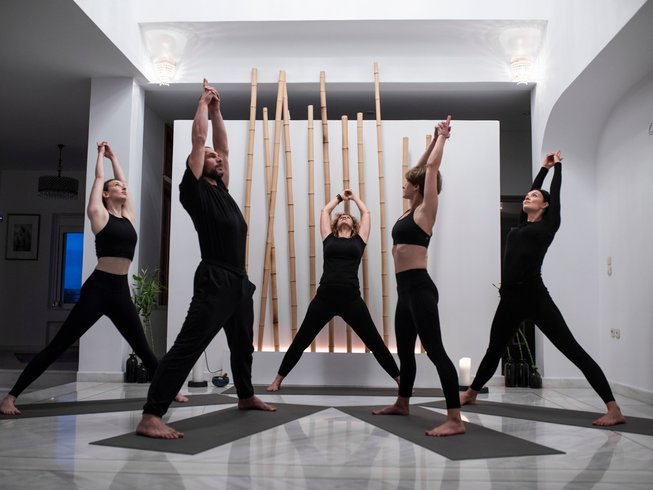 If you want to spend 21 days doing a yoga teacher training in Greece and exploring Athens, one of the world's oldest and most interesting cities, then this Greece YTTC is the one for you.
Yoga Skyros Academy is located just east of the city in a spacious villas surrounded by forest and aims at teaching people that have a real desire to learn and to progress their own practice, while learning how to do the same for others.
The main focus is Hatha Yoga, which is the mother of all yoga practices. At the end of the course you will know how to lead a class, inspire your students and change lives, just as the amazing instructors here have been doing since 2005.
While studying to be a yoga teacher you will be staying in the villas in a cosy room all of which have a private bathroom with shower and bathtub. There is also a swimming pool and a sauna on site. Breakfast is included and there's a kitchen that you can use to cook your meals or you can sample the local tavernas and cafes.
The villa is located in a quiet, natural location yet is only 5 mins away from a train connection to central Athens and 25 mins away from the nearest beach. To book, read reviews or get more info, click here.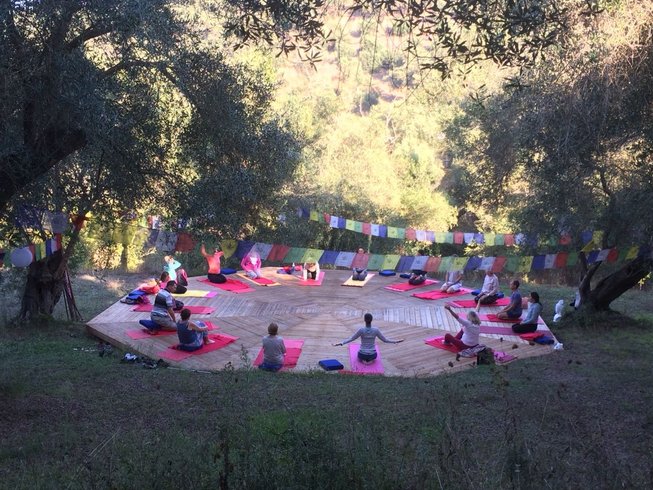 For a yoga teacher training in Greece that goes so much further than simply yoga consider this 25 day 200-hour Tantra and Shamanism Yoga Teacher Training on the enchanting island of Corfu.
Through this unique experience you will not only learn to teach an inspiring, intuitive and deeply meditative yoga practice but also learn how to unify body, mind, and spirit through yoga and how to integrate tantric philosophy into your daily life.
You'll receive daily classes of Kaula Tantra yoga and applied tantric philosophy as well as the traditional ancient Indian teachings. You'll also learn all about meditation, pranayama, anatomy, alignment, physiology and yoga history.
One of the highlights of this program is using art and dance as a powerful tool of self-expression and liberation and experience shamanic cosmovision. Another highlight is the location and the beach which you'll have enough time at lunch to relax and enjoy.
You'll be guided along this very special journey by the experienced, international instructors at Durga's Tiger School for Tantra Yoga Shamanism and be accommodated at the homely retreat center in the small, traditional village of Arillas in Corfu. Two delicious vegetarian meals are also included. To see reviews, dates, prices and more info and to book click here!
I hope this blog has helped to find your perfect Greece yoga teacher training course. If you're still undecided check out my other posts or this article about yoga teacher training abroad for more tips and recommendations.
Read More about Yoga Retreats and Teacher Training: