Tips for Traveling during the Rainy Season in India 
The number of tourists that visit India each year just keeps on growing, which is not surprising as it is one of the most interesting, captivating and culturally rich countries in the world. India is home to no less than 36 UNESCO World Heritage sites, thousands of temples and hundreds of colourful markets. Mix this with the eclectic landscape and it's no wonder why so many people visit this unique, fascinating and exotic country. Still, when most people think about visiting this amazing country, traveling during the rainy season in India is not part of the equation.
The majority of tourists visit India during the cool, dry, winter months between November and April. June – September is the monsoon or rainy season in India which puts off many people from traveling to India. But you shouldn't let the rain discourage you, traveling during the Rainy Season in India can be just as rewarding as any other time of the year.
Plus, some regions get more rain than others, so it's not grey skies and downpours all the time. There are even some advantages…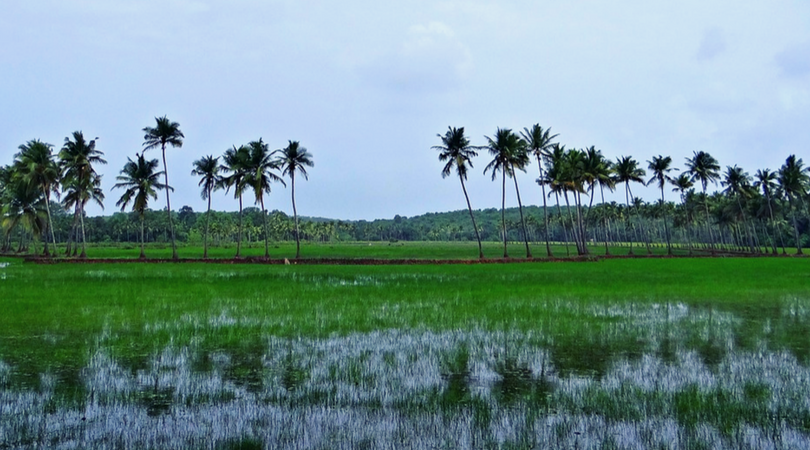 When is the rainy season in India?
India is so big and geographically diverse that it actually has 6 major climates types that range from arid desert in the west, alpine tundra in the north and humid tropical in the southwest. Still, there are 4 seasons in India – winter, summer, monsoon and post-monsoon (fall).
Winter
December to February is the winter season and when temperatures start to fall throughout the entire country. The lowest temperatures are found in the Himalayas, with the east and south having the highest temperatures.
Summer
In northwestern India summer runs from April to July, while everywhere else it is from March to May. In North India the hottest month is May, though it is April in the rest of India. The temperature often rises above 40°C, apart from the Himalayas where it is around 25°C.
Monsoon
There are actually 2 monsoon seasons; one on the Bay of Bengal side and one from the Arabian Sea. It generally first hits India in the southern state of Kerala at the beginning of June and then works its way north to Mumbai and northeast to Delhi. By July all of India experiences monsoon, though South India receives more rainfall than North India. The rain starts to slow down in North India in August, but doesn't leave Mumbai until October. The only exception is in the northeast. Here, monsoon season doesn't start until September and ends in March.
Post-Monsoon
This is just after monsoon and before winter; from October to December. It's the transition from the wet to dry season. The average temperature during post-monsoon season is between 28 and 34 °C, depending on the region. In northeast India there is no post-monsoon season.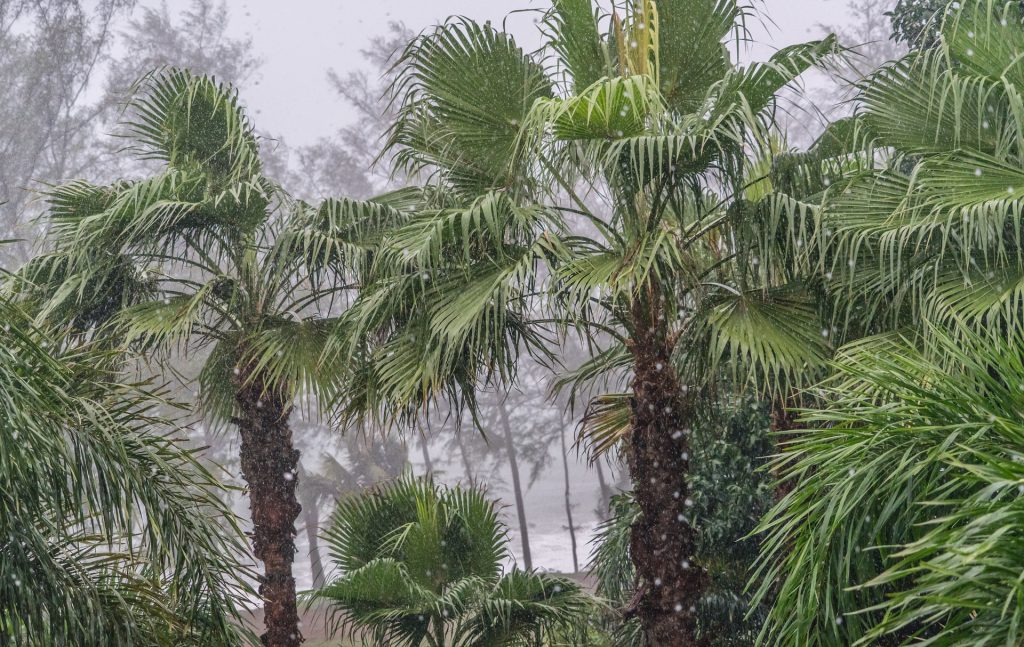 What's the weather like during the Rainy Season in India
Before monsoon hits properly there can be some pre-monsoon rains. When the monsoon starts, after the first initial downpour, which can last for days, you'll usually find that it rains for at least a couple of hours most days. But don't worry, in most places its not raining all the time!
The rainy season in India can be very unpredictable, it can be sunny one moment and then pouring the next and some days receive more rain than others. You can often tell when rain is imminent as the temperature and humidity usually gets quite intense shortly before a down poor.
Many cities get flooded at the beginning of the rainy season in India when the first heavy downpours come because the drains are filled with rubbish and cannot cope with so much water. July is generally the most rainy month for India during monsoon season and by September there is often much less rainfall.
Read Also: The Best Places to visit in India during Monsoon season
Advantages of traveling during the rainy season in India 
Many people avoid traveling during the rainy season in India, so it is considered the low season. This can prove to be quite an advantage for those that like to take the road less traveled.
Fewer crowds
Visiting main sites in India can be hectic at times, especially with all of the crowds. It's sometimes near impossible to get a good selfie in front of a landmark with hordes of people around. Traveling during the rainy season in India means that there are fewer tourists and crowds. Visiting famous landmarks like the Taj Mahal, Amer Fort, Golden Temple, Ajanta and Ellora Caves, and Virupaksha Temple will be much more rewarding. Fewer crowds also means more accommodation options, as there will be far less people traveling around.
Cheaper rates
Most hotels will offer great discounts during the rainy season in India. What this means is that you could stay in a luxurious room for the same price as a budget one costs in the high season. Traveling during the rainy season in India is the perfect chance to stay in the hotels that you always dreamed of staying in but couldn't afford. I use Booking.com to find the best rates and book. But it's not just the hotels that are cheaper. Flights will also be substantially lower during the rainy season – I use Skyscanner to find the best deals. 
Beautiful scenery
There is more to the monsoon season than just rain. There is also some beautiful scenery, especially in the mountains. It is also one of the best times of the year to visit Leh and Ladakh. In fact, the only time of the year when there is actually road access is during the monsoon season after the snow has melted away. Also, the Spiti Valley area bordering Tibet, the Western Ghats and the Valley of Flowers National Park offer scenery during the rainy season that is nothing short of breathtaking. Read More – Best places to visit in India in July and August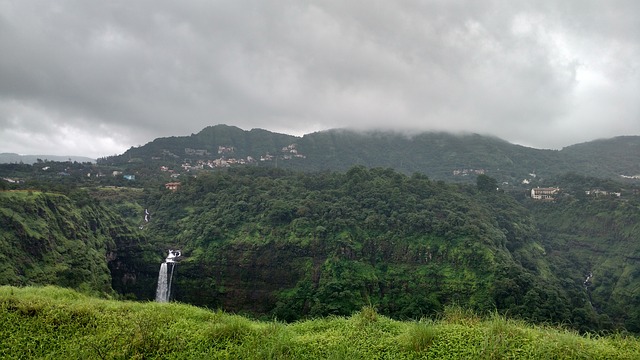 Tips for making the most of traveling during the rainy season in India
Before you get on a flight to India during monsoon season you should read these tips.
Pack the essentials
Make sure that you pack a few essentials to protect yourself from the rain, like a raincoat, an umbrella and a waterproof cover for your backpack. It's also a good idea to wear knee-length pants or capris so the bottom of your pants don't get wet. A good pair of waterproof shoes is also essential. Read more – Essential monsoon packing list.
Keep your eye on the weather
Unlike the rainy season in Southeast Asia where often the rain falls in the afternoon which allows you to plan your day around the rain, the rainy season in India can be very unpredictable so keep your eyes on the clouds and on the humidity – if it's feeling really hot and humid it could mean that it will soon start raining. You should also be sure to keep up to date on weather reports to ensure that you don't travel to areas that are flooded or experiencing very heavy rain.
Bring mosquito repellent
Rainy season in India means mosquitoes, and lots of them. Be prepared by always carrying mosquito repellent with you. It's also not a bad idea to bring a portable mosquito net. Remember that there are mosquito borne diseases in India, like malaria and dengue fever, so try to avoid getting bitten as best as you can. Read More – Tips to avoid getting sick in monsoon.
Allow yourself extra time
If you are traveling around by train or bus be sure to give yourself extra time. Traveling during the rainy season in India means there could be floods, slippery road conditions and traffic accidents, which will slow things down. Don't be in a rush. If you need to catch a flight, aim to arrive in a destination close to the airport 1-2 days early to be on the safe side.
Drive carefully
Traveling India by motorbike is not much fun and not so safe during the rainy season. Even in a 4 wheeler you need to be extra careful on the roads. The rain can be treacherous at times, leading to flooding, muddy roads and massive puddles. You also need to be careful when walking around for the same reasons. And make sure not to walk in flood water, as you never know what could be in or underneath the water.
Read More: Pros and Cons of visiting Goa during monsoon season
The Best Places to Visit in India during the Monsoon Season
Do you have any more tips for traveling during the rainy season in India?