Yes! Women do love traveling in India!
India does not have the best reputation as a destination for solo female travellers which is such a shame because India is one of the most diverse, fascinating, incredible, captivating and transformative destinations to travel in.
I love traveling in India and I'm not the only one! I hate to think that other women may miss out on the amazing experiences that you can find while traveling in India because of the negative perceptions from the mainstream media.
So I asked 6 top female travel bloggers to reveal why they love traveling in India and to share some of their favourite Incredible India moments and top destinations as well as tips for female travellers in India.
Like me, these women are also passionate about traveling in India and spreading the world to encourage and reassure other women to explore this incredible country so make sure you check out their amazing blogs for more inspiration and tips for traveling in India as a woman.
Top Female Bloggers Reveal why Women Love Traveling in India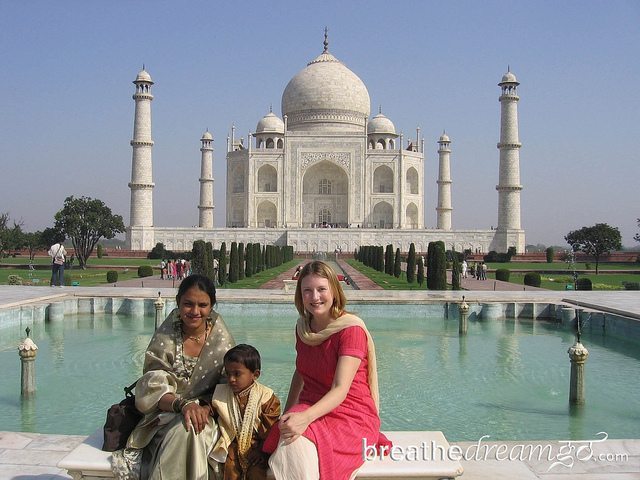 Why do you love traveling in India?
I love travelling in India because it opens me up, makes me feel alive and presents me with challenges, adventure and magic in equal measure. There truly is no place like India, and if you love it, you can become addicted. The author Rumer Godden wrote, "Once you have felt the Indian dust, you will never be free of it."
I love almost everything about Indian culture — the wisdom traditions, architecture, clothing, music and dance — but it's probably the people I enjoy the most. I feel very relaxed around Indian people, I find them warm, helpful and joyful. I spend a lot of time with my Indian family and friends, just chilling out. It's glorious. I also like the overt spirituality and enjoy my time spent in ashrams and temples. And long train rides, I love long train rides in India … oh so many things.
Tell us a bit about your favourite moments or destinations to visit in India? 
I am often asked about my favourite place in India and I have too many! India is a subcontinent and therefore the geography changes dramatically from tropical beaches to soaring Himalayan peaks to the desert of Rajasthan. Some of my favourite experiences include:
– Visiting the tea gardens of Darjeeling 
– Sleeping on the sand dunes, under the stars, in Jaisalmer 
– Finding myself alone in the midst of millions at the Kumbh Mela 
– Discovering my spiritual home at Aurovalley Ashram near Rishikesh
– Meeting death on the river in Varanasi
What are your top tips for other women who want to travel in India?
But I think if I had to boil it down, I would say attitude is probably the most important element when it comes to travel in India. Finding that sweet spot between openness and caution, between trust and skepticism. It's also important, especially for women, to be confident and not overly polite in certain situations, such as fending off unwanted attention or haggling. I have spent two years in India and have very rarely felt unsafe. However, I am cautious, I know the culture and I practice what I call "safe travel strategies." I wrote a post about my top tips for women traveling in India. 
About Mariellen:
Mariellen Ward is a professional travel writer who divides her time between Toronto and Delhi. Breathedreamgo.com, her award-winning travel blog about "meaningful adventure travel," is inspired by her extensive travels in India. She writes for many print and online sites, co-founded the Toronto Travel Massive, Delhi Travel Massive and founded the WeGoSolo online community for female solo travellers. She has been featured in India Today, USA Today, Conde Nast Traveller India and on many lists of top bloggers, and she writes for online and offline publications including BBC Travel and Vogue India.
Why do you love traveling in India?
India is a colorful country to begin with. It has so much to offer. Besides the beautiful and varied landscapes, culture, food, traditions and quirkiness, I have realised that the people here are friendly. Especially, if you go into the remote places, the villages, you will find people are so warm and generous.
Although it's my native country, I still have a sense of wonder for it. I feel fortunate to have got this opportunity to travel in India – I don't have to apply for a visa to explore India – I belong to this incredible country!
Tell us a bit about your favourite moments or places to visit in India 
My favourite places in India, so far, have been Rajasthan, Mumbai, Karnataka, Goa and Kashmir. I love Rajasthan for the kind of feeling it evokes in a traveller. You just feel like life is one big party and you just have revel and forget about everything else. Mumbai is pure magic. Karnataka is unique – it's a kind of a destination that grows on you. Goa is bliss. Kashmir is an enriching land – it has got so much more to offer than just natural beauty.
What are your top tips for other women who want to travel in India?
My top tips for women who would like to travel in India are that they should research about their destinations deeply, plan properly, trust their guts and set out fearlessly. I wrote a post about the best destinations for solo female travel in India.  Yes, you should trust your ability and do things confidently. But, be careful, be wise and be aware of your surroundings.
About Renuka: 
Renuka is an Indian travel blogger/photographer who has been exploring India for the past five years. She aims to set foot in every state of her country, and also travel to some exotic destinations across the globe. With her blog, Voyager For Life, she aims to inspire people to travel more and experience the better way of life. You can also follow Renuka on Facebook, Twitter and Pinterest

Read More: Top solo women travel destinations recommended by women bloggers
Why do you love traveling in India?
India is a unique place to travel, because no matter how long you stay, you keep seeing new surprising things. It's never a dull moment. From a backpacker's standpoint, it's great because your budget can go pretty far here. The people are nice, and it's not touristy so you really get to immerse yourself in the culture.
Tell us a bit about your favourite moments or destinations to visit in India. 
Karnataka in general was a really cool place. I spent a month there for work and was surprised how unique it is. Travelers usually visit only Hampi and maybe Bangalore or Mysore, but the rural areas are so unique. There are tribals in the BR Hills, a Tibetan colony, amazing coffee plantations in Coorg, waterfalls in Chikamagalur, and loads of areas to go on safaris to see tigers or leopards. I wrote a post on the 9 Hotspots You Don't Want to Miss in Karnataka.
What are your top tips for other women who want to travel in India?
I try to tell girls not to overthink it. People get caught up in reading these crazy stories about India, but forget that in a country with 1.3 billion people, more crazy things are happening than other countries. It doesn't mean you'll necessarily come across them.
If you do come across something crazy the first thing to do is STAY OUT OF IT. If it's not your problem, don't get involved… as a foreigner you're not going to help and will only cause yourself grief. I learned not to help in most cases after some time in India. I know sounds horrible and it took over a year to learn this, but I can tell you from a couple scary experiences just stay out of it. If 20 Indian people are watching this crazy thing and doing nothing, what can you do other than get in an argument which may only make them act more aggressive? Just walk away.
If you can't avoid the problem or it's directed toward you, be vocal and get police involved if necessary. I tell girls to be nice, but don't invite conversation with men. It's just easier to put in headphones and say, "sorry, I'm listening to an eBook…" and shrug them off. It is true that men can take friendliness the wrong way here. See more tips for female travel in India. 
More about Rachel: 
Rachel Jones is an American who left a career in nursing to live on the beaches on Goa, India nearly 3 years ago where she is now a Thai masseuse, candle-maker, and travel writer. Her award winning website gives advice on the other 28 countries she's been to but has become the go-to site on India travel, focusing on off beat places & "glamorous travel". Hippie in Heels has been featured in ELLE magazine & was voted by Flipkey on of the top 25 female bloggers to follow this year. You can follow her adventures on Facebook, Twitter, Instagram, and Google Plus.
Read More: Solo Woman Travel Guide: Top tips for staying safe when travelling solo 
Why do you love traveling in India?
Because even though I grew up in India, the country never ceases to surprise me. One day, I'm reveling in my solitude in the Himalayas; another, I'm camping under a meteor shower in the Thar Desert; yet another, I'm swimming in the pristine backwaters of North Kerala – all the while pampered by the warmth of the locals, indulging my taste buds and not breaking my wallet. How can I not love it?
Tell us a bit about your favourite moments or places to visit in India 
Kayaking in the rain in the pristine backwaters of Goa is one of my favorite memories from my India travels. Some more of my favourite 'Incredible India' moments include; hiking in Darjeeling, visiting Spiti and Ladakh, meeting the gypsies in Hampi, hiking in the Western Ghats: Mahabaleshwar and so much more. You can read more about my most 'Incredible India" Moments here.
What are your top tips for other women who want to travel in India?
Don't believe everything you read. Travel with an open mind and let India surprise you. Traveling alone in India is not scary.
Trust your gut. If a place or person seems questionable, it / he probably is. Stay away, keep a self-defence weapon with you and have an emergency contact to call even if for your own peace of mind.
Avoid touristy places and spend your time in small countryside villages where you can still experience real Indian hospitality and culture.
Here are some more tips I wrote for the Solo Traveler blog: 11 India travel tips from a local
About Shivya:
Shivya Nath is from Dehradun in India. At age 23 (in 2011) she quit her corporate job to travel the world. Shivya lives a nomadic life, seek adventures off the beaten path both in India and all over the world. She works on the go to fund her travels and shares her experiences on her blog The Shooting Star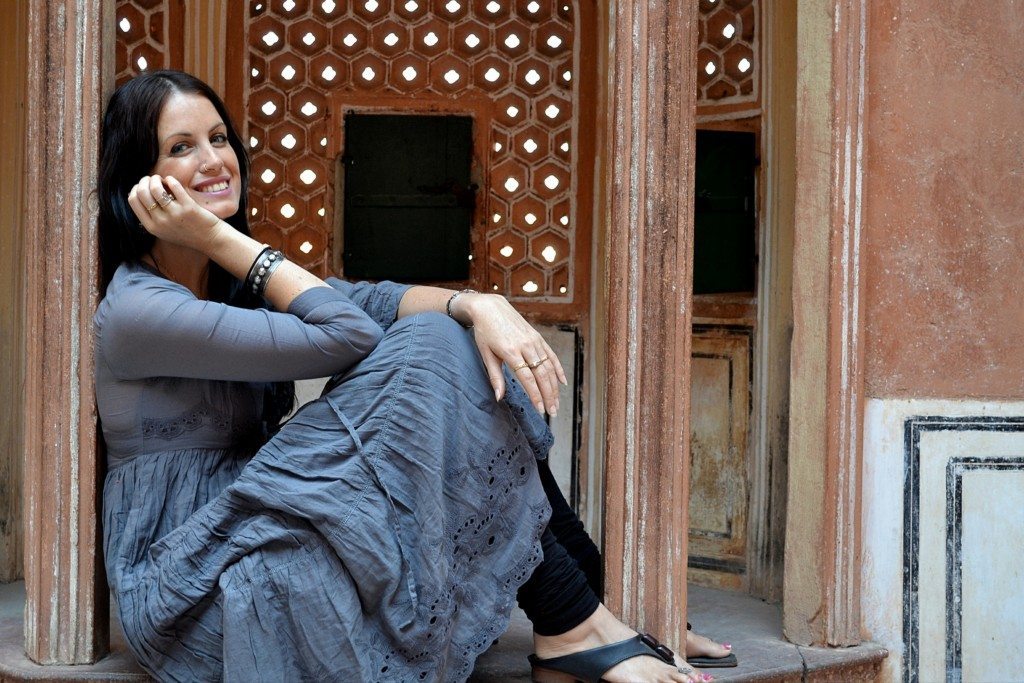 Why do you love traveling in India?
There's an outstanding vibrancy and sense of possibility in India. You never know what will happen next. It forces me out of my comfort zone, and forces me to be adaptive and assertive. Plus, India changes every 100 kilometers or so — it's vastly different everywhere you go, from the food to the culture. Hence, it's impossible to be bored.
For me, travel is about exploring, discovering and learning, and India is unparalleled for that. There is always something new to experience. I'm also very interested in the spiritual side of India. I'm not an ashram-goer, but rather I like to visit and immerse myself in different spiritual destinations (such as Haridwar, Bodhgaya, Amritsar etc.
Tell us a bit about your favourite India moments and destinations to visit in India
I have been blessed to have so many diverse and wonderful moments! Here are a few: driving an auto-rickshaw from Chennai to Mumbai on the Rickshaw Challenge, meditating in a little-known healing cave up on Mount Arunachala in Tiruvannamalai in Tamil Nadu, participating in a morning opium ceremony with shepherds in rural Rajasthan, having dinner and drinks with the Maharana at his residence in the Udaipur City Palace, going on a yak safari in high altitude Spiti, seeing sunset over the Great Rann of Kutch white salt desert in Gujarat.
More amazing moments include; completing the trek to the double-decker root bridge in Cherrapunji in Meghalaya, floating through the Sundarbans in a boat, going on a motorcycle road-trip down the coast of Maharashtra with my husband, attending the Ganga aarti in Haridwar, seeing tantrics and pilgrims taking a holy bath in the river at dawn at the Sonepur fair in Bihar, and witnessing the mammoth immersion of Ganesh statues at the end of the Ganesh festival in Mumbai. I could go on and on!
What are your top tips for other women who want to travel in India?
Generally, south India is much easier for female travelers than north India, as men tend to be more respectful there. Tamil Nadu is a south Indian state that often gets overlooked in favor of more well-known, popular destinations. However, I spent 10 days traveling solo by local buses in Tamil Nadu and experienced a noticeable absence of harassment — so much so that it felt odd! I recommend that female travelers start with Tamil Nadu, for that reason.
My other tips include all the usual advice about dressing conservatively (it does make a different as to how you're treated), not going out alone at night in many places (Mumbai is one exception), planning and booking hotels in advance, and getting a hotel car to pick you up from the station if you're arriving by train late at night.
In addition, it's important look tough and assertive, rather than uncertain. Don't be too friendly to anyone (especially men), as it may be interpreted wrongly. There are different, more conservative, standards of conduct in India between men and women than what exists in the west.
And, don't be afraid to shout and retaliate if you are harassed. Indian men are not used to being confronted by women, and speaking from experience, they tend to scare off easily. I once received this valuable advice from an Indian woman: "Only let your guard down and be yourself around people who are the same class as you." It may seem harsh but it is sensible given that people of different classes interact differently and have different values in India, and you don't know what people are really thinking or what their intentions might be, even if they are seemingly nice.
About Sharell:
Sharell is an accountant turned writer and author. She visited India for the first time in 2000 and was hooked. She returned in 2002, and again in 2005 to do community work in Kolkata. She's lived in Mumbai since 2008, with her Indian husband, and writes and manages the content for About.com's India travel website.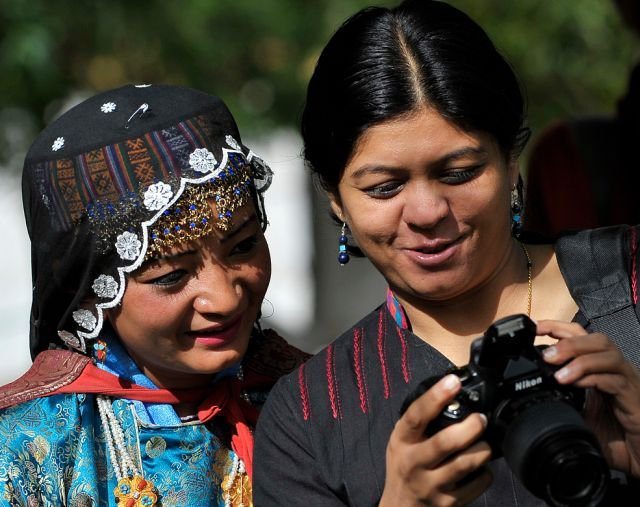 Why do you love travelling in India ?
India is so diverse that there is a surprise waiting for you in every state /city you visit – the cultures are so unique and the people are warm and friendly
Tell us a bit about your favourite India moments and destinations to visit in India
I love heritage and culture and I do a lot of trails in the country – exploring both touristy and offbeat places. When I started travelling, I went to 30 Hoysala temples – shrines that were built 1000 years ago but most of them are today lost in rustic India by the wayside . I went looking for them and the journey became the destination.
Besides heritage, I also love birds and that takes me to birding destinations. I also like to explore crafts and people and hidden and haunted destinations like Kuldhara or Dhanushkodi
What are your top tips for other women who want to travel in India?
Blend in with the group. Try not to be a tourist and try to respect cultures of people.
Use common sense when you are travelling. Look at the environment around you when you head out . Try and stick close to women and families in a crowd.
Always arrive and depart  a city when there is light.
About Lakshmi Sharath: 
Lakshmi is a media professional, a traveller, travel writer , blogger and photographer. She believes that a rolling stone actually gathers moss so after 15 years of sitting beside a desk in several media organizations, she decided to travel and see the world. Lakshmi has covered five continents and been to over 25 countries and my passion lies in exploring the nooks of India as well. Her blog Laksmhi Sharath.com is a travel blog of an Indian Backpacker.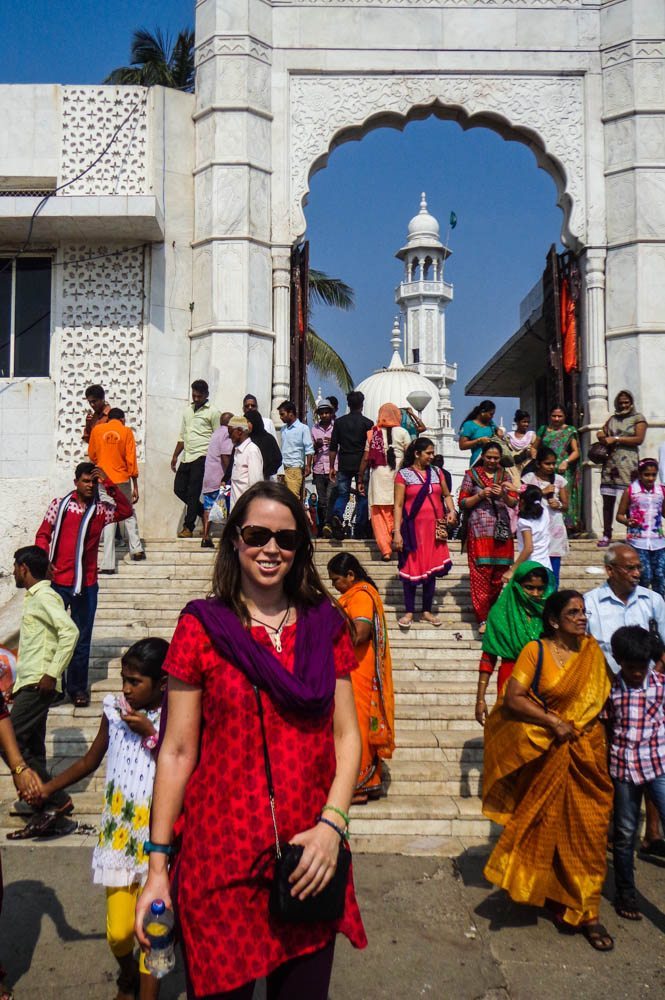 Why do you love traveling in India?
The reason I travel is not to rush around ticking of touristy sights but to grow, to learn, to understand more about the world and about myself and to enrich my life by meeting people and learning about different countries and cultures.
For me, India is the ultimate travel destination! So colourful with such a rich history and culture and diverse enough that you could travel in India for a lifetime and never be bored.
Also, India is not just an exotic land of forts and palaces, shimmering saris, wondrous deities and fascinating temples, spicy food, chaotic cities, wandering cows and the Taj Mahal. Traveling here really can teach you so much, get a dose of culture shock, discover something new about yourself and about the world, find yourself or just marvel in the diversity of the landscapes, the vibrancy of the festivals, the fervour of the religion, the rich history and the fascinating culture.
There is so much to see in India, the people are so welcoming and hospitable and there really is a surprise around every corner. Luckily its very affordable to travel here for months on end immersing yourself in it all and it's easy to get off the beaten track and find authentic experiences and I also love India because I just feel more alive in India than anywhere else!
Tell us a bit about your favourite India moments and destinations to visit in India
Because India is so diverse it's difficult to pick favourite destinations as they are all so different. Mumbai is probably my favourite big city, I've visited over 4 times now and love the buzz of this aspirational city, a endlessly fascinating city of dreams and contrasts.
Goa is maybe my favourite place in the world – I love it so much I rented a place here ans stayed for several months always exploring the countryside and beach hopping – I just find something special about the Goan charm that makes it hard to leave.
Hampi is also magical and surrealy beautiful – another place that was hard to leave, Kerala is another favourite as well as Udaipur in Rajasthan -a the romantic city of lakes and palace and I still have so much that I want to explore. You can read more about my highlights so far from my travels in India.
What are your top tips for other women who want to travel in India?
The best advice I would give a first time solo female traveller is to be confident, assertive rather than polite and also to keep things in perspective and don't ruin your trip by worrying too much! I think it's important to be culturally aware and adjust how you act and dress to be appropriate to the country you are in, so I usually cover up and I am very careful who I trust and how to interact with men.
Don't look an easy target, hold yourself well, be assertive, don't look lost or afraid and always act confident – even if you aren't! Take sensible precautions, try to avoid arriving in places or wandering around alone late at night, don't flash too much flesh or wealth and most importantly learn to trust your gut instinct and don't let fear stop you from living your dreams – you'll find that people all around the world are much the same and will help you out. The world is not such a scary place as the media likes to make it out to be. See more of my tips for women traveling in India here.
About Anna:
Anna Phipps left her job in the UK in Dec 2012 to pursue her dreams of a life of travel and adventure. She fell in love with India and is now on her 3rd visit to this captivating country and is passionate about sharing her experiences to help others do the same. She has travelled extensively across India, South East Asia, Australia and Europe. Anna travels slow, independently and on a budget and often immerses herself in the destinations she visits by working, volunteering or living abroad and her blog Global Gallivanting aims to inspire others to make travel their lifestyle. You can keep up with Anna's adventures on her blog Global Gallivanting or on Facebook, Twitter or Instagram