9 things that Malaysia is best-known for
Guest Post
Ah, Malaysia. A tropical paradise in Southeast Asia, it is a country shaped by a long history and the various cultures that have called it home. There are so many reasons to visit Malaysia that it would be impossible to list them all here.
However, many people wouldn't be able to name one famous thing about the country. Malaysia may not be as recognisable in the Western world as countries like Japan or China, but perhaps it deserves to be. Take a look at these 9 things that Malaysia is best known for and you're sure to discover plenty of reasons to take a trip to this incredible country.
Before you set off, make sure you check which of the Malaysia visa types you need to enter the country — there are different requirements for different nationalities. And of course, you might well need the multiple-entry visa if you feel the need to take more than one trip!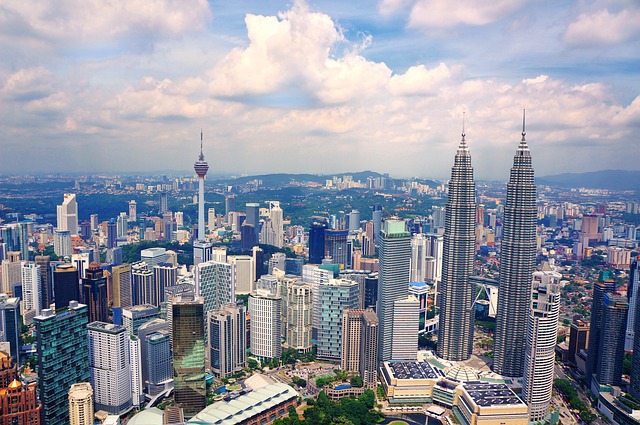 Petronas Towers, Kuala Lumpur
Easily Malaysia's most iconic landmarks, the twin Petronas towers dominate the Kuala Lumpur skyline. Along with the nearby Kuala Lumpur Tower, they are the tallest buildings in the capital and are still the tallest twin towers on Earth.
The Petronas Towers have been lauded as masterpieces of postmodern Islamic architecture. Perhaps the biggest draw is the sky bridge between the two buildings. It is the best place to get spectacular views over Kuala Lumpur and the KLCC Park that sits below the towers.
This is one of the top 10 things to do in Kuala Lumpur as well as one of the items on the must-do list when visiting Malaysia (although maybe not if you don't have a head for heights!).
Penang Island
Located off the west coast of the Malay Peninsula is the fascinating island of Penang, which makes up half of Penang state. The capital, George Town, is found here, and is well worth a visit. This unique city was a British colony the historical core remains so well-preserved as a colonial settlement that it is designated a UNESCO World Heritage Site.
Historically an important trading port, George Town has been described as having "unique architectural and cultural townscape without parallel anywhere in East and Southeast Asia". Landmarks like Fort Cornwallis, Penang State Museum, and the City Hall are sure to impress any visitor.
The rest of the island is equally worth seeing, from the rainforest-covered hills in the centre to the sandy beaches and resorts on the coast. If you are looking for a bit of luxury, you're in look — Penang has a number of high-class hotels, such as the famous E&O.
Malaysian cuisine
Travelling is a great opportunity to try something new, and that's especially true when it comes to food. If you are a fan of Asian dishes, Malaysian cuisine does not disappoint.
Nasi Kandar is one of the country's well-known and best-loved dishes. This staple of the national cuisine can be incredibly varied — it is essentially rice with toppings and sauces of your choosing.
Frequently inspired by Tamil cuisine, you can expect Nasi Kandar to be rich in flavour, with curry powder, chili, and other spices used in many of the sauces. Ingredients can be as varied as chicken, fish, squid, and vegetables like okra. And if you are vegetarian or vegan, don't worry! There are plenty of vegetarian options both in Nasi Kandar and other Malaysian dishes.
Rainforests and National Parks of Malaysia
As a tropical country, Malaysia is known for its wild side. Much of the country is covered in lush jungle teeming with exotic wildlife. In fact, it is estimated that 59-70% of the country is covered in rainforest.
Much of this forested land belongs to Malaysia's national parks. The largest national park in peninsular Malaysia is Taman Negara National Park, while much of the states of Sabah and Sarawak on the island of Borneo are covered in national parkland.
If you're visiting Malaysia, you should definitely take the time to visit one or more of these parks and experience the beauty of nature in the rainforest. You might even catch a glimpse of some of Malaysia's more elusive critters, such as gaur, Asian elephants, leopards, and even tigers.
Genting Highlands
The Genting Highlands offer a very different sort of holiday — one more akin to going to Las Vegas.
If you make the 51 km journey from Kuala Lumpur to the Titiwangsa Mountains, you can find attractions and entertainment galore over 5,000 feet above sea level: theme parks, casinos, resorts, international restaurants, nightclubs… You name it, the Genting Highlands have it!
Take a ride on the Genting Skyway — a cable car that offers stunning views over the mountainous terrain and was previously the longest in Southeast Asia and the fastest in the world.
Kek Lok Si Temple
The magnificent Buddhist temple of Kek Lok Si is one of the main draws of Penang and is important enough to warrant its own entry in this guide!
A pilgrimage centre for Buddhists from all over Southeast Asia and as far north as Hong Kong, the 7-storey pagoda is striking in and of itself and is filled with 10,000 statues of the Buddha made of alabaster and bronze.
The centrepiece is a 36.57-metre-tall (120 ft) bronze statue of Guanyin (Kuan Yin), the Goddess of Mercy.
The temple complex incorporates various architectural styles, including Chinese, Thai, and Burmese.
At only 2 Malaysian ringgits per ticket, it is easily affordable and well worth the trip to see the country's biggest Buddhist temple and one of the most amazing temples in Asia.
Visit Orangutans
The instantly recognisable orange-haired apes are famously only found on the islands of Borneo and Sumatra. While much of this is Indonesian territory, most of northern Borneo forms the Malaysian states of Sabah and Sarawak. If you're heading to either of these states, you can't leave without visiting these endangered cousins to human beings.
Danum Valley, Kinabatangan River, Deramakot Forest Reserve, and Tabin Wildlife Reserve in Sabah and Batang Ai National Park in Sarawak are all locations where you might spot an orangutan in Malaysia.
Mount Kinabalu
The highest mountain in Malaysia is the ultimate challenge for outdoor types. Making the climb to the peak of Mount Kinabalu is tough going, but it is a great experience for seasoned hikers.
No mountain-climbing gear is needed — there are 2 walkable routes to the summit. However, there is a risk of altitude sickness due to the sheer height of Mount Kinabalu and all hikers must make the climb with a licensed guide.
While an experienced climber might make the hike in one day, there are places to stop for the night for those moving a little slower. There is plenty to savour on the journey — from views over the clouds to the biodiversity of flora and fauna to be found on the mountain.
Mount Kinabalu also forms part of a national park, so even if you don't climb all the way to the top, there is plenty to enjoy here.
Batu Caves
The Batu Caves are found a short distance from Kuala Lumpur and are a must for anyone visiting Malaysia's capital.
The limestone cliffs have been carved by nature into caves and rock formations, and then by human beings into wondrous Hindu temples and shrines.
The caves also provide home to wild bats and monkeys, which can frequently be seen by visitors.
This is Malaysia at its most magical; an atmospheric monument where the wonders of nature and the accomplishments of mankind meet. It's no wonder that this holy place is the destination for many Hindus making a pilgrimage.