My Pick of The 5 Best Yoga and Surf Camps in Fuerteventura
Fuerteventura, part of the sun soaked Spanish Canary Islands, is a vibrant island with dramatic landscapes soaked in surf culture. Thanks to its long, uncrowded beaches, year-round great climate, and varied waves, there are surf camps in Fuerteventura to suit every level from beginners to more experienced surfers.
Known as the Hawaii of Europe, and the islands of 'Eternal Spring,' the Canaries are home to the best surf in Europe and Tenerife and Fuerteventura are the main surf hubs. As a volcanic island, the landscapes of Fuerteventura are desert-like and otherworldly, with turquoise waters lapping at black beaches, lined by golden dunes.
The surf breaks are just as varied, ranging from beginner-friendly swells to challenging drops. There are also opportunities to try wind surfing, kite surfing and scuba diving. Some of the best Fuerteventura surf camps also offer yoga classes for the perfect active holiday combination.
Pin me for later! 😉
Some of the best breaks in Fuerteventura include Flag Beach, Punta Blanca, El Cotillo and El Hierro – Fuerteventura's most world-renowned surf spot, a reef break for intermediate and advanced surfers while La Derecha de Lobos (Lobos right wave) is the longest wave in the Canary Islands. Most of Fuerteventura's surf camps and surf schools are located in the lively beach town of Corralejo.
The best time to surf in Fuerteventura, and the main surfing season, runs from September to April, with the biggest waves making their appearance between November and February. The water temperature is about 22 °C in summer and 18 °C in winter.
With so many options available it can hard to choose the best surf camp. To help you choose the best surf camp in Fuerteventura for you, I'm sharing my top five which offer a fun and friendly environment in which to learn the ropes or perfect your technique. Before booking your place on a surf camp or holiday, make sure you check out the real reviews and testimonials from previous guests on booksurfcamps.com – it's like the booking.com for surf camps!
COVID-19 Update: Spain and the Canary Islands are currently open for international tourism. Be aware that pandemic-related travel permissions can change at any moment and be dependent on your nationality. Check out the Spanish travel and tourism website for the most up to date information. Make sure you have travel insurance which covers Covid related cancellations. Mine is with Safety Wing. All these surf schools have also implemented enhanced hygiene and distancing measures to prevent the spread of coronavirus. (Note that some of the photos in this article were taken before Covid-19)
Here is my pick of the 5 Best Yoga and Surf Camps in Fuerteventura

The Surfintrip hosts live and breathe the surf lifestyle and philosophy. During this week-long camp, they share this with you via expert tuition, a beautiful, relaxed villa, and a spiritual connection to nature.
Your instructors will decide the day's surf spot according to the conditions, then encourage you to hit new milestones on the waves. As well as your tutorial time in the water, your instructors will record your sessions and provide personalised analysis and pointers for you to build on the next day.
You'll stay in an amazing villa with private pool, located in the natural park of Corralejo, only two kms from the center with a beautiful view to the island of Lobos. After a fulfilling day, enjoy a beach barbecue, float in the pool at the villa, or explore the sights of lively Corralejo.
See more details, dates, prices, reviews and book here!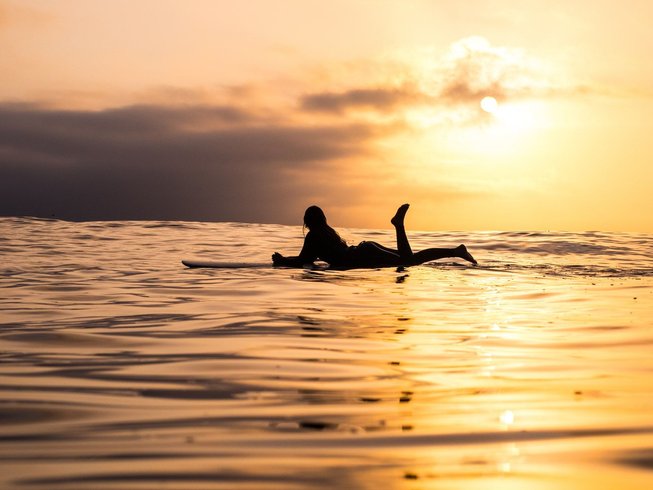 Deepen your wellness practice, improve your surf skills, and nourish your body during this two-week vegan surf and yoga retreat. Your accommodation, a 400m2 whitewashed Spanish villa, provides every comfort needed for you to disconnect from the daily grind and connect with your true nature. Meanwhile, your instructors will guide you through daily yoga, meditation, and pranayama practices.
In addition to a varied toolkit of spiritual and wellness workshops, your hosts provide freshly prepared vegan meals, full of local ingredients, designed to boost your energy and satisfy your senses.
Your itinerary has plenty of downtime for you to explore as you need. Try kitesurfing, paddle boarding, or simply take a dip in the 12-metre pool. Excursions will take you across the island to discover the incredible landscapes and soak up the magic of the atmosphere. To unwind, sway in a hammock in the large, lush garden, or read on your private patio. These guys also run popular surf retreats in Sri Lanka.
See more details, dates, prices, reviews and book here!
If you want to improve your Spanish as well as your surfing skills this is the best surf camp in Fuerteventura. Start your days with Spanish classes led by professional language teachers, tailored to your learning level. Then pick up your board and head for the waves for an afternoon of surf tuition. There's no substitute for immersing yourself fully in a new skill, and over the course of 15 days, your Spanish and surf skills are sure to come along leaps and bounds.
Your home for the fortnight is Casa Carmen, a beautiful villa with ocean views. With the option of shared dormitories or private bedrooms, the villa has a relaxed, sociable atmosphere. The spacious garden is the perfect spot to watch the sunset from a hammock.
As well as your daily lessons, there are optional excursions, including a hike up the magical Tindaya Mountain, sacred to the indigenous people of Fuerteventura. If you haven't had enough time in the water, kayak over to Isla de Lobos, a beautiful isolated little island with an excellent paella restaurant.
See more details, dates, prices, reviews and book here!
There's nothing like the magic of the 'Golden Hour' over the lunar-like Fuerteventura landscape. If you're seeking a creative and active retreat, this photography and surf program is it. Start your days by taking to the surf under the guidance of your hosts, who will give expert tips to improve your technique, whatever your level.
In the afternoon, you'll swap your board for your D-SLR and head to one of the many scenic locations across the island. Your tutors will give you the rundown of photography technique, from light principles to composition. Then it's over to your creative inspiration, to experiment with capturing the remarkable volcanic settings.
After a day of surfing and snapping, return to Casa Hilda. The house is the perfect place to unwind, with a sundeck and courtyard. Or take the short walk into Corralejo for a taste of the local nightlife.
See more details, dates, prices, reviews and book here!
To take your surf experience to new heights, windsurfing is an adrenaline-filled dance with mother nature. Whether you're new to watersports or looking for the opportunity to take your techniques to the next level, the WindSurfYoga team offer personalised tuition, to ensure your safety and enjoyment on the waves.
To prepare body and mind for the challenge of windsurfing, your stay will start with an uplifting Vinyasa yoga session on the beach. Your itinerary for the day will be decided according to the weather conditions, so pack up and follow the surf.
Between surf sessions, you can hike the nearby volcano, treat yourself to a massage, or make use of the barbecue facilities. After an active day, release and reconnect with a yin yoga class or soak up the atmosphere from the roof terrace.
See more details, dates, prices, reviews and book here!
Have you been on any amazing surf camps in Fuerteventura?
Leave your recommendations in the comments below the post and help out other yogis and travellers! 😊
Read More About Yoga and Surf Retreats: