Jaipur Travel Guide and Tips: The Best Places to Visit, Eat and Stay
Why you need to visit Jaipur
Jaipur, the capital and largest city in the desert state of Rajasthan, is one of the most colourful and flamboyant cities in India. Rajasthan is the land of Maharajas, ancient forts and extravagant palaces. It is also packed with history, sights and is part of the Golden Triangle, making it one of the most popular cities to visit in India. I've been here 3 times now so I thought it was time I put together a Jaipur Travel Guide and tips for 'the Pink City.'
Rajasthan is filled with colourful cities, vibrant bazaars and fascinating sights. Jaipur, known as 'The Pink City', is more than just a gateway to this intoxicating state. It is home to the intricate Hawa Mahal, the majestic Amber Fort, the City Palace and much more. Jaipur is a city of sights and smells, sweetshops and street food. It is also a city of flowers, which goes well with the magnificent pink coloured havelis and buildings.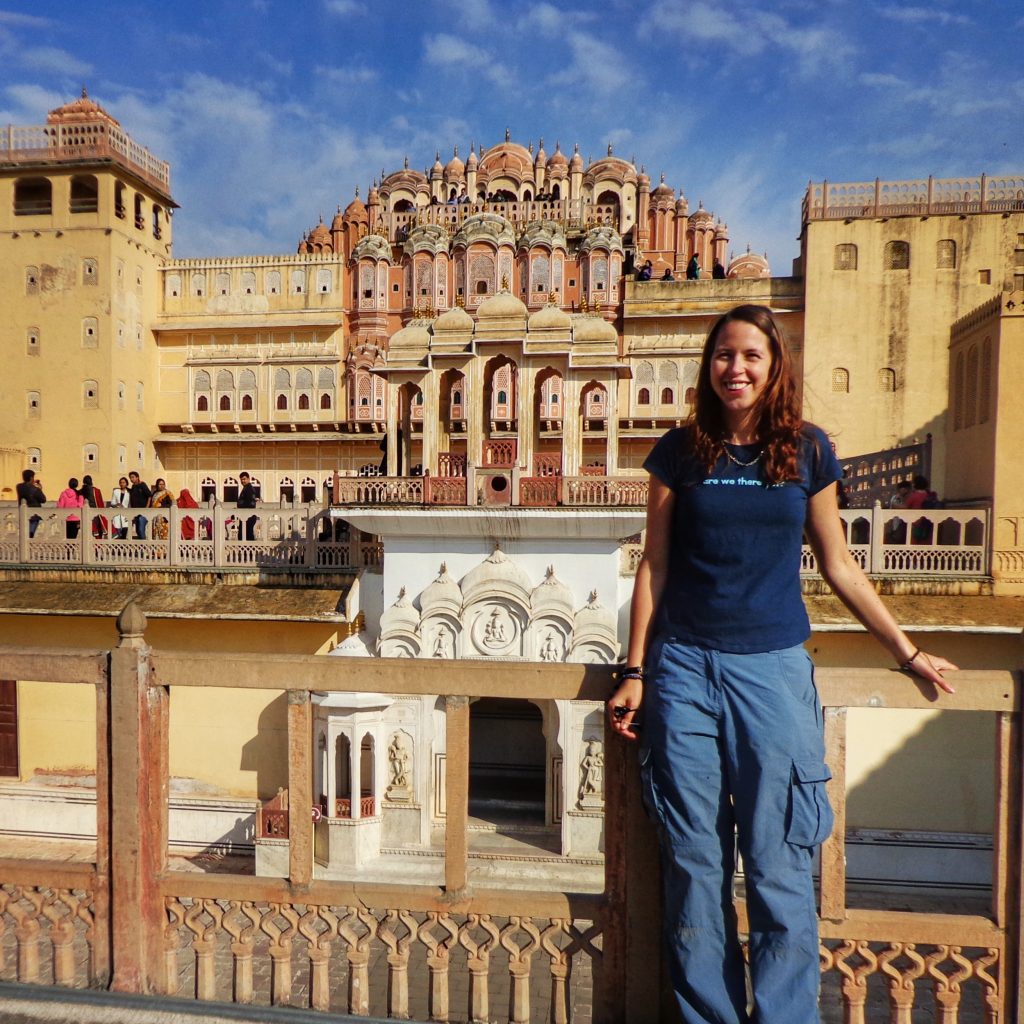 Jaipur dates back to 1726 when it was founded by Jai Singh II, the Raja of Amer. It was one of the first planned cities in the world, divided into nine blocks, with two having palaces and state buildings. The other seven were for the public. In 1876, Jaipur was painted pink to welcome the Prince of Wales; Edward VII and it's still law that the buildings in the old city are painted pink thus giving the nickname – 'The Pink City.'  Some of the roads throughout Jaipur are named based on the wares that are sold on it, while others are named after other cities within Rajasthan.
Jaipur, along with Delhi and Agra, is part of India's Golden Triangle which contains the biggest sights in India and its definitely an essential stop on any Indian Adventure. As a regal city, Jaipur is also one of the best places in India to stay in a palace or heritage hotel.
Give yourself 3 days to explore the best of Jaipur.
For the best things to do, places to stay and eat and more tips for visiting Jaipur, keep on reading my Jaipur travel guide.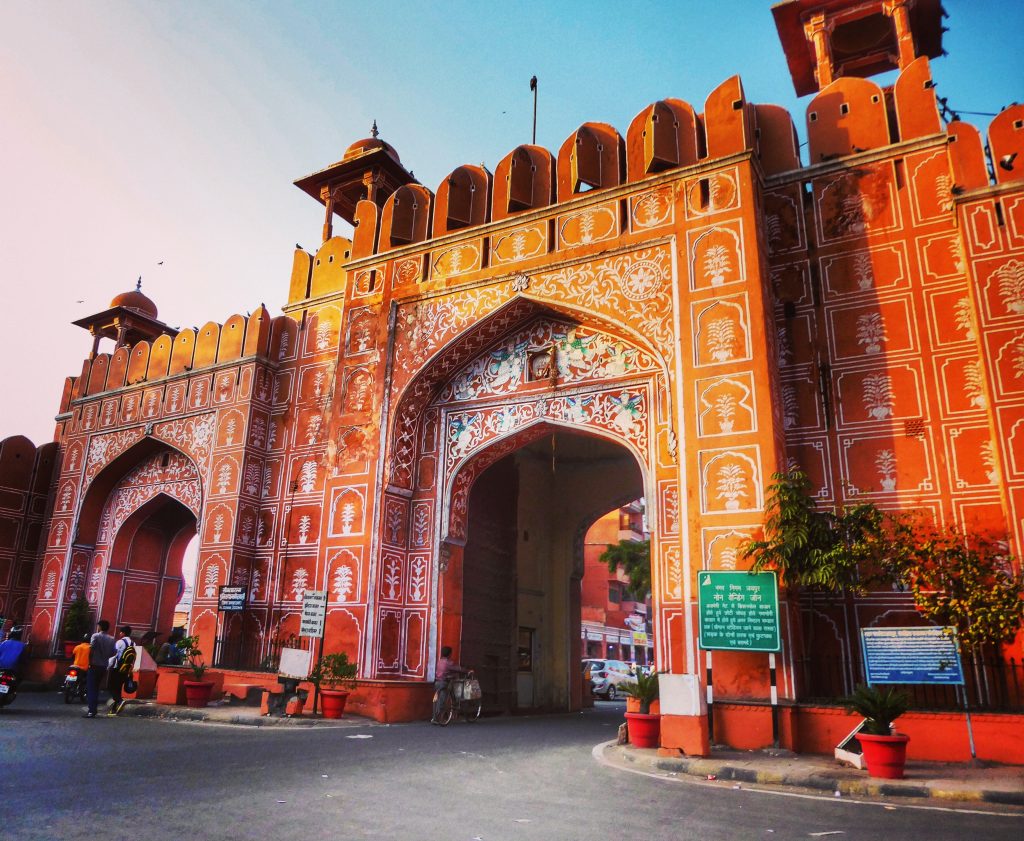 Top Things to Do in Jaipur
Jaipur is a fairly large city with so much to see. It is not an easy city to explore on foot, but rickshaws are readily available to whisk you along the chaotic streets and take you to all of the sights. There is also the RTDC bus that is run by the state's tourism department. They run three guided tours; full day, half day and a night tour. You can also take a Jaipur city tour which will allow you to easily see all the sights in one day.
Amer / Amber Fort – There are several stunning buildings in Rajasthan, though the most visited is probably the Amer Fort that dates back to Raja Man Singh. The massive fort is actually located on a hill around 11 kilometres from the city in Amer. The World Heritage site has a lovely pastel yellow colour to it and offers good views of the city. It is particularly beautiful at sunset when the sun sets below Jaipur and nearby Jal Mahal. One of the most magnificent features of the fort is the Sheesh Mahal that is adorned with thousands of mirror tiles. The Ganesh Pol Entrance is also very impressive.
On the way to Amer Fort make a stop at Jal Mahal; a Rajput style palace that sits in the middle of Maan-sarovar Lake. It is also worthwhile to visit Anoki-museum that is dedicated to hand block printing textiles. There is also a small shop and café at the museum that I found to be quite a nice place to stop in for a snack. Nahargarh Fort can also easily be visited on the way back from Amer Fort. I recommend coming to the fort at sunset for the good views over the city. There is a restaurant on the west side of the fort to have a meal and/or a drink while taking in the great views.
City Palace – This stunning palace complex was once the seat of the Maharaja of Jaipur and is still a royal residence today! It is also open to the public and houses buildings like Chandra Mahal, Mubarak Mahal, Diwan-e-Khas and Diwan-e-Aam. The complex is located in the northeast corner of the old city centre and in addition to the palaces and buildings, also features stunning gardens and courtyards. The seven-levelled Chandra Mahal is the most dominating building in the complex, with only the ground level being accessible to the public. The other six storeys are home to the descendants of the former rulers of Jaipur.
Jantar Mantar – Also near the palace is this impressive monument that features the largest stone sundial in the world! The UNESCO World Heritage site has quite an interesting design, but it are the nineteen instruments that are the most impressive part of the observatory. They were designed on the principles of ancient Hindu Sanskrit text to measure time, predict eclipses, track location of major stars, determine the declinations of planets and verify the celestial altitudes. The stone and marble observatory was built in 1734 but has been restored many times since then.
Hawa Mahal – Right next to the City Palace complex is the red and pink sandstone palace that used to be the women's chambers. The high wall that makes up the front of the impressive building has a honeycomb of a beehive design with 953 small windows that are decorated with intricate latticework. The windows were used by women of the royal household in order to observe things going on outside without being seen. On the other side of the wall-like structure is a five-story palace.
Albert Hall Museum – The oldest museum in all of Rajasthan is located outside of the old city walls opposite the New gate. The foundation of the building was laid when the Prince of Wales visited the city in 1876 and it opened to the public in 1887. Today, it acts as the state museum and inside is a great collection of artefacts, like carpets, paintings, sculptures and pottery.
Pin Me 😉 
Galta Surya Mandir – This small temple sits around 2.5 kilometres outside of Jaipur and is part of the larger Galtaji. The temple is known as Monkey Temple because of the large amount of monkeys that live in it. Visit the temple and feed the monkeys while enjoying the views of the city below.
Jaigarh Fort – This fort was built in 1726 to protect Amer Fort and actually overlooks it. It is located on the Hill of Eagles (Cheel ka Teela) and is known for housing the largest cannon in the world. The fort was never defeated in battle, making it the strongest of Jaipur's three forts. Still, the best reason to visit the fort is for the stunning gardens and the spectacular views of Amer Fort and the hills that surround the area.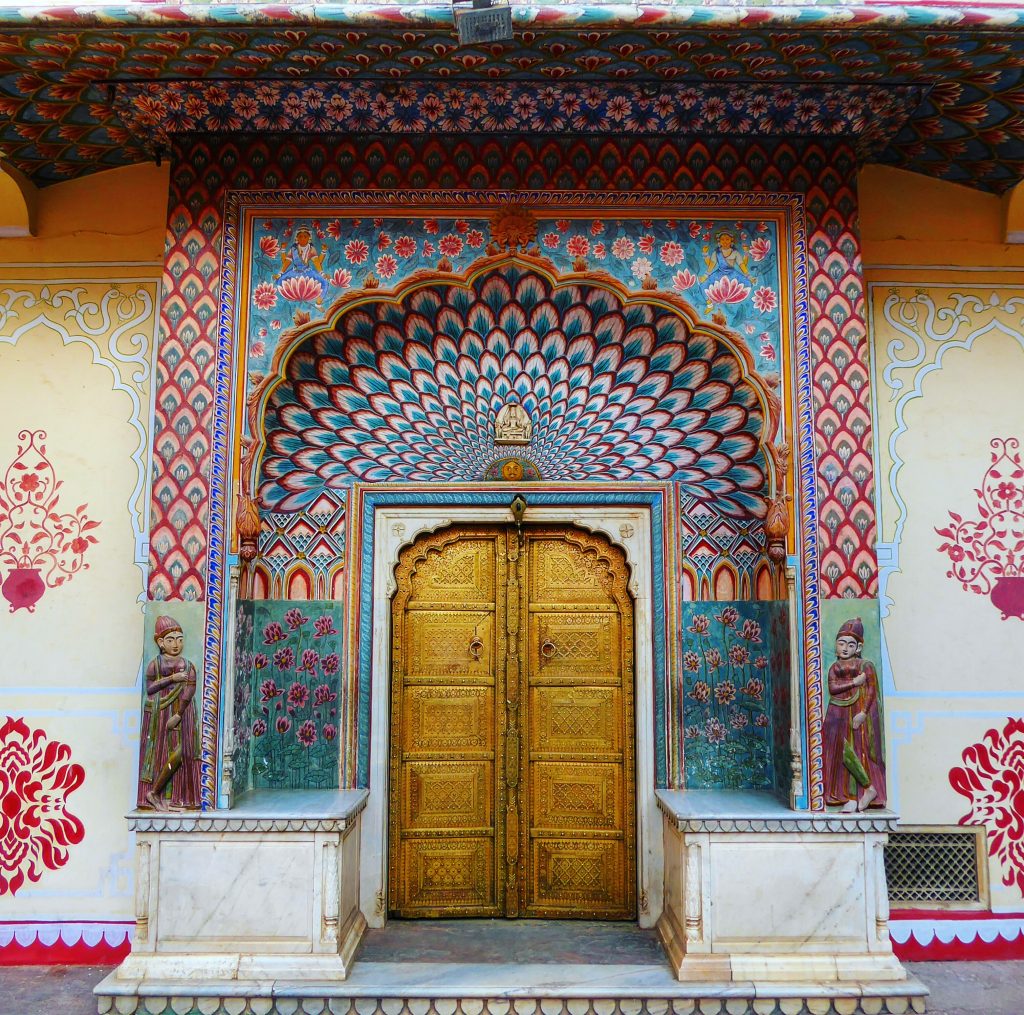 Shopping – Jaipur is famous for its Rajais that can be purchased in the main market area. Wander around the bazaar with the cows and ox carts and smell the colourful flowers and strong aroma of spices. It is quite chaotic with hordes of people, many of which will be just as interested in you as you are in the whole hectic magic of the place. But be careful of gem scams, which are known in Jaipur, but if you are in the market for gem stones Jaipur us definitely the place to search for them. You can read more about shopping in Jaipur here.
The Jaipur Literature Festival takes place every year in January at the Diggi Palace Hotel and has included writers like Hari Kunzru, Salman Rushdie, William Dalrymple, Ian McEwan and Vikram Chandra. Even Opera Winfrey did a talk one year!
Best Day Trips from Jaipur
There is loads to see in the surrounding area and Jaipur is a great place to base yourself to explore some of the best sights in Rajasthan. The best day trips from Jaipur include: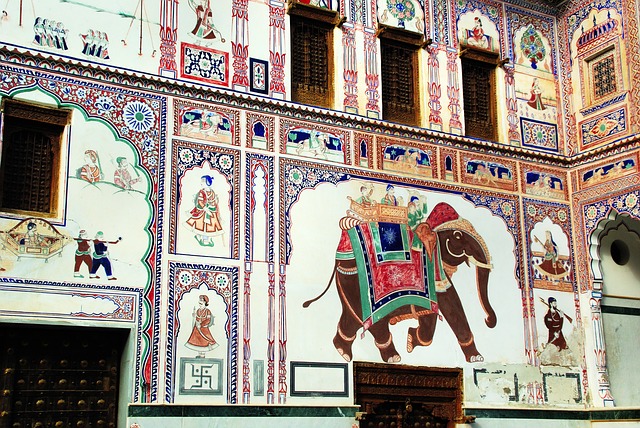 Taking a day trip to Shekhawati – This historical region is actually located in Jaipur, but at the very southwest corner of it. The desert area was established in 1445, but it became an important part of India's history in the 17th and 18th centuries.
There's some beautiful havelis, temples and castles in Shekhawati to visit and it's a great escape from the busier tourist sites in the city centre. Check out Mandawa Fort that was built by Thakur Kunwar Akhayraj Singh in 1645. There's also the 300 year old Shahpura Haveli and the beautiful Roop Niwas Kothi Palace.
It is also worthwhile to head north of the city to Samode Palace and admire its fusion of Mughal and Rajasthani architecture. The palace may be recognisable to some from the romance novel turned TV series 'The Far Pavilions'. Check out this trip to Samode village which includes a camel ride and lunch at the palace.
Abhaneri and its famous Chand Baori stepwell is just 95 kilometres from Jaipur heading towards Agra and is a good place to stop on the Golden Triangle trail. The village is also home to the ruins of Harshat Mata Temple. The ghost town of Bhangarh can also be visited when travelling along this route. It is known to be the most haunted place in all of India and is quite a spectacular site. It is illegal to visit the town between sunset and sunrise because supernatural creatures come out and graze the area. Check out this haunted Bhangarh and Abhaneri  Stepwell day trip.
Also on the Golden Tourism Triangle of Delhi–Jaipur–Agra is the city of Bharatpur, so many tourists do make it here on a day trip. There's plenty of places to see in the city, like Lohagarh Fort, Golbagh Palace and Vishwapriya Shastri Park, though the main reason to make a day trip here is for the Keoladeo National Park. This famous bird sanctuary is home to over 360 species of birds, over 370 flower species and around 50 species of fish. Take this day tour to Keoladeo National Park.
One of India's most famous national parks and Ranthambore Tiger National Park is only a couple of hours away from Jaipur. It's possible to take a day trip from Jaipur to Ranthambore where you can take a jeep safari and hope to spot tigers, wild boar, deer, owls, bears, crocodiles, and more.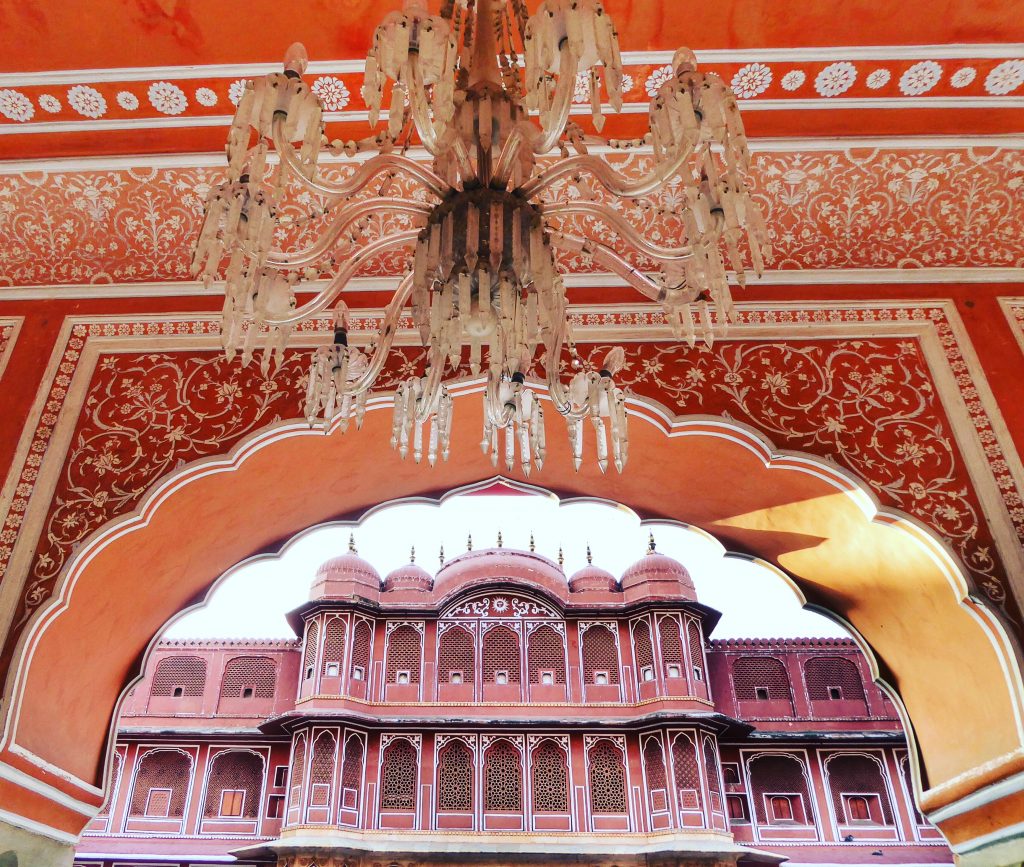 Where to Stay in Jaipur
There are so many places to stay all over the 'Pink City' that range from a dorm bed to a lavish palace hotel that will make you feel like a Maharaja. This is probably because it is a major destination for not only international tourists, but also Indians.
The Best Backpacker Hostels in Jaipur
Roadhouse Hostels Jaipur – is a funky hostel that has colourful murals on the walls to make it cheery and bright. It's located at Chomu House Circle close to Statue Circle and some of the best restaurants and bars in the city. Plus, the railway station and the main bus stop are just 1.5kms away! It's a clean, comfortable hostel that offer both dorms and private rooms, all of which have a bathroom attached. It's a great place to meet fellow travellers thanks to its fantastic game room. There's also great WiFi, a relaxing terrace and a communal kitchen. Click here for prices and to book.
Moustache Hostel – the common areas are the best part about this hostel, especially the incredible rooftop terrace and its views of Nahargarh Fort. It's the perfect place to socialise with other backpackers or to read a book. The same is true of the indoor lounge areas that are decorated with beautiful Rajathanian décor. It offers clean rooms and dorms with modern bathrooms attached that are excellent value for money. Plus, you can't beat the city centre location. Click here for prices and to book.
Zostel Jaipur – is another great option for backpackers that want to stay in a clean, cheerful hostel in a great location. The City Palace and Hawa Mahal are both less than 1km away, with its rooftop terrace offering great views of the city. They offer 4-, 6- and 8-bed dorms as well as private air-conditioned rooms. There are common rooms for mingling with other like-minded travellers that may become forever friends. There's no restaurant onsite, but there is a shared kitchen. Click here for prices and to book.
Vinayak Guest House – This guesthouse is a great sociable and affordable option instead of staying in a backpacker hostel if you want a private room. There is a dormitory as well as affordable double rooms and a good restaurant on the pretty roof top. Rooms are comfortable and spacious and the hotel is decorated a little bit like a palace. It's located near to the train and bus station and offers easy access to all of Jaipur's sights. Great value for money! Click here for prices and to book.
Madhav Guest House – This clean budget guesthouse is also is a good location near the railway station. The staff are friendly and helpful and all rooms have private bathrooms, flat screen cable TVs. Wifi is also good and the restaurant on the terrace serves good food in a nice spot. There is also a shared kitchen, luggage storage and the guest house can help you arrange tours of Jaipur. Click here for prices and to book.
Best Mid-Range Hotels in Jaipur
Hotel Kalyan – this is a cosy hotel that has spacious rooms with a desk, cable TV and coffee/tea making facilities. If you want a bit more comfort than a dorm, this is a great option. Plus, it has a fantastic rooftop terrace and restaurant that boasts great panoramic 360 degree views of the city. Click here for prices and to book.
Sunder Palace Guesthouse – a comfortable haveli palace style guesthouse that is well worth the extra little bit of money if you want your own spacious room with private bathroom and TV. There's a great restaurant onsite that serves vegetarian Indian food, and food is served in the restaurant, on the rooftop terrace or in your room. Staff here is great and very helpful. Click here for prices and to book.
Hotel Arya Niwas – A great mid-range hotel that is just 5kms away from the City palace and 1km away from Sindhi Camp Bus Stand. All rooms have lots of natural light and look out over the gardens or the courtyards of these 100+ year old building. There's a great North Indian vegetarian restaurant where everything is made onsite, including the bread! The hotel also has a library, a souvenir shop and a travel desk. Click here for prices or to book.
Nahargarh Haveli – A great value for money hotel in the heart of the city. This hotel is set in an old refurbished 4-storey house with rooms to match this theme. Stay in a deluxe room and have the same comfort and service as you would in a Royal Suite, but for half the price. Breakfast is included, making it even more affordable. Click here for prices or to book.
Jas Vilas – is an elegant hotel that has an outdoor swimming pool, stunning gardens and terraces at every turn. Owners Mahendra and Rajyashree are extremely friendly and make you feel like part of the family. There are 14 rooms that are all beautifully decorated and have a large bathroom, a desk, a living area and satellite TV. Click here for prices or to book.
The Best Luxury and Heritage Hotels in Jaipur
Pearl Palace Heritage – A boutique heritage hotel in the centre of the city with beautifully decorated themed rooms. You will feel like royalty if you stay in the Khwabgah Premium Room that is decorated like royal bedroom, or surround yourself in bliss in the Buddha themed Nirvana Room. The entire property has been decorated by local artisans, creating a unique atmosphere. Click here to check prices and to book.
Oberoi Rajvilas Palace Hotel – If you really want to go all out, this 5-star hotel is the place to stay, especially if you want to be treated like royalty. The hotel is set in a former royal resort and offers rooms and villas with private pools. You can also stay in an air-conditioned tent complete with teak floors, a king-size bed and a private garden. It's an exceptional property with a spa and a fine dining restaurant. Click here to check prices and to book.
Taj Rambagh Palace Hotel – Expect nothing but luxury at this Taj brand hotel, which is set in a former palace. You will feel like royalty in any of its 78 rooms, and be treated like it by the excellent staff. Guests are even greeted by decorated horses, elephants and camels! The palace was built in the 18th-century French style and this is carried through the entire hotel. Click here for prices and to book.
Samode Haveli – a historic and elegant haveli originally built 175 years ago as a royal residence that has now been converted into a luxury heritage hotel in a great, easy location near the old city with lavish, regal individually styled rooms, courtyards, a pool, wellness center and beautifully decorated restaurant.  The hotel hosts Rajasthani music and dance performances in the evenings, making it an amazing place to learn about the local Rajasthani culture in an opulent ambiance. Click here to book!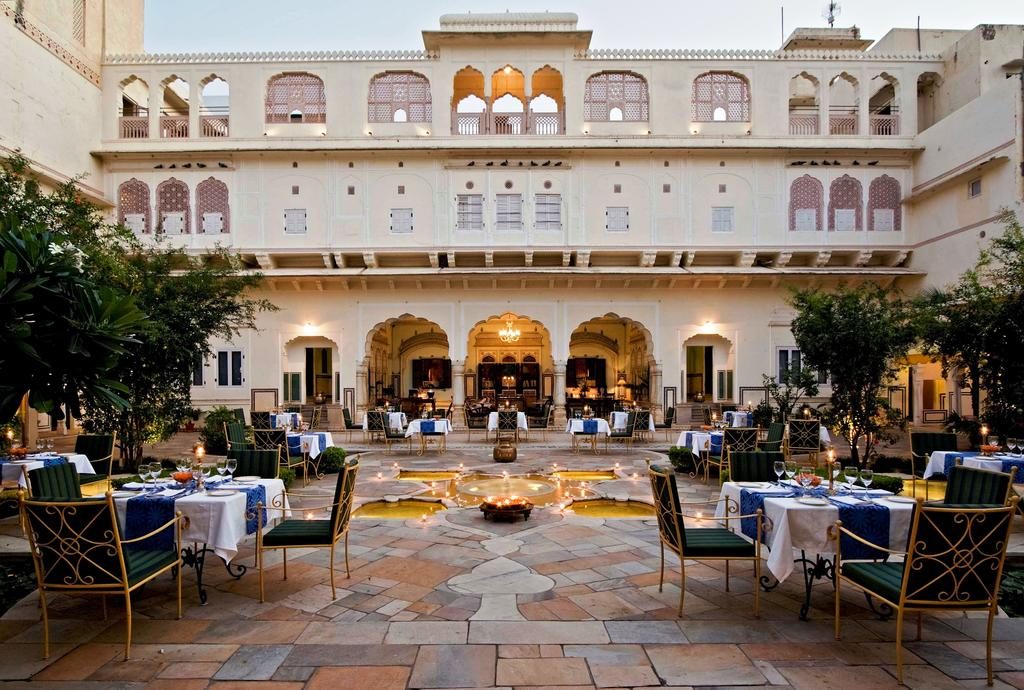 Where to Eat and Drink in Jaipur
Typical dishes in Jaipur include Dal Baati Churma, Missi Roti and Ghevar, all of which can be found at venders all over the city. There are also plenty of places to grab an ice cream. You won't find fine dining apart from inside the luxury hotels, though it is easy to find a good restaurant in Jaipur.
Lassiwala – This lassi shop is opposite Raj Mandir. It's been running for over 70 years and has become a famous spot and a must for all lassi lovers.
Choki Dhani – A cultural experience that serves thali and meals on platters that are served the traditional way. It's a bit of a tourist trap but a great experience.
Anokhi Café – Great spot for organic home-baked goods and freshly prepared sandwiches. They also have a good selection of teas.
Padao Restaurant –  An open-air restaurant at Nahargarh Fort where you can enjoy Indian food with picturesque views of the city.
Rawat Mishtan Bhandar – The best spot to grab a kachori, which is what they are famous for. It's located close to Polo Victory cinema and the bus stops.
Peacock Rooftop Restaurant – This rooftop restaurant is located on the roof of the Hotel Pearl Palace. It's themed after the peacock, so it's colourful, unique and fun.
How to get to Jaipur
Jaipur is well connected with the rest of North India and beyond. The modern Jaipur International Airport has frequent flights to Ahmedabad, Chennai, Hyderabad, Kolkata, Mumbai and Pune, as well as other domestic flights. There are also numerous flight per day to Delhi. The airport also serves international destinations like Bangkok, Singapore, Abu Dhabi and Dubai. Check Skyscanner to find the cheapest deals.
Overnight trains run from Jaipur to almost all major cities throughout the country, including Bangalore, Lucknow, Patna, Puri, Chennai, Mysore, Goa and Kochi. There's also the Shatabdi express that runs from Delhi to Jaipur. If you would rather see the scenery, take a Rajasthan State Road Transport Corporation (RSRTC) bus for around 600 Rupees. Buses also leave Jaipur for other cities throughout Rajasthan including Jaisalmer, Jodhpur, Ajmer, Pushkar and Mt Abu.
Where Next:
Visit Agra, the home of the Taj Mahal
5 Best Heritage and Palace Hotels in Jaipur
Pin Me 😉
Amber Fort by Roop Dey and Shutterstock
Do you have any more Jaipur travel tips for share? Leave a comment below and help out other travellers 🙂