Costa Rica is truly an amazing country and one of the best places to do yoga teacher training abroad. Here you can immerse yourself in your yoga practice surrounded by soothing and healing nature.
The jungles and beaches offer an amazing and diverse range of yoga retreats and, for those who want to go deeper or even change their career, there are some excellent schools offering yoga teacher training in Costa Rica.
Costa Rica is famous for its incredible biodiversity of tropical forests, stunning beaches, magnificent waterfalls, and rich and vibrant history. It is best known as an eco-tourism hot spot and many also come do yoga teacher training in Costa Rica amongst these inspiring and picturesque backdrops.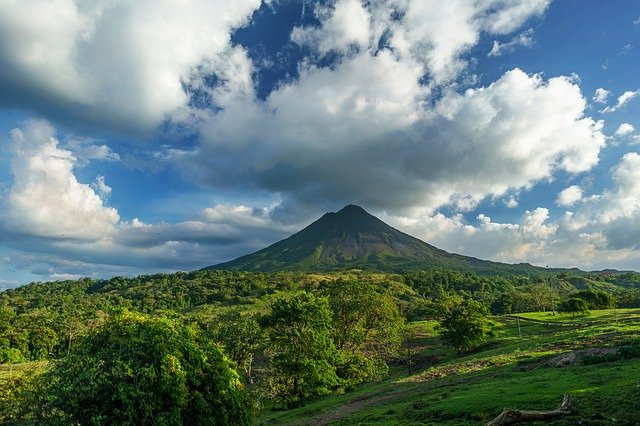 Tips for choosing a program for yoga teacher training in Costa Rica
Doing a YTT is a transformative experience whether you want a complete career change or just wish to deepen your yoga practice, learn about yogic philosophy, or just take time out to connect more with yourself. You don't need to be an expert yogi either – people from all walks of life and all levels of experience take yoga teacher training in Costa Rica.
The 200 hour yoga teacher training course in Costa Rica is the most popular program and most courses take place over 20 – 30 days. I'd recommend taking the most time you can for the best experience. A 200 hr YTTC will give you the certification you need to be a registered yoga teacher with Yoga Alliance and to start teaching yoga.
If you don't have that much time and are looking for short yoga courses some yoga centers also offer the chance to do a 100 hour yoga teacher training in Costa Rica and come back later to do another 100 hours to complete your training. If you can't make it to Costa Rica right now some studios offer online yoga teacher training courses nowadays.
For those who want to go deeper there's also the option of a 300 hour or 500 hour Costa Rica yoga teacher trainings. The 300 hour is a more advanced course taken after the completion of the initial 200 hour course. If you choose a 500 hour YTTC this is a combination of the 200 hour and 300 hour yoga program in succession and takes about 60 days.
Doing any yoga teacher training course is a big investment of both your finances and time so you need to do the research before you book to make sure that the course and style of yoga taught matches your interests, experience and is what you'd want to teach. If you're not sure which style of yoga to focus on I'd recommend doing a multi style or classical Hatha yoga teacher training. Also, always make sure your YTT is Yoga Alliance approved.
While most Yoga Alliance registered schools have a similar curriculum, quality can vary a lot between schools so its important to get reviews from previous students before you book your yoga teacher training in Costa Rica.
I find sites like www.bookyogaretreats.com and www.bookyogateachertraining.com really useful, it's like the Booking.com for yoga and you can read reviews from previous students as well as see photos, information about the instructors and daily schedule and you can book directly through the site.
Pin Me 😉
Yoga teacher training is physically, mentally, emotionally and spiritually challenging but also very rewarding and could really change your life. Because of this I'd recommend going for the course with the longest duration you can as you'll have more time to relax those sore muscles and absorb all the information you're learning. See here for more things to look out for when choosing your YTT.
If you just want a relaxing yoga retreat then check out my pick of the best yoga retreats in Costa Rica
My Pick of the 5 Best Yoga Teacher Trainings in Costa Rica
Following ancient yoga teachings, GypSea Yoga School has put together one of the best yoga teacher training in Costa Rica that's hidden away in a tree house jungle paradise.
There are hiking trails at your doorstep with hidden waterfalls to discover and a cabinet of a garden right on site where you can learn all traditional herbal remedies. You'll also embark on a special inward journey to discover your highest self and true purpose through ancient yoga teachings, introspection, and self-love and, of course, learn all about teaching yoga.
Spend 17-days practicing a wide variety of yoga styles including Vinyasa, Hatha, Yin, Ashtanga, Kundalini, Iyengar, Nidra and Acro Yoga. You'll learn all about yoga philosophy, lifestyle and ethics, as well teaching techniques.
16 nights accommodation at a serene property in a small village on the southwest coast of Costa Rica is included. You will also get 3 home-cooked vegetarian meals per day and a hikes through the jungle to see the magnificent waterfalls and trips to the beach.
GypSea Yoga also offer 200 hour yoga teacher trainings in Florida and self paced online yoga teacher trainings as well as special 50 hour modules in Costa Rica covering different subjects like yoga nidra, yoga philosophy and the business of yoga teacher training.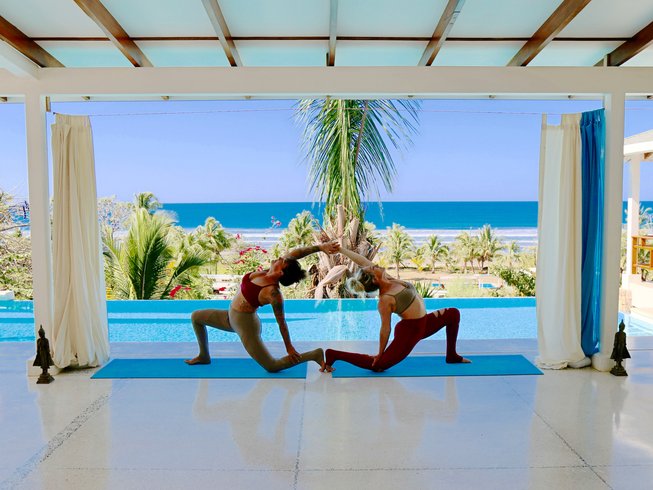 Could there be any better place to learn all about teaching yoga on a 1400 square foot open air yoga deck overlooking the the pool and Pacific Ocean.
The team at Soma Yoga Institute lead this incredible yoga teacher training in Costa Rica, complete with Ayurveda, philosophy, meditation and chakra studies. You will also learn all about anatomy, alignment principles and pranayama.
After 18-days you will leave with a 200-hour YTTC in vinyasa flow, hatha and restorative yoga. You will also get 17-nights accommodation at the lovely Zen Spirit Yoga Resort, which is on a small hill top overlooking the beautiful Costa de Oro beach.
You'll stay in a private, quad, triple or double occupancy room, all of which have a large balcony where you can take in the stunning beachfront views. Soma Yoga Institute also offer yoga retreats and teacher trainings in Greece as well as an excellent self paced 200 hour online therapeutic yoga teacher training course.
Read More: The best yoga retreats in Costa Rica

By the famous Whale's Tail at Marino Ballena National Park, Yoga Maya Uvita welcomes you to bright, modern accommodation.
During this 15-day training, your teachers will prepare you to teach vinyasa and yin yoga, as well as an introduction to the foundations of hatha. You will learn how to create sequences and teach authentically, with instruction in asana alignment, anatomy and physiology. 
As well as learning how to teach, you'll deepen your own practice with immersion in yogic philosophy and lifestyle, including chakras, ayurveda, mantra, meditation and pranayama. 
Between workshops, enjoy excursions like guided visits to nearby waterfalls and natural beauty spots and lounge in the deck chairs and hammocks as you reflect on your journey.
Read More: The best yoga teacher training in Mexico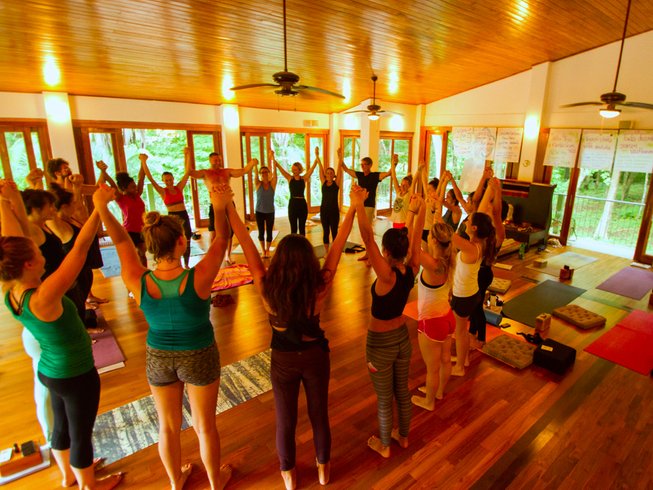 Deepen your personal practice and become a compassionate and skilled yoga teacher at this 21-day yoga teacher training in Costa Rica.
Janel Schullo and Horace Usry have created a safe, sacred and nurturing environment where future yoga teachers can come and learn all about the art of teaching yoga in a beautiful private residence located just a few steps from the Pacific Ocean in Nosara – one of the best and most hip yoga and surf destinations in Costa Rica.
Wake up each morning to the sound of birds chirping before starting your first Vinyasa yoga practice in the spacious canopy-level yoga studio with glorious jungle views. There are also daily sessions on yoga philosophy, anatomy and teaching methods and a restorative yoga class to wind down in the evening and free time in between when you can relax at the pool, go to the beach or explore the area.
Only breakfast is included in this Costa Rica yoga teacher training course, but you can also opt for a catered gourmet vegan meal plan and there are also two fully equipped kitchens for all to use. If you prefer to eat out there are plenty of excellent healthy cafes and restaurants nearby.
Read More: The top surf camps in Costa Rica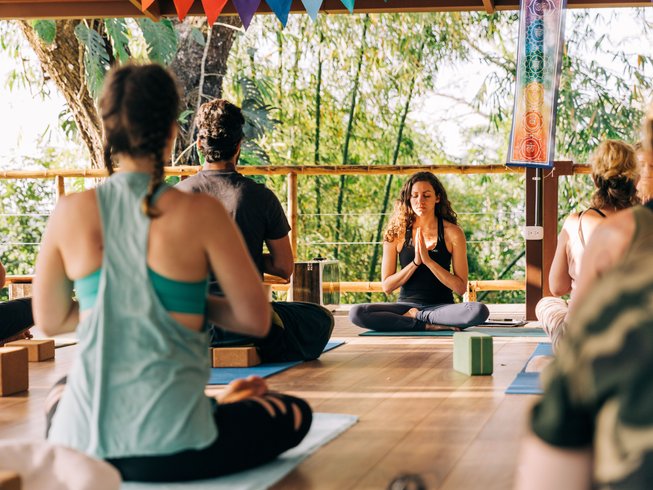 Study the Yoga Sutra and the Bhagavad Gita, and learn how to teach an amazing 90-minute Vinyasa yoga class and how to apply ancient yogic philosophy to modern lives at this incredible yoga teacher training in Costa Rica.
After three weeks, you will leave with a 200-hour YTTC in hand, and all of the knowledge needed to go off into the world and teach yoga, thanks to wonderful teachers Alejandra Torres and Diala Hamed.
Vida Asana is tucked away in the rainforest so you can practice yoga to the sound of the birds chirping and breathe in the fresh rainforest air. Stay in a shared or private room, all of which come with private showers, organic body care products, air conditioning, ceiling fans and a fridge.
Three organic meals are included each and every day, as are airport transfers and all group activities like hiking to ruins, sweat lodge and guided meditations.
I hope this blog has helped to find your ideal Costa Rica yoga teacher training course. If you're still undecided check out my other posts or this article about yoga teacher training abroad for more tips and recommendations.
Read more yoga and Costa Rica blogs:
Have you been on an amazing yoga teacher training in Costa Rica? 
I'd love to hear about it in the comments below