With a stunning coastline stretching along both the Atlantic Ocean and the Mediterranean Sea, it's no wonder that Morocco is a surfing hot spot. It's also one of the most fascinating and intoxicating cultural destinations in the world.
Morocco has something to offer everyone so why not combine learning to surf at one of the many fantastic surf camps in Morocco with exploring the colourful, historic and culturally captivating cities like Marrakech, Fez, Chefchaouen and Essaouira or trekking in the High Atlas Mountains!
Where to find surf camps in Morocco
There are numerous surf camps in Morocco, but the majority of them are along the Atlantic Ocean in the Souss-Massa Region around the surf mad towns of Taghazout and Tamraght. This is the best region for surfing in the country, and one of the best surf regions in the world, and the area where I recommend you book a surf camp in Morocco.
Agadir airport nearby makes a convenient entry point to this surf hotspot. Most surf camps in Morocco are affordable and great value for money and many also include yoga classes – yoga and surfing makes the perfect combination and there's also a wide variety of amazing yoga retreats in Morocco.
You can surf in Morocco all year round, apart from April and November due to rainy weather, the peak surf season runs from December to March when the biggest winter swells hit Morocco from the North Atlantic.
There are so many surf school and surf camps in Morocco it can be confusing deciding which one to choose. Nowadays, it's more important than ever to do your research and get reviews from previous guests. I find www.booksurfcamps.com really useful as you can easily find all the information about the top surf camps in Morocco in one place, read real reviews and book.
Pin Me! 😉
Covid Update: Morocco is open but be aware that the situation could change at any time so check for the most up to date news before traveling and see the entry requirements here. I find this regularly updated article by Wanderlust Magazine about which countries are open for tourism really useful.  It's also more important than ever to have good travel insurance that covers coronavirus – mine is with SafteyWing.
To help you decide on the perfect sun, sea and surf holiday here are my picks for the 5 best surf camps in Morocco.
Here is my pick of the 5 Best Surf Camps in Morocco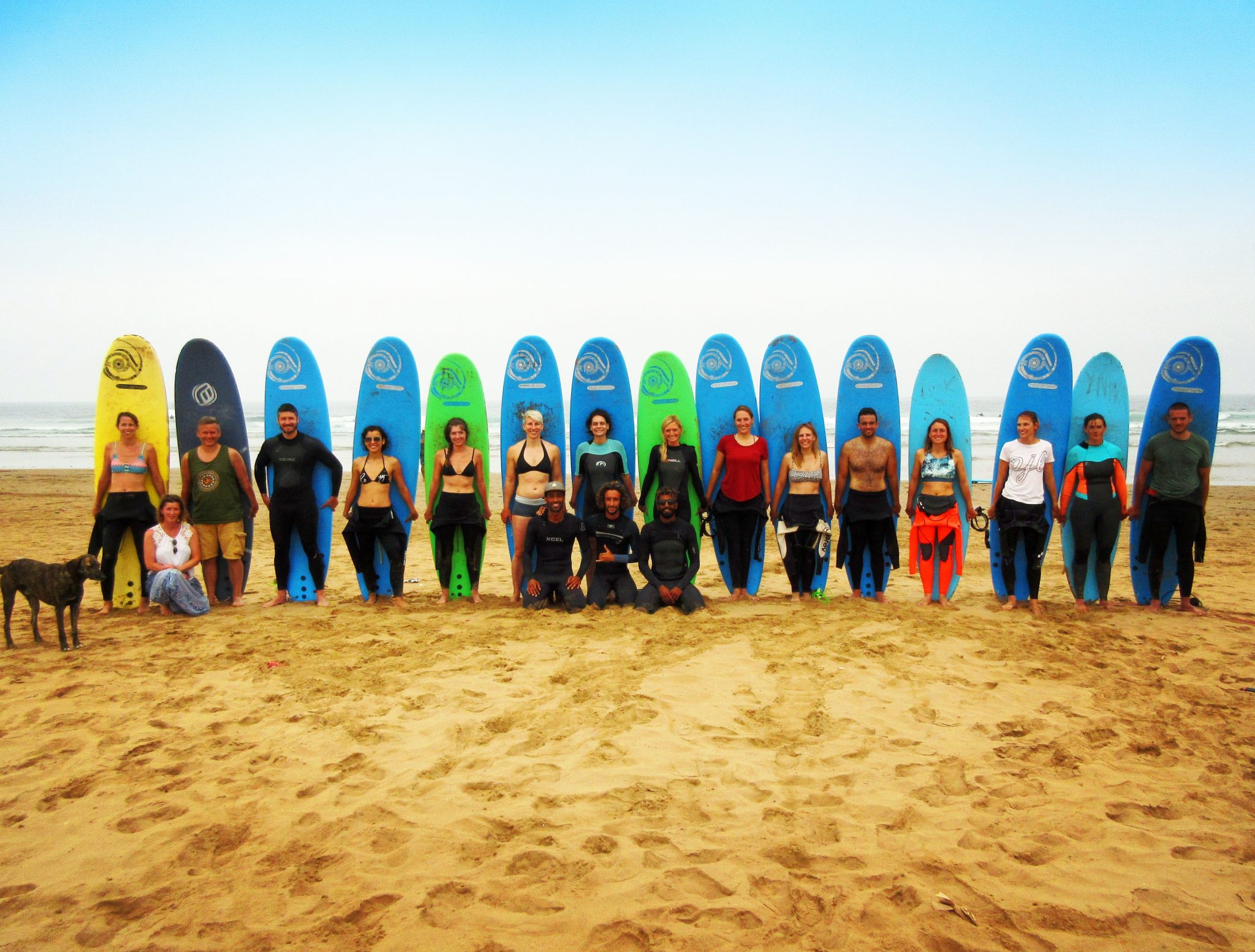 Where better to learn how to surf the waves than the small, surf mad town of Taghazout, which is known for having some of the best right hand breaks in the world. When you stay at Surf Berbere these are all at your doorstep.
You can actually see Anchor point from this Morocco surf camp's rooftop terrace and excite yourself on what's to come. There are also many other surf spots within 10 minutes away from. In fact, there are so many breaks along the stretch of Taghazout that it's arguably the best spot in Morocco to go surfing.
You will enjoy surf lessons twice everyday (morning and afternoon) where the experienced instructors at Surf Berbere will take you out to wherever the surf is best that day. Wind down with a sunset yoga session on the rooftop overlooking the ocean before a group dinner on the rooftop.
Three meals are included, as are accommodations in their very own building making this a super affordable, all inclusive surf camp. Choose to stay in a studio or share a two- or three-bedroom apartment, all of which boast amazing views of the sea and are just steps away from the beach and some amazing surf spots.
Surf Berbere offers a fun, relaxed and sociable atmosphere, the group dinners on the rooftop where a highlight, as it's great value for money making it one of the very best surf camps in Morocco. Read my full review of Surf Berbere here and click here to get more info, prices and to book.
Read More: Best Surf Camps in Portugal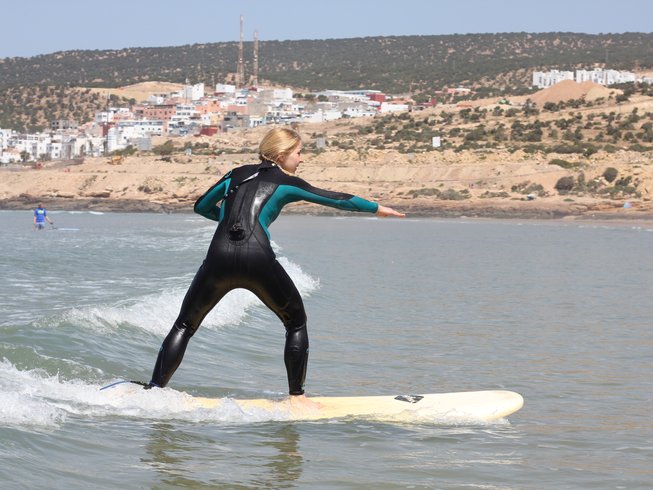 Sun, surf and yoga are offered year round at this amazing surf camp in Morocco that's located in the surf Mecca of Taghazout. It's the perfect mixture of body and mind; starting the day off with a Vinyasa Yoga session, surfing all day and finishing it off with a more relaxing rooftop yoga session.
Yoga and surfing compliment each other by building strength, working on balance and enhancing your life. You'll also enjoy trips to a local, traditional Hammam, Agadir market and the nearby Paradise Valley nature spot making this one of the most inclusive and best surf camps in Morocco.
You will be spending six days with the friendly and fun crew from Surf Coast Morocco surfing, practicing yoga and enjoying three healthy meals a day. Lunch is actually served on the beach while taking a break from surfing.
On top of that, you will be staying at an oceanfront surf and yoga house that has seven rooms with the choice of private or shared bathroom, and private balcony with amazing panoramic views of the sea. You can also enjoy the views from the massive rooftop terrace. Click here to book, read reviews and get more info.
Read More: Top Surf Camps in Costa Rica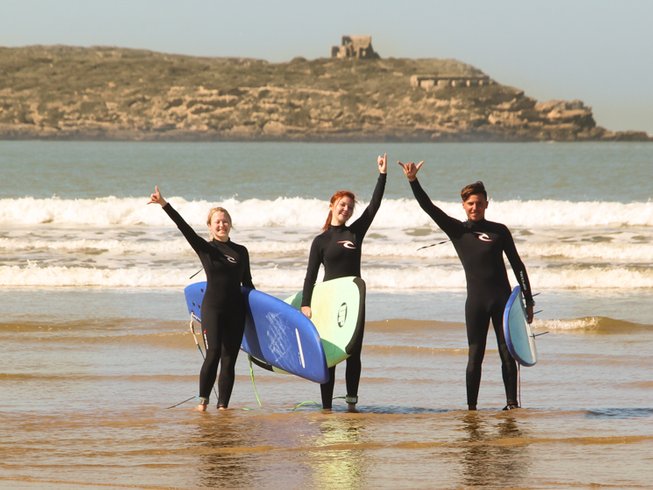 The charming seaside town of Essaouira is a highlight on any visit to Morocco and is also one of the best spots for surfing and kitesurfing in the world, and it happens to be where this awesome surf camp in Morocco is located.
Spend four days learning how to surf with the experienced instructors at Atlanticzin Watersports. You will receive six hours of surfing lessons, unlimited surf equipment rental and a hour long yoga session each day, which will enhance your surfing and well being.
This Morocco surf camp is designed specifically for beginners that want to leave with basic techniques and practical skills to take home with them. This includes dinner with the team where you can pick their brains before heading to your room at Riad Inna.
The hotel is located in the centre of the Medina, which sits inside Essaouira's original fortified citadel. You'll also receive three yoga sessions and a tasty breakfast each day. If you are looking for culture, history and surfing all in one short break then this is the best surf camp in Morocco for you. Click here to check prices and reviews, get more info and to book.
Read More: Best Surf Camps in Bali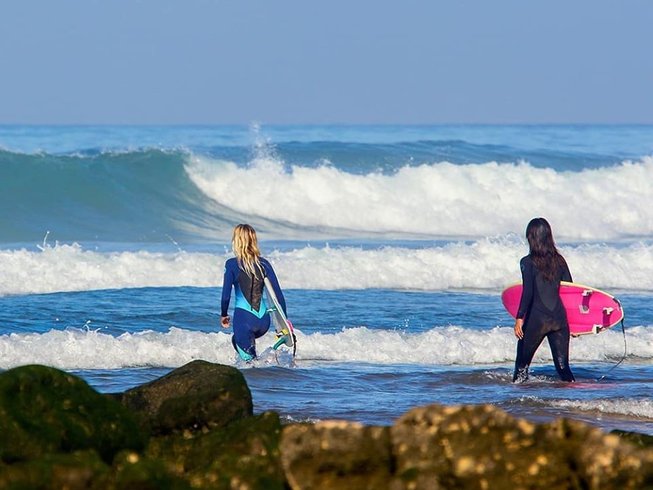 Great for beginners and intermediate surfers, the experienced and friendly instructors at the Surf Hotel will bring you to some of the best surf spots in Morocco and either teach you how to surf or improve your surfing skills through theory and practice on a fun filled eight day surf camp in Tamraght, Morocco's surfing hot spot.
Meals, accommodation, surf board and wetsuit hire, instruction and airport transfers are all included in this great value Morocco surf camp. You will get six days of surfing in small groups of maximum 5 people, giving you a more personalized touch. As well, you will be staying at a newly opened surf hotel located right in the middle of Morocco's best surfing areas. Choose to stay in a spacious double or twin room, or in a shared dorm.
The Surf Hotel also has a large rooftop terrace that overlooks Taghazout Bay and a restaurant that serves traditional Moroccan cuisine and International favourites. Click here to check reviews, prices, get more info and to book.
Shaka Surf Morocco is another amazing Morocco surf school, offering a unique and memorable experience. The experienced instructors will help you develop your surf skills in one of the best spots to surf in the country.
You will be sending six days with them, five of which are designated surf days complete with lessons. Your surfboard is included, but you'll have to hire a wetsuit. You will be staying in a traditional Moroccan riad, where rooms are centred around a central courtyard with a pool and garden.
Choose between, a twin, single or double room, or a shared twin room suitable for two people. There are two stunning roof terraces that make for great spots to relax and/or watch the sunset. This Morocco surf camp also includes three traditional Moroccan meals a day. To get more info, read reviews, check prices and to book, click here.
I hope this post has helped you to choose an amazing surf camp for your Moroccan adventure and that you have a great holiday!
Have you been to an amazing surf camp in Morocco?
I'd love to hear about your experiences in the comments below 🙂