The Ultimate Backpacking East Coast Australia Itinerary: Melbourne – Cairns
Australia is blessed with natural wonders, great weather, friendly people. Backpacking Australia is one of the best places in the world for a fun, safe and amazing adventure.
Australia is a huge country but the East Coast is easily the best and most popular Australia backpacking route. To help plan your trip here is the ultimate backpacking East Coast Australia itinerary which will take you through all the highlights from Melbourne up to Cairns!
Backpacking East Coast Australia is definitely one of the best things you can experience while in Oz. The East Coast offers so many iconic sights, epic experiences, stunning natural beauty and world class natural wonders, pristine beaches, ancient rainforests and reefs.
You'll also experience cosmopolitan cities, a whole bunch of adventure activities to take part in and its easy to meet other backpackers in Australia and have a lot of fun along the way.
Backpacking East Coast Australia Itinerary and Tips
I spent a year backpacking, working and living in Australia and I travelled the East Coast 3 times – first as backpacker ticking off the major sights, then I scored a relocation campervan deal for $1 a day and speed back down the East Coast in 7 days.
Then I went and worked in an outback pub which allowed me to save loads of money and enabled me to buy a campervan to take an offbeat road trip through the Outback and then travel the East Coast again, more slowly this time and checking out more off beat sights.
So thought I would put together my ultimate itinerary for backpacking East Coast Australia which lists not only the highlights but also my top tips, some off beat places to visit as well as including my favourite backpacker hostels.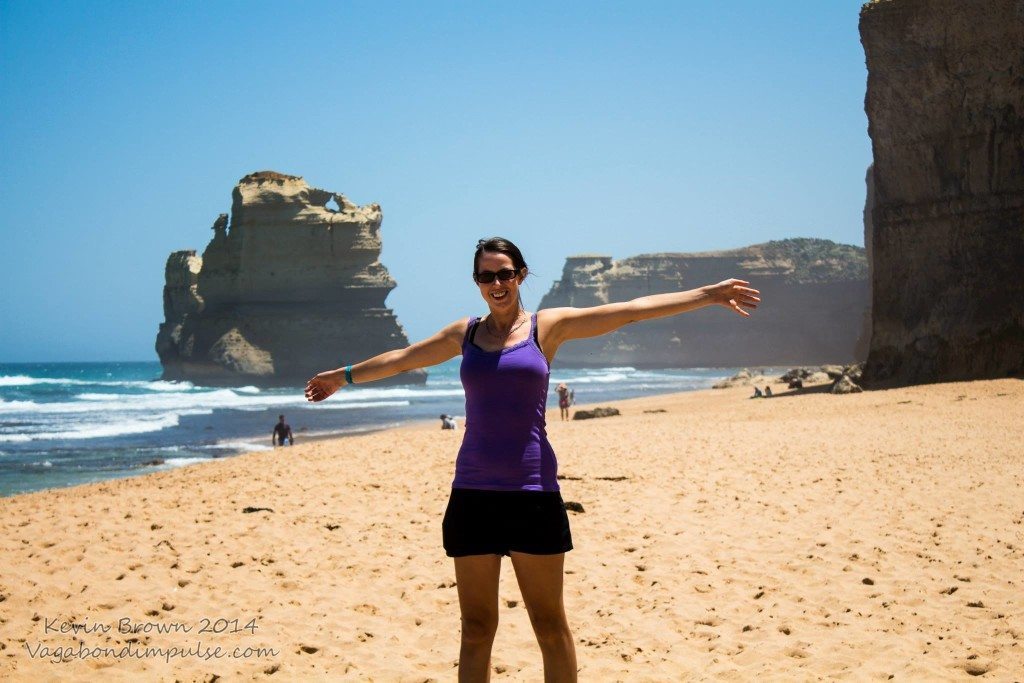 If you're planning to do a working holiday in Australia download my free E Book to working in Australia, check out how I saved $15,000 on my working holiday and read my guide to Buying a Campervan in Australia and check out my East Coast Australia road trip itinerary
2023 Update – Australia has finally reopened after the Covid pandemic, check up to date entry requirements here. But many hostels closed during the pandemic, so now hostels are often fully booked and backpackers are sometimes struggling to find accommodation. I've checked that all the hostels I recommend are still open and advise booking in advance to secure your bed. More here on the situation for backpackers in Australia right now.
Quick Essential Info for Backpacking East Coast Australia
Most backpackers start their Aussie adventure in either Sydney or Melbourne. It's a good idea to start in Melbourne, simply because then there's less going back on yourself and you won't miss out any of the highlights.
Budget for Backpacking Australia
Australia is an expensive country but there are plenty of backpacker hostels that can help you keep costs down, especially if you choose one with a kitchen so you can cook your own food. Budget at least AUD$100 per day for backpacking east coast Australia.
Best Time to Visit East Coast Australia
Anytime is good to visit East Coast Australia, however, if you come in Winter (June -August) it's going to be cold in the South of Australia and so it would be best to do this trip in reverse and start from Cairns in North Queensland. In the Summer the opposite applies as tropical North Queensland can be humid and wet and marine stingers are more likely from November – April.
Where to Stay when Backpacking Australia
There are loads of clean, fun, cool and sociable backpacker hostels along the East Coast of Australia that are an affordable accommodation option (between AUD $25 – $40 per person per night for a bed in a dorm) and great for meeting other backpackers. Many have swimming pools, bars, cafe and social activities and have lots of freebies. Some even have onsite nightclubs. Check out my recommendations for the best backpacker hostels on Australia's East Coast here.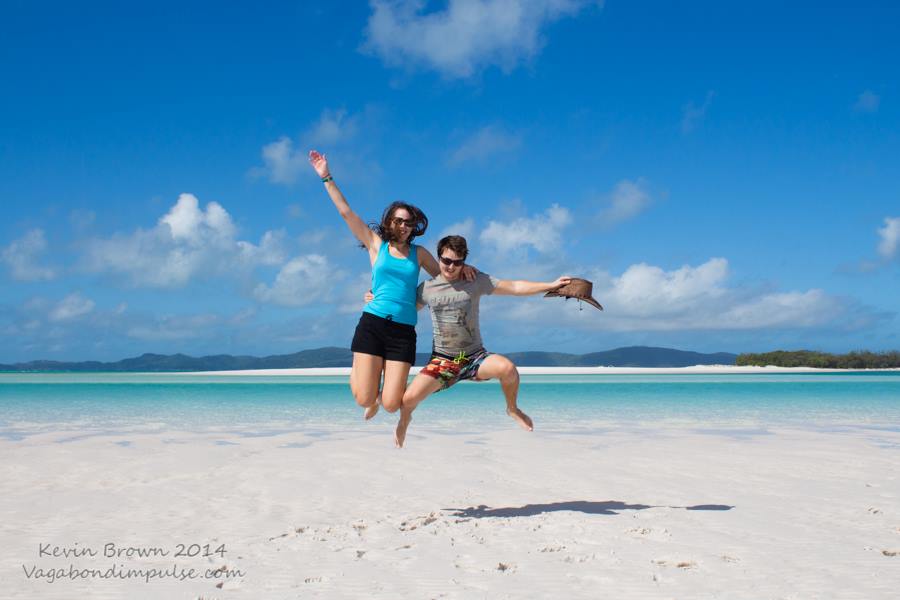 Visa for Australia
It is usually quick, cheap and easy to arrange Australian visas online. You get can an ETA or E Visa for trips up to 3 months. Get more info and apply here. or if you want to work and travel in Australia for a year see if are eligible for a working holiday visa if you are under 31.
How to get around Australia
Australia is a big country so getting around does take time and costs can add up. The cheapest and most popular transport option for backpacking East Coast Australia is traveling on the Greyhound bus. It's better value to purchase a pass instead of point to point tickets. The cost of a pass from Melbourne to Cairns is AUD$535 (about £325)  See more on Greyhound Passes here.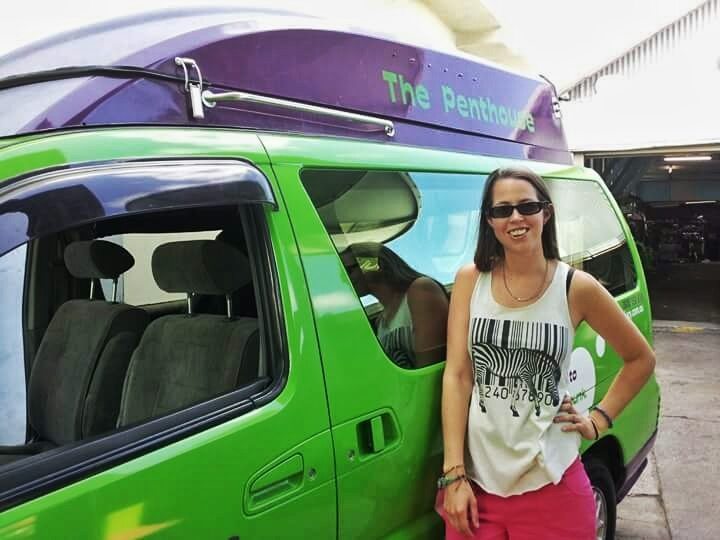 Renting a Campervan in Australia
Some backpackers buy or rent a campervan for the ultimate Aussie road trip. This is my favourite way of traveling around Australia as it offers the ultimate freedom and adventure. I use www.DriveNow.com.au to compare all the campervan rental companies to get the best deal. If your planning to do an East Coast Australia road trip check out my post on it here.
Backpacker Tours of Australia
If you don't want to go it alone the best backpacker tour for East Coast Australia is the G Adventures 16 Day Most of the Coast – Sydney to Cairns A fun and action packed 16 day tour with all the highlights from Sydney to Cairns especially for 18 – thirty somethings with G Adventures.
You can also find a huge selection of Australia tours and read reviews from previous guests on Tour Radar.
There's more practical tips for backpacking East Coast Australia at the end of the article but for now lets get on with where to go for the Ultimate East Coast Australia Itinerary!
Pin Me 🙂
8 Unmissable Experiences on Australia's East Coast:
There are loads of amazing Aussie experiences waiting for you. If you're short on time (or money!) then these 7 experiences are the ones you simply can't miss when backpacking East Coast Australia:
Melbourne
Great Ocean Road
Sydney
Byron Bay
Fraser Island
Whitsundays Islands and Whitehaven Beach
Cairn and the Great Barrier Reef
Daintree Rainforest and Cape Tribulation
Where To Go: The Best Backpacking East Coast Australia Itinerary from Melbourne to Cairns
So, from Melbourne – Cairns here's the essential, do not miss destinations and things to do if your short on time and just want to see the highlights. For those of you that have more time for backpacking East Coast Australia I've also included cool places to go if you want to get off the beaten track.
I've also listed my favourite backpacker hostels to stay at and also how long you can expect to spend traveling between the destinations – Australia is a big country – be prepared for some long bus rides when backpacking East Coast Australia but don't worry – it will be worth it!
By the way, some of the links I've included to the hostels I stayed at and tours I took are affiliate links, if you find this post helpful and want to book then I can earn a small commission at no extra cost to you which helps to keep me travelling and to keep this blog running so thank you! 😊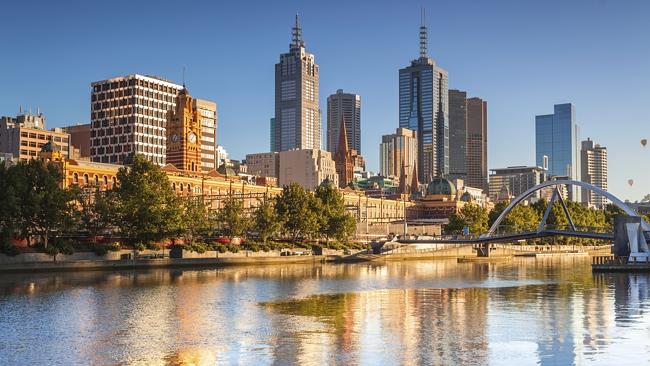 Melbourne – 3 Days
The perfect place to start your backpacking East Coast Australia itinerary is Melbourne, a lively, trendy, cultural and cosmopolitan city that is also within easy reach of some amazing natural beauty.
Melbourne is the most European city in Australia and is known as Oz's cultural capital of cool. The jury's out about which city is better – Melbourne or Sydney. So you will just have to visit both and decide for yourself… Spend at least 3 days here.
Things to do in Melbourne
There's some nice historic architecture to check out in Melbourne, you can also ride the trams check out iconic Flinders Street station , explore the hip laneways and check out the art galleries, museums, sporting venues, markets and food scene.
Hang out at the beach in St Kilda and have fun at retro Luna Park and soak up the views over the city from the Eureka Tower, the Southern Hemisphere's tallest observation deck. Melbourne is also where you can do the Neighbours tour.
Allow enough time to take at least a day trip to drive the Great Ocean Road.
Read more about backpacking Melbourne in my Backpacker's Guide to Melbourne.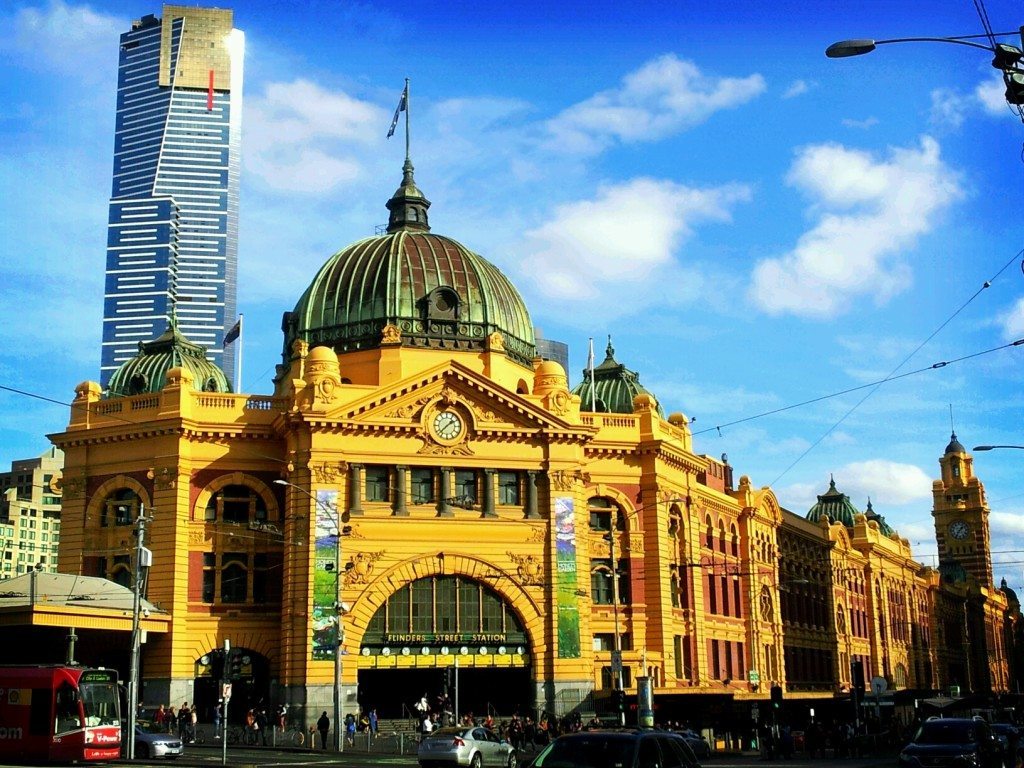 Best Backpacker Hostels in Melbourne
A large, popular, modern hostel in a great central location close to all the cities attractions. The hostel has a sports bar, BBQ rooftop space with city views and is always buzzing with backpackers and has plenty of activities to help you get to know other travellers. Book here
This is Melbourne's fanciest hostel located within a grand, heritage building in East Melbourne. It's easy to access the city centre from here due to the free city circle tram. Rooms have plenty of natural light and even have flat screen TVs.
There's only 16 rooms here so it offers a much more personalised experience but there are still plenty of social activities on offer.   This hostel in the heart of Melbourne and is a really friendly and popular place that has won many awards. Book here
If you prefer to be near the beach and the quirky old fashioned Luna theme park then check out Base St Kilda.  Base hostels are modern, funky and are often party hostels. Each backpacker gets a free drink voucher on arrival and Base St Kilda has a bar which hosts events every night and a free barbecue every Tuesday night. Book here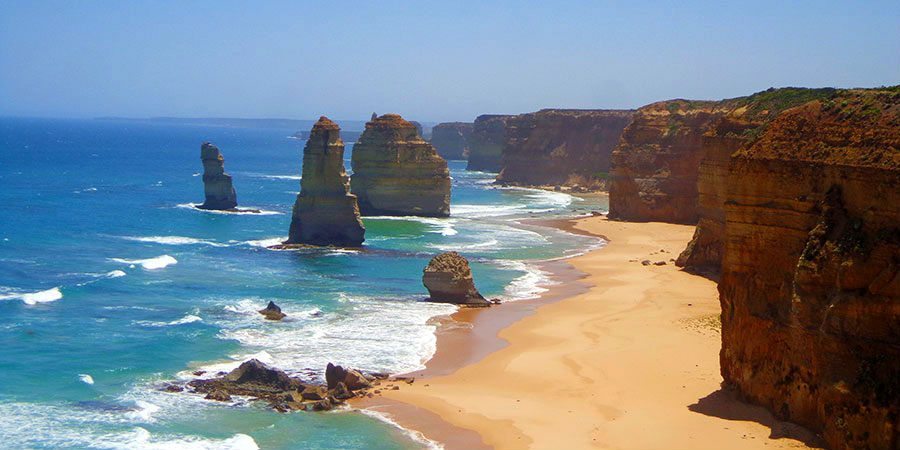 The Great Ocean Road – 2 Days
When in Melbourne you can't miss The Great Ocean Road. This is one of the best coastal drives in the world, famous for the magnificent Twelve Apostles and its constantly changing coast line and famous surf beaches.
You can do the Great Ocean Road as a quick day trip from Melbourne but there's a lot more to see than just the 12 apostles so if you have more time its worthwhile hiring a car or campervan and spending a few days soaking up the scenery and discovering all the other secrets the route holds along the way. See here for more details on the route.
Other day trips from Melbourne
Other things to do and day trips from Melbourne including soak up the scenery and sample the wine, chocolate, cheese, ice cream, beer and other amazing gourmet foods in the Yarra Valley. You won't want to drive for this one but this tour visits all the best places and is aimed at backpackers.
Also, visit Phillip Island to see the cute Penguin Parade and the historic gold rush towns of Ballarat and Bendigo.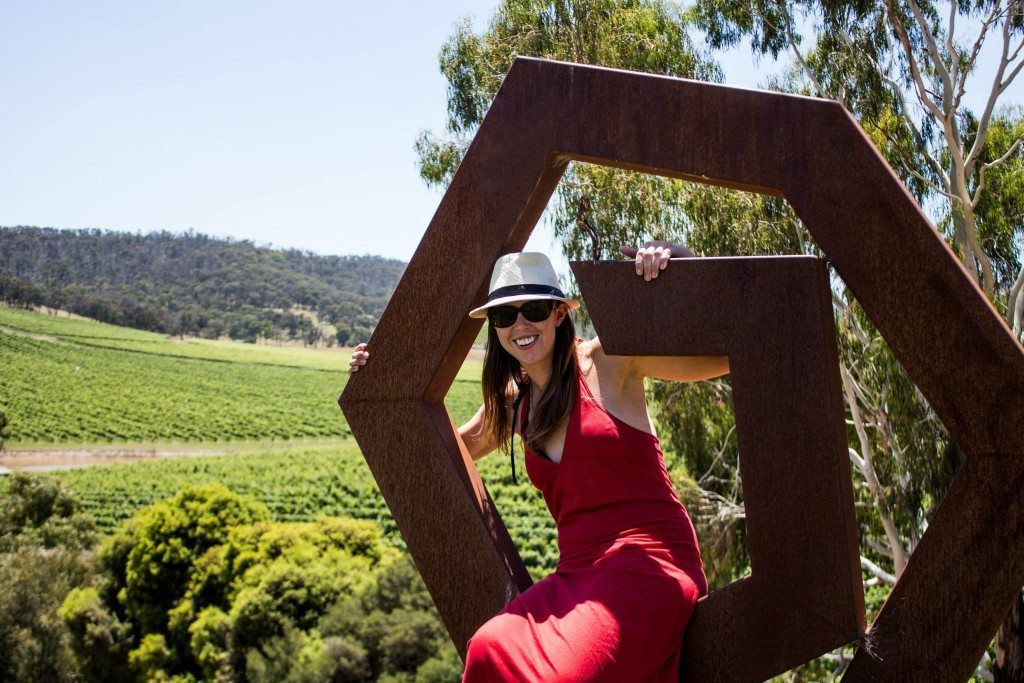 Melbourne to Sydney
The next essential stop when backpacking East Coast Australia is Sydney. Most backpackers go straight from Melbourne to Sydney but you can also take a stopover to see Australia's often overlooked capital Canberra, a purpose built city with many great museums.
It's 13 hours on the bus from Melbourne to Sydney so you might also want to check Skyscanner and see if you can get a cheap flight between the two cities if you are short on time.
The coastal route from Melbourne to Sydney is also nice and not many backpackers see it. You'd have to rent a car or campervan to do it as the Greyhound Bus doesn't go here.
You could rent a camper in Melbourne, do the Great Ocean Road and then drive to Sydney and drop it off there. You could rush through it in 3 days but spending 5 – 7 days would be better.
The highlights along this route are the Gippsland Lakes– Australia's biggest inland waterway, Croajingalong national park and the beaches along Sapphire Coast, especially Jervis Bay and stunning Hyams Beach only about 3 hours south of Sydney. See more info about the route from Melbourne to Sydney here
Sydney – 3 Days
Sydney is a place that should not be missed from any Australia itinerary. Blessed with natural beauty, a stunning harbour and world class beaches, Sydney is one of the most beautiful cities in the world and also home to some of Australia's most famous sights.
Things to do in Sydney
There's so much to do in Sydney you'll need to spend at least 3 or 4 days here just to see the highlights. Don't miss iconic sights like the Sydney Opera House, climbing the Harbour Bridge and relaxing or learning to surf on Bondi Beach.
Also make time to explore the beautiful harbour and nature, take the spectacular cliff top walk from Bondi to Coogee and catch a ferry trip to Manly and do the scenic Manly to Spit walk.
Read more tips for backpacking Sydney in my Backpacker's Guide to Sydney.
Day Trips from Sydney
The UNESCO listed Blue Mountains make a great day trip from Sydney (this is good trip for backpackers) or a few days escape from the city.
The Hunter Valley is Australia's oldest wine region and also has gourmet chocolate, cheese and other foods and rolling countryside to enjoy.
Most wineries offer free tastings and its easy to do a day tour from Sydney or Newcastle because you're not going to want to drive for this one!
This Hunter Valley trip includes tasting not only wine but also chocolates, cheeses and includes a gourmet lunch.
Best Backpacker Hostels in Sydney
You can't beat the views from the rooftop of Sydney Harbour YHA. This award winning backpacker hostel is located in a heritage building right in the historic rocks district and offers easy access to all the cities sights.
You don't even have to leave the hostel to enjoy stunning views over Sydney harbour and Opera House from the rooftop. The dorms and private rooms are all clean, air conditioned and have private bathrooms and there is also a café, bar, heated pool, sauna, cinema and lots of free activities.
They also run one of Sydneys best pub crawls and have regular $1 meal deals.  No wonder its consistently rated as the best backpacker hostel in Sydney. Book in advance to avoid dissappointment!
If you fancy being closer to the beach then check out Bondi Beach house YHA. The hostel is only 5 minutes walk from famous Bondi Beach.
It's great value because they offer surfboard hire as well free gear for a fun day on the beach including snorkelling equipment, body boards and equipment for beach volleyball, cricket and football.
Dorms and private rooms are available and there's also a kitchen, movie room, table tennis and awesome roof terrace with views over the ocean. Book here
Another really popular Sydney backpacker hostel. It's opposite the Central Station making it really convenient to reach the airport and the centre of Sydney. There's mixed dorms, female dorms and private rooms most with big windows and lots of natural light.
Wake Up has a on site bar and nightclub, café and bistro as well as a shared kitchen and lounge with movies on every night. There are also loads of free activities so you'll make heaps of friends in no time. Book here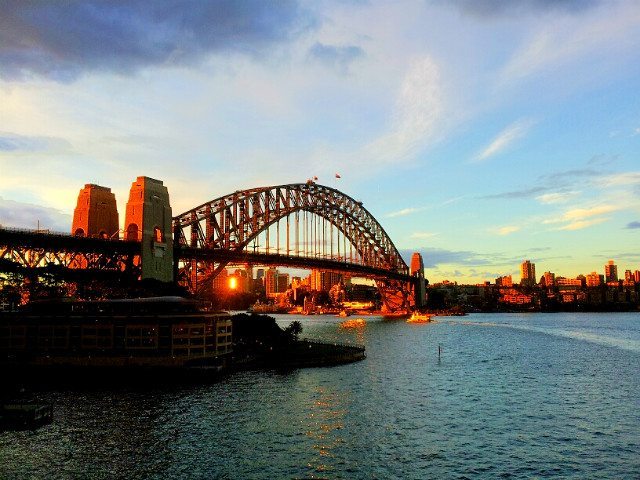 Sydney to Byron Bay
If you are short on time then the next essential stop on your backpacking East Coast Australia itinerary is Byron Bay.
If you want to save time then you might want to fly to Brisbane (but don't skip Byron Bay its only 2 hours from Brisbane on the express bus.) The bus from Sydney to Byron Bay takes about 13 hours but you could also break up the journey and spend a few days in Newcastle or Yamba on the way.
Port Macquarie, Nambucca Heads and Coffs Harbour are pleasant enough coastal towns to stop for the night but compared to the show stoppers further up the coast shouldn't keep you too long.
Get off at Newcastle (about 3 hours north of Sydney) New South Wales easy going 2nd city home to great heritage architecture, beaches and surf spots.
The Newcastle Beach YHA is the best hostel in town and offers free surf and bodyboard hire. It's also the closest base to depart on a gastronomic journey through the Hunter Valley wineries.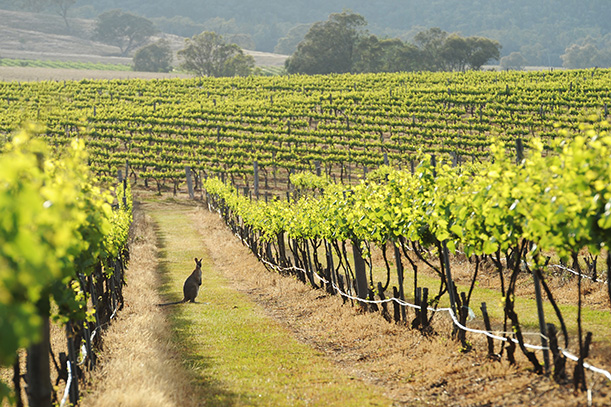 About 45 mins from Newcastle, is Port Stephens, Nelsons Bay and the Tomaree Peninsula, home to some extraordinary sand dunes (that you can sand board on), the Worimi Conservation Lands, deserted beaches, national park and the dolphin capital of Australia.
Yamba about 1.5 hrs before Byron is a nice, laid back place with great beaches and surf and the nearby world heritage listed Iluka Nature Reserve is worth a stop, especially if you like surfing. Stay at the new Yamba YHA.
Byron Bay – 3 Days
Byron Bay is one of the most popular places on Australia's east coast that entices backpackers to stay longer than expected with it's hip, bohemian, alternative vibe, beach lifestyle and amazing surf. You'll want to spend at least 3 days in Byron but many backpackers end up staying much longer.
Things to do in Byron Bay
Stroll along Cape Byron to the Byron Bay lighthouse at Australia's most easterly point. Surf, dive, kayak with dolphins, enjoy the beaches, take a yoga class, massage or indulge in some alternative therapies, shop for great, organic food at a farmers market and check out the towns many excellent eateries.
Day trips from Byron Bay
A must do for backpackers is taking a day trip on the Happy Coach out to the hippie village of Nimbin to check out the Nimbin museum, art gallery and hemp embassy.
If you want to get a real feel for this alternative community you can even stay there a few days. Try Wwoofing to volunteer on an organic farm to stay at the Nimbin Rox YHA which has a magical setting in tropical nature with a pool, yurts, tepees as well as dorms with mod cons.
Another cool thing to do is climbing Mount Warning and being the first in Australia to see the sunrise is also a memorable experience worthwhile for the amazing views.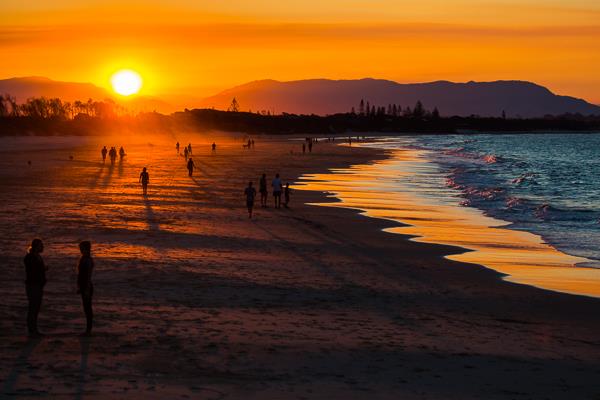 Best Backpacker Hostels in Byron Bay
I loved The Arts Factory, it's a unique, super cool, quirky, colourful, hippie complex set in a private subtropical forest with a pond about 10 minutes walk from the town center.
There's a swimming pool and hot tub, spa, cinema, restaurant, kitchen, beer garden, yoga classes, workshops and even a recording studio. You can stay in dorms and also teppees and there's often jamming, fire twirling and other entertainment happening in the evening. Book here
If you prefer to stay closer to town then check out Cape Byron YHA which is only 200 yards from Main Beach. There is a big heated swimming pool, BBQ area, café and common areas and they offer free bicycle, surfboard, boogie board hire. Book here

The Gold Coast – Brisbane – The Sunshine Coast
After Byron Bay it's only about 1 hour to The Gold Coast, home to great beaches, theme parks, skyscrapers and glitzy Surfers Paradise.
Things to do on the Gold Coast
There's lots to enjoy on the Gold Coast including surfing, shopping, and enjoying the theme parks, sunny climate and nightlife.
If you want to do lots of theme parks and attractions then you can save money with a  Gold Coast flexi attractions pass.
Day trips from the Gold Coast
If you prefer nature you could also use the Gold Coast as a base to explore inland and visit the three World Heritage-listed national parks: Tamborine Mountain, Springbrook and Lamington.
The Best Backpacker Hostel on the Gold Coast
It's only 5 minutes walk from Surfer's Paradise Beach and has a swimming pool, hot tub, kitchen, lounge, AC  and free Wifi (the later two are saldy not included in every hostel on the Gold Coast) The dorms are really modern and clean with bunk pods for privacy and ensuite bathrooms. The staff are fun and there are lots of social activities and bar crawls. Book now!
Brisbane – 2 Days
The capital of the sunshine state of Queensland – Brisbane is Australia's third largest city. Brisbane is an easy going, cultured and cool city blessed with an enviable climate, many outdoor activities and just a short hop away from some fabulous beaches, islands and nature.
Things to do in Brisbane
Brisbane's attractions centre around the winding Brisbane river and the lovely Southbank parklands, streets beach and museums and galleries. 2 days is enough to see Brisbane's main attractions.
Visit the Castlemaine XXXX brewery, cuddle a Koala at Lone Pine Koala Sanctuary and for a great view over the climb the walking trails up to Mount Coot-Tha lookout.
Day trips from Brisbane
You can also use Brisbane as a base to do many day trips and tours around the nearby area and to the theme parks and attractions on the Gold Coast and Sunshine Coast and visit famous Australia Zoo.
Also worth exploring are Morten, Stradbroke or Bribie Islands and the lush rainforests and waterfalls in the hinterland like the Glasshouse Mountains National Park.
For more see my Backpacker's Guide to Brisbane. 
Best Backpacker Hostels in Brisbane
There are a number of decent hostels on Upper Roma street conveniently near the Roma Street Transit Centre. The best is Brisbane City YHA, a modern, clean and large hostel near to the centre and Roma Street Transit Centre. There's a small rooftop pool and roof terrace with nice views over the river. There's a large communal kitchen, café, bar, games room, TV lounge and activities. Book here.
Bunk Backpackers is a funky, modern award-winning party hostel in trendy Fortitude Valley close to Brisbane's best nightlife with a happening onsite bar, swimming pool and hot tub. They'll also put on a free shuttle service from Roma St Transit Centre if you ask it in advance. Book here
Sunshine Coast
The Sunshine Coast is less developed and more sophisticated than the Gold Coast.
Spend sun drenched days exploring the long, golden beaches, surf or just chill out in chic and charming Noosa (about 2 hours on the bus from Brisbane) enjoy the watersports and explore the Noosa everglades.
The nicest hostel is Noosa Flashpackers, a chic, stylish and relaxed hostel resort with a pool. It's only 5 mins from the beach but they put on a free shuttle service too. If you like to party stay at fun and lively Nomads Hostel.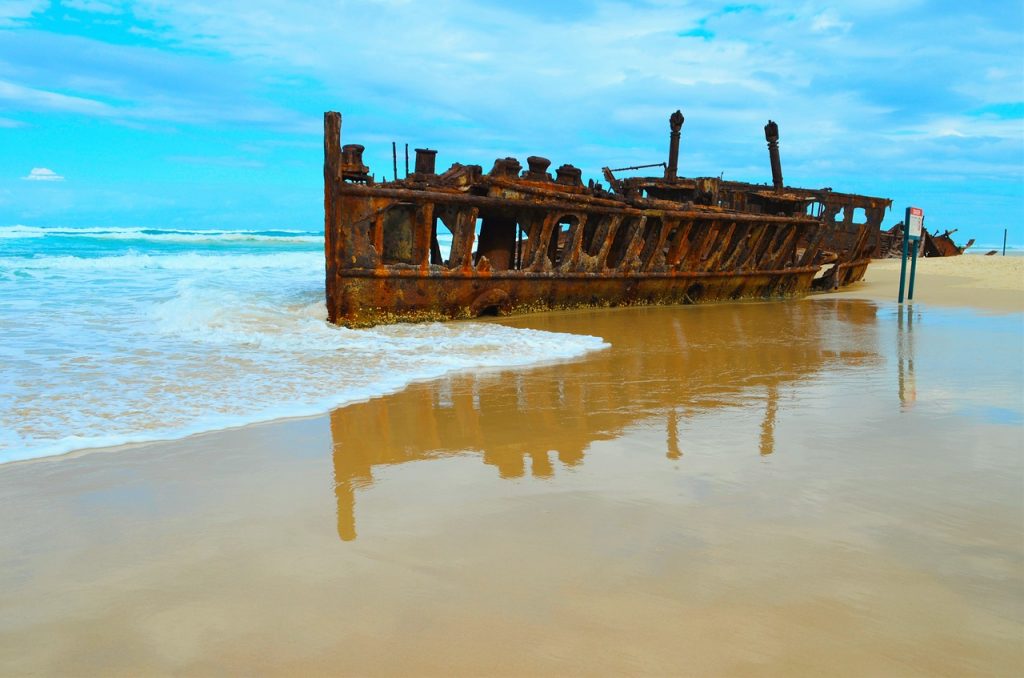 Fraser Island – 2 Days
After the Sunshine Coast, the next place you can't miss from any backpacking East Coast Australia itinerary is World Heritage-listed Fraser Island.
It's the largest sand island in the world where you can explore miles of white beaches, turquoise oceans, rainforests and sparkling lakes, rusting shipwrecks and wild dingoes. It's a unique and essential Australian experience.
How to visit Fraser Island
The pleasant coastal towns of Rainbow Beach (3 hours on the bus from Noosa) and Hervey Bay (6 hours from Noosa) and are both good jumping off points for Fraser Island.
Rainbow Beach is a nice place to hang out and Hervey Bay is also one of the best places in the world to see humpback whales on their migration. (This is the whale watching tour I took, it was awesome how close they got!)
I stayed at Colonial Village YHA in Hervey Bay – another awesome resort style Australian backpacker hostel with loads of facilities 2 mins from the beach.
Tours of Fraser Island
There are a few ways to see Fraser Island. You can take a day tour of Fraser Island but it's better to spend at least a few days and nights exploring Fraser Island, trekking, swimming and camping out on the sand dunes under the stars.
You can hire a 4WD get the ferry across and explore independently (don't get stuck in the sand!) go with a group as part of a self drive 'tag along' tour or take a fun tour especially for backpackers.
The 2 day, 1 night camping trip with Cool Dingo tours is really fun!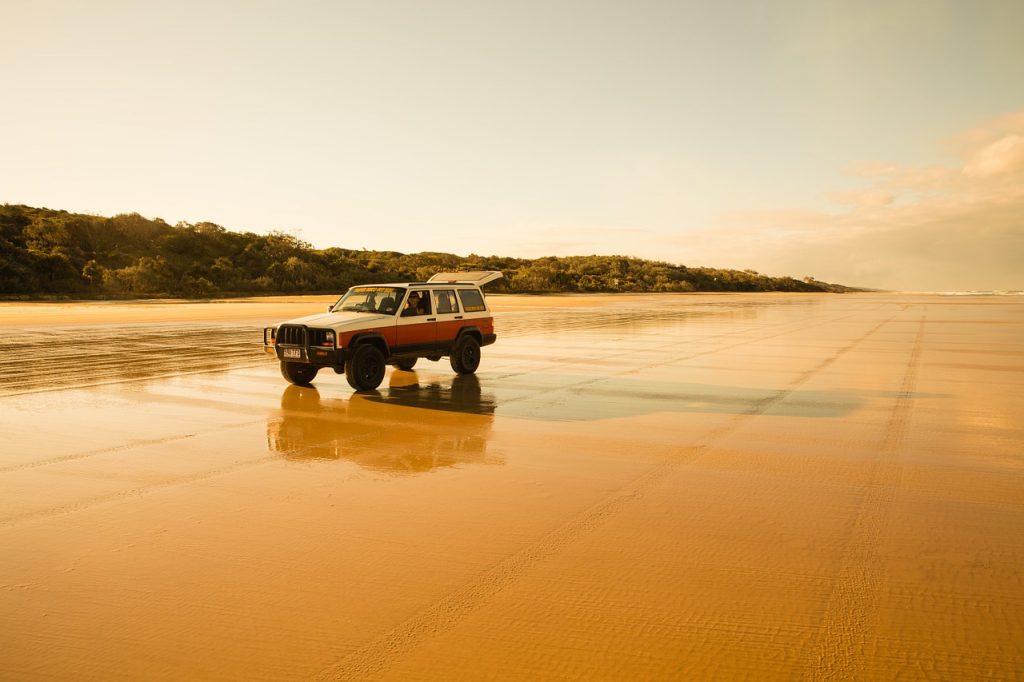 Fraser Island to The Whitsundays
The next essential stop on any backpacking Australia route is Airlie Beach for the gorgeous Whitsunday Islands which is about 13 hours on the bus.
If you want to see more on the way then you could check out Bundaberg ( 2 hours from Hervey Bay) and/ or Town of 1770 and Agnes Water ( 4 hours from Hervey Bay)
As you pass through the Queensland countryside you'll see miles and miles of fields of sugar cane. They make the iconic Bunbarberg (Bundie) Rum from this sugar cane and you can tour the famous Bundaberg distillery to see how they do make this famous Queensland tipple!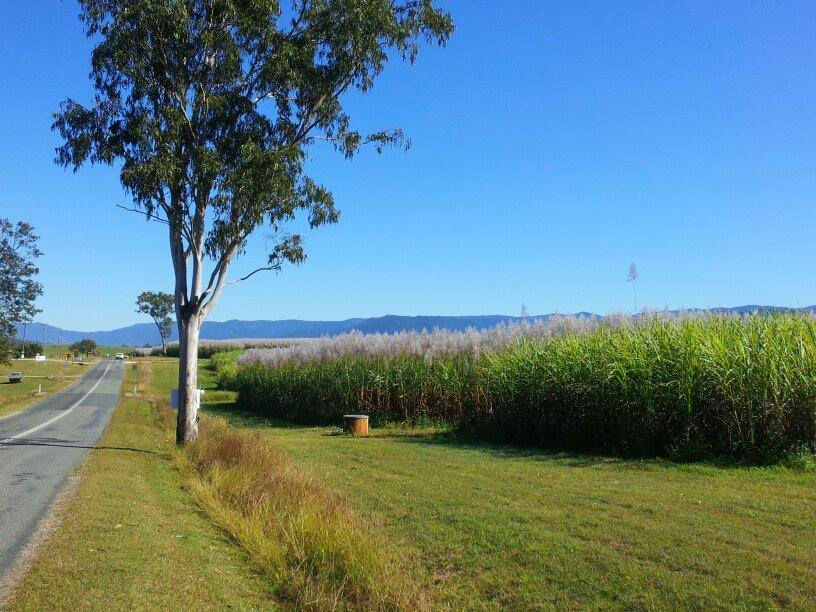 The Town of 1770, named after the year it was discovered by Captain Cook and was the first western settlement in Australia, and nearby Agnes Water make nice places to break the journey.
Both are cute, small seaside towns with some good surf beaches and probably the cheapest surf schools in Australia. Reef to Beach Surf School charges only $17 for a 3 hour lesson with all equipment included. Also do the fun scooteroo tour and explore nearby Deepwater in Eurimbula National Parks.
Stay at Backpackers @ 1770 a friendly, chilled out, home away from home hostel only 2 mins from them beach. They'll even pick you up for free from the bus stop if you book in advance.
It's about 10 hours on the bus from Agnes Water to Airlie Beach. If you want to break up the journey you could stop at the towns of Rockhampton and Mackay but they don't have all that much to offer.
Rockhampton is a good jumping off point for the Southern Reef Islands and Capricorn Caves, spectacular above-ground caves in a limestone ridge. You could also go and stay on a cattle station like Myella Farm and try farm experiences like milking cows, riding horses and motorbikes and even whip cracking and lassos.
From Mackay you can head inland through the beautiful Pioneer Valley to Eungella National Park which is one of the best places in the world to spot a Platypus in the wild (but you can get to here from Airlie Beach as well.)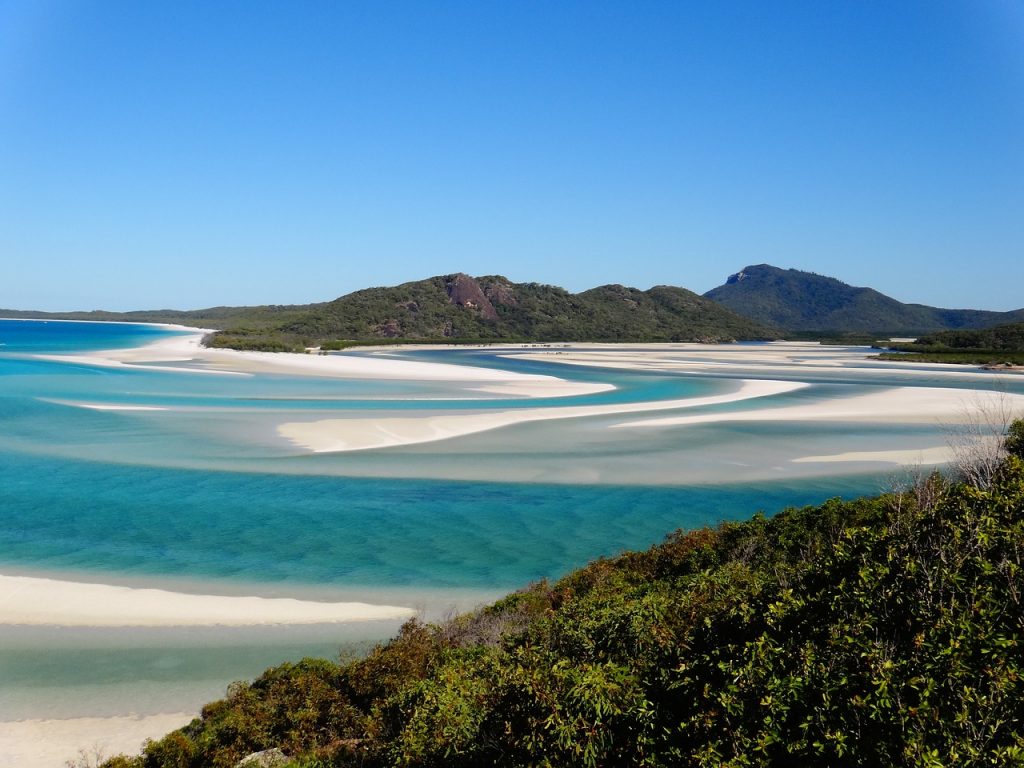 Airlie Beach and The Whitsunday Islands – 1 Day
Airlie Beach is a bit of a party town and backpacker hangout and is the jumping off point for exploring the beautiful Whitsunday Islands , one of the most stunning sights on East Coast Australia.
Seeing the view from the famous Hill Inlet and spending time on unbelievably beautiful Whitehaven Beach is a must – this has been voted one of the best beaches in the whole world and is one of the most beautiful places I've ever seen. Don't miss it from your East Coast Australia itinerary!
How to visit the Whitsundays
To explore the Whitsundays you can do live aboard trips cruising and sailing and diving the Whitsunday Islands are popular (and pricey)
If you're on a budget then you can also take a day trip with Ocean Rafting like I did for a really fun and cheaper option.
Airlie Beach is also one of the most beautiful locations in the world to do a skydive!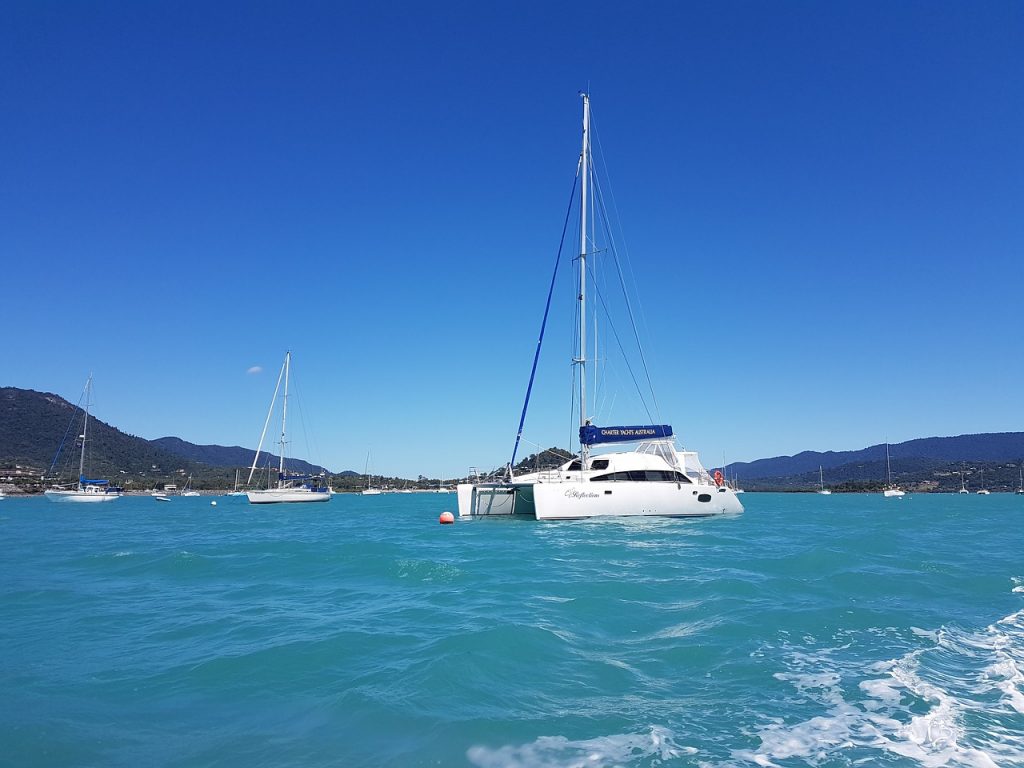 Where to stay
There are many lively backpacker hostels in Airlie Beach, Nomads is the best, its more like a resort with a nice swimming pool set in tropical gardens, cute chalets, a communal kitchen and lively bar with plenty of activities in the middle of all the action.
Most of the resorts on the Whitsunday Islands are amazing but expensive, but you can camp on some islands for a little as $5.95 per person per night (get a permit first here)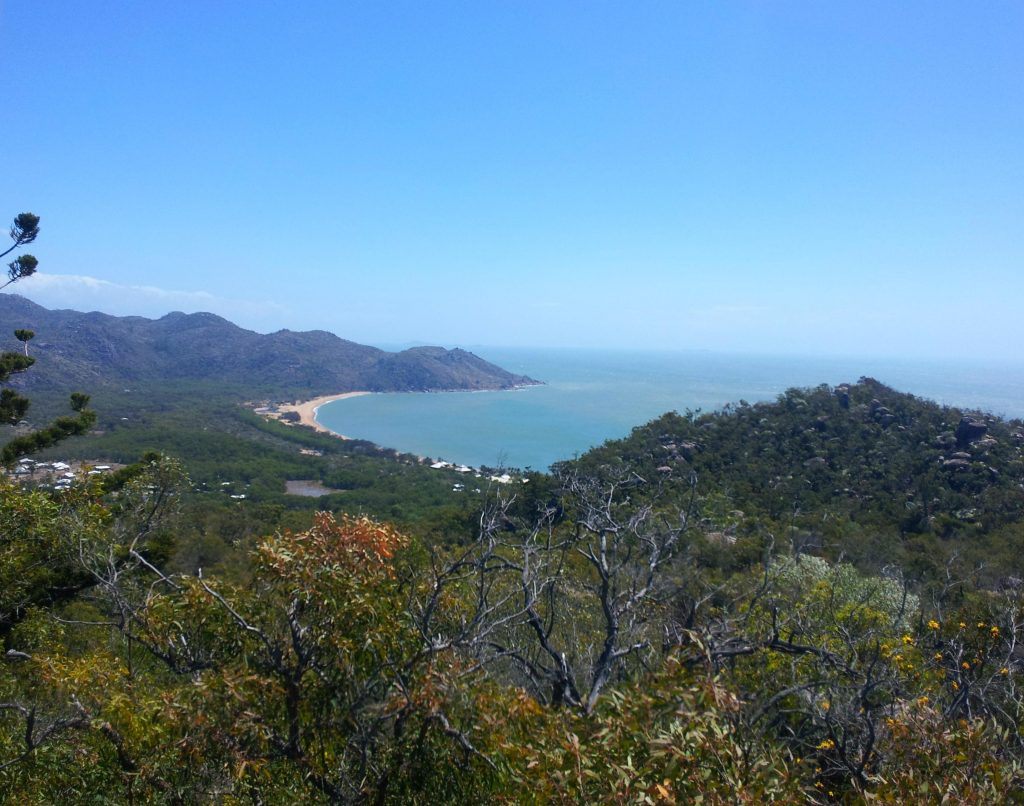 Townsville and Magnetic Island – 2 Days
Townsville, about 4 hours on the bus from Airlie Beach, is a pleasant coastal town but the real draw is just across the water at beautiful Magnetic Island.
Over half of the mountainous island is national park and Magnetic island has lots of scenic walks and chances to see wildlife as well nice beaches. I saw kangaroos, wallabies, koalas in the wild and even rode horses on the beach and bareback in the sea at Horseshoe Bay Ranch
If you have more time you could use Townsville as a base to visit Charters Towers, a historic gold rush town or Wallaman Falls, Australia's highest single drop waterfall near Cardwell.
Best Backpacker Hostels in Townsville and Magnetic Island
There are two great resort style hostels to choose from on Magnetic Island. If you're an animal lover stay at Bungalow Bay Koala Village YHA – a lovely hostel resort with it's own wildlife park near the beach at Horseshoe Bay.
If you're more of a party person then stay at Base Backpackers a party hostel on the ocean front at Nelly Bay that holds full moon parties.
Both hostels have swimming pools and welcome campers as well and offer package deals including ferry transfers, accommodation, free snorkel hire, welcome drink and more.
If you want to stay in Townsville stay at Adventurers Resort, a sociable motel style hostel in a great central location with a lovely panoramic rooftop pool
Townsville to Cairns
Most backpackers go straight from Townsville to Cairns, but chilled out Mission Beach (3 ½ hours on the bus from Townsville) makes a nice stop.
Mission Beach consists of several lovely bays, beaches and small communities surrounded by world heritage listed rainforest. Apart from the beaches you can also visit Dunk Island.
Mission Beach is also a great place for adventure sports like Skydiving, diving and snorkelling and also don't miss white water rafting in nearby Tully. 
Also, keep an eye out for Cassowary birds that are found only in this area, the Daintree Rainforest and parts of Papua New Guinea.
Stay at Jackaroo Treehouse a rustic, chilled out hostel in the rainforest at Bingil Bay. The hostel is 10 mins from the beach and there's a bar, kitchen, pool, free breakfast, free bike and surfboard hire and free pick up from the bus stop.
From Mission Beach its only about 2 hours on the bus to Cairns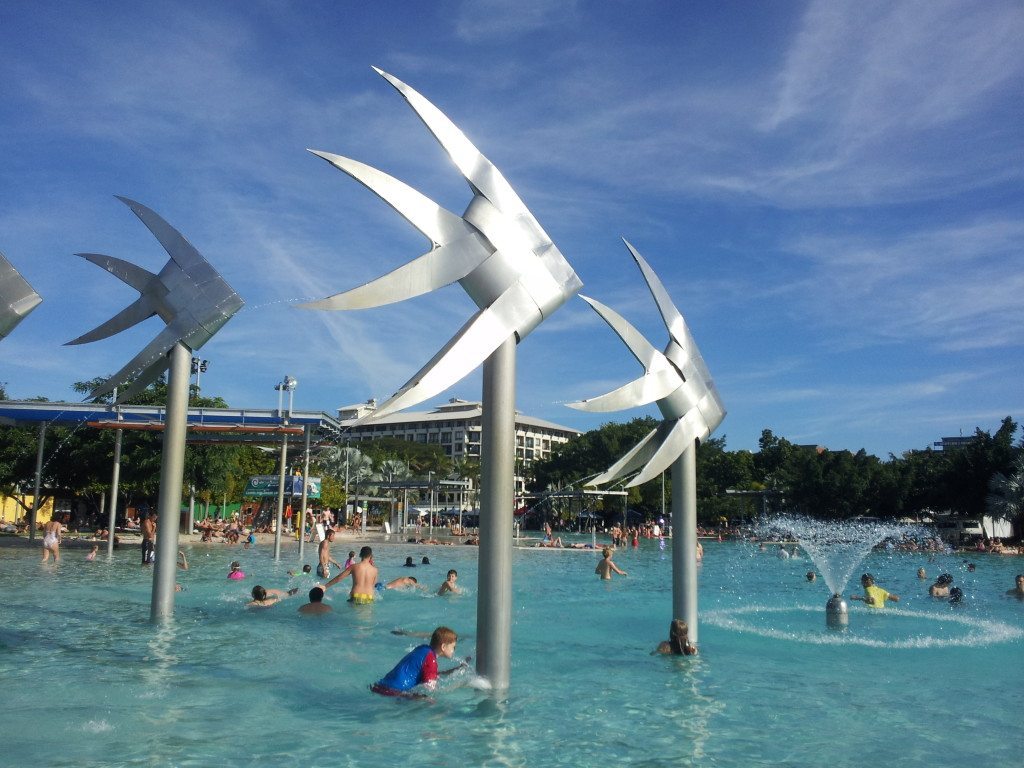 Cairns – 3 Days
Cairns is one of the most popular destinations when backpacking East Coast Australia and another must see to include in your itinerary. Cairns is where most backpackers start or finish their trip backpacking East Coast Australia and has become quite a party town.
Things to do in Cairns
Cairns doesn't really have a beach but the esplanade and Cairns Lagoon is a great place to hang out and swim, BBQ and play sports.
Many hostels and pubs do cheap backpacker meals and the night markets on the esplanade are a good place to get cheap Asian food.
There's loads to do in and around Cairns but its most famous for being the gateway to the Great Barrier Reef. 
Of course a trip snorkelling or diving the Great Barrier Reef is a must do when in Cairns, you can take a day trip or a multiday live aboard trip will allow you to get further out on the reef and some also offer night diving.
Be aware that sadly some of the inner reef areas closer to Cairns are damaged, the cheaper companies may only be licensed to visit the inner reef so it pays to be selective for which tour you take – both to get the best out of your experience and to use companies that help to preserve the reef for the future. This is the day tour I took and recommend.
A good place to find reputable tour operations and check reviews is Viator.
Spend at least 3 days in and around Cairns. For more info see my Backpacker's Guide to Cairns.
Day trips from Cairns
Also, don't miss the beautiful scenery inland from Cairns too, explore the waterfalls of the Atherton Tablelands (the Uncle Brian's tour is most fun for backpackers)
Also visit the arty, alternative town of Kuranda nestled in the rainforest. Kuranada's markets and art galleries are popular, its only 20 mins on the bus from Cairns but you can also make getting there part of the fun by taking the cablecar or scenic railway as part of a Kuranda day trip.
The AJ Hackett Bunjy jump and Minjin swing is a thrilling way to enjoy the rainforest and don't miss visiting Unesco listed Daintree Rainforest (one of the oldest rainforests in the world) and Cape Tribulation. Many tours also include a visit to the important aboriginal site at Mossman Gorge enroute. This is the tour I took.
You can often save money by buying a package deal. This super saver deal includes Great Barrier Reef Diving and Snorkeling Cruise, Kuranda Scenic Railway and a trip to Daintree Rainforest and Cape Tribulation.
Best Backpacker Hostels in Cairns
Cairns is a backpacker hotspot with loads of hostels to choose from. If you're looking to party then Gilligans Backpacker Resort is the place to go. This huge hostel has a lagoon style swimming pool, outdoor bar, a nightclub and shows sports on the large screens. There's a kitchen and guests can also take advantage of the $5 evening meal deals. Book here.
For a more peaceful stay, check out this well run, modern, clean and centrally located hostel with spacious ensuite dorm rooms, a swimming pool, outdoor movies, pool tables. There's social areas and free activities including a free BBQ on Sunday but its not too noisy like the party hostels. Book here.
This is a smaller, quieter hostel with a more intimate homely feel. There's a nice pool, garden with hammocks, lounge, kitchen and BBQ area. It's a bit further away but there's a free shuttle into town. More info here
More Tips for Planning your East Coast Australia Itinerary
When's the best time to backpack East Coast Australia
Backpacking East Coast Australia is always a good idea and it's possible at any time of year. Remember that Australia's seasons are the opposite from the Northern Hemisphere. It's best to visit the North of Australia in Winter and Southern Australia in Summer.
Be aware that in winter (June – August) it does get pretty cold in the South especially in Melbourne and the Summer (Nov – April) is the rainy season in Tropical North Queensland and can see tropical storms and marine stingers. Most beaches have stinger enclosures and you can also hire stinger suits so it needn't stop you enjoying the water. Read more here about stingers.
You could do this backpacking East Coast Australia route in either direction, if it's winter then I would recommend starting off in tropical north Queensland and working your way down to the colder South.
If it's Summer then either Melbourne or Sydney are popular starting points and then work your way up North, hopefully you can miss the worst of the rainy/stinger season.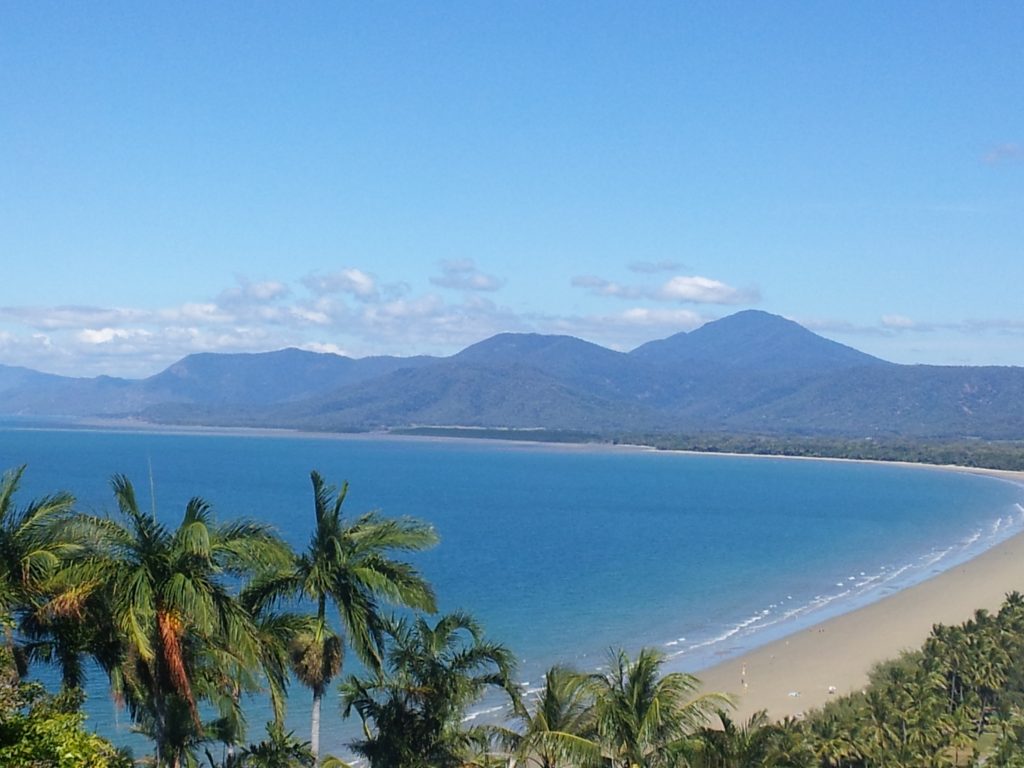 How long do you need for backpacking East Coast Australia?
Many people don't realise just how huge Australia is. The distance between Melbourne and Cairns on the coastal route is over 3,500km which is over 40 hours of solid driving time and more on the bus.
I would recommend a minimum of 2 weeks for backpacking East Coast Australia and seeing the highlights but a month is better and will give you more time to discover those off the beaten track surprises, chill out a bit of the way, meet people and have the time to learn new skills like surfing and diving.
Cost of Backpacking East Coast Australia
There's no denying that Australia is one of the most expensive countries to backpack and long distances mean costs can quickly add up.
I recommend budgeting at least AUD$100 a day for a backpacking East Coast Australia.
Luckily the country is well set up to appeal to backpackers and budget travellers and backpacker buses, hostels and tours can help you to keep costs low and still have fun.
In Australia it can be a good idea to buy a backpacker package deal with transport, activities and sometimes accommodation included, you'll save money and usually still be able to stay flexible.
Most hostels have kitchens so you can buy food in the supermarket and cook for yourself to keep costs down. Also, some of the best things to do in Australia are natural wonders which are free to enjoy.
Have a look at this super useful post from Backpacker Banter on the Cost of Backpacking Australia and my post on  101 Money Saving Tips for Backpacking Australia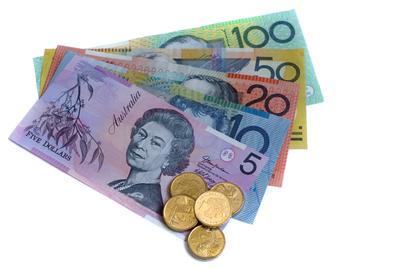 Visas for Australia
Expect for New Zealanders, all visitors to Australia need to obtain a visa before entering Australia but don't worry, this is an easy process. There are 3 main Tourist visas for Australia.
If you are from the USA, Canada, UK, EU countries, Hong Kong, Japan, South Korea, Taiwan or Singapore you can apply for an Electronic Travel Authority (ETA) visa for visits of up to 90 days.
These are quick to process and are electronically linked to your passport so there's no need to send your passport away. The visa costs $20, apply online through the government website  
For UK and most European citizens can apply for an E Visitor Visa which allows you to stay for 3 months and is free. You can see more information and apply here.
Other nationalities will need to apply for a Visitor Visa (sublass 600) This allows you to stay for 3, 6 or 12 months and costs from AUD140 to AUD1020. See more info and apply online here.
If you want help with your visas or make the process quicker and easier you can use a agent – I use iVisa.
If you want to stay longer and immerse yourself in Aussie culture and earn some money for further travels then maybe consider a years working holiday visa then download my free backpacker's guide to see if you are eligible for a working holiday visa 
Different Ways to Backpack East Coast Australia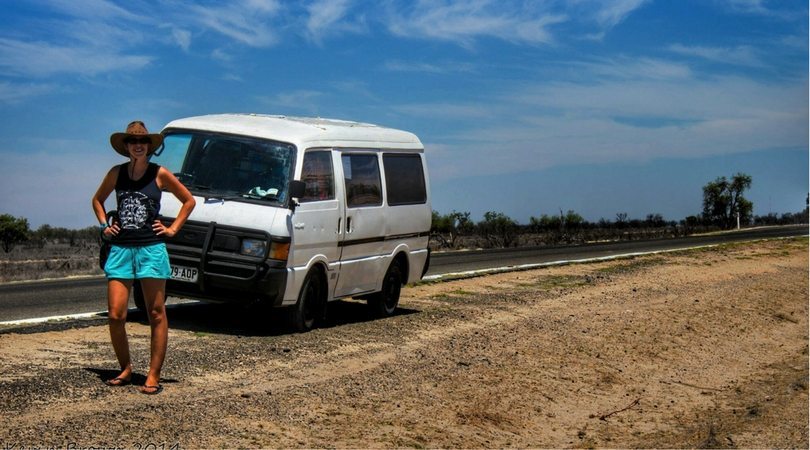 Campervan
For the ultimate road trip backpacking East Coast Australia in a campervan is an amazing experience. There are loads of campervan hire companies in Australia and you can usually arrange to rent the campervan in one city and arrange to drop it off in a different city (usually for extra cost).
The best site for comparing campervan rental prices is DriveNow.com.au which compares prices from all the leading rental companies so you can make sure you're getting the best deal. If your flexible then also check out how you can rent a campervan for only $1 per day by scoring a relocation deal.
I spent more than $500 on fuel each time I've travelled the East Coast but a campervan will also save you money on accommodation and tours however contrary to popular belief you can't just camp up and sleep anywhere. There are many free or low cost campsites all across Australia, you can find free campsites with the Camps Australia Wide book and the Wiki Camps App 
If you plan on backpacking Australia for longer (perhaps on a working holiday visa) and can afford the upfront cost then buying a campervan and selling it at the end of your trip can be a really cost effective way to explore Oz which also offers the ultimate freedom and flexibility.
Read my other posts on How to buy a campervan in Australia and my top tips on traveling Australia in a campervan.
Greyhound Bus Passes
The cheapest and most popular way for backpackers to travel East Coast Australia is by the Greyhound Bus. It has a pretty comprehensive service nationwide that covers all the major cites and places of interest. You can buy point to point tickets but its better value to buy a point to point pass.
Backpacker Tours of East Coast Australia
There are also many great backpacker tours that include all the East Coast Australia highlights. G Adventures are my favourite as they run some awesome, small group tours that show you the top sights and also takes you off the beaten track with included cultural activities.
The Most of the Coast – Sydney to Cairns Tour is the best as it covers all the major highlights as well as including some interesting Aussie experiences like sleeping in a swag under the outback sky at an cattle station, sheep shearing, panning for gold, painting with aboriginal people and surfing lessons.
Plus, it's a 'yolo' tour so it's a fun budget friendly tour especially for backpackers and young, like minded travellers. Click here for more details.
You can also find loads more Australia tours on Tour Radar.
Save money backpacking East Coast Australia by buying a package
There are lots of ways to be thrifty and save money while backpacking East Coast Australia. If you don't want to go on a tour you can still save money on transport, accommodation and experiences with a package.
My friend Chris at Backpacker Banter Australia Travel Blog and RTW Backpackers has done all the hard work by getting the best deals with the best companies and compiling them into an easy package to save you effort and money.
Check out the Global Gallivanting East Coast Australia packages here which has all the tours and activities I used and recommend in this post in an easy, money saving package.
Guidebooks for backpacking East Coast Australia
To help with finding things to do, accommodation and practical tips for backpacking East Coast Australia I traveled with a Lonely Planet Australia Travel Guide, you can also get a Lonely Planet specifically for East Coast Australia.
I would recommend buying this from Amazon before you go (because it's cheaper) as it is packed with all the info you need for this epic trip. You'll also need a map – this Australia Map by Lonely Planet is really useful.
Was this post useful? Pin it and help another traveller 🙂
Have you been backpacking East Coast Australia? Any tips to add?