The East Coast of Australia is the most popular route for traveling Oz and for good reason – it offers so much to see and do and best way to see it all is with the freedom of your set of wheels on a road trip!
An East Coast Australia road trip will give you a great taste of the best scenery and experiences that Australia has to offer; from cosmopolitan cities and iconic sites to world class natural wonders, pristine beaches, reefs and ancient rainforests.
Australia is just perfect for road trips – get immersed in the stunning scenery, take off beat diversions whenever you want, feel the thrill of the open road and have the freedom to go at your own pace.
That said, Australia is a huge country, so you should plan your route or a rough itinerary for your East Coast Australia road trip in advance.
I've driven this route a couple of times now so this post contains all my top tips for planning an epic East Coast Australia road trip itinerary. As well as some of the most beautiful and best places to visit in Australia, I'll also give you plenty of suggestions for discovering off beat places and hidden gems.
How to Plan your East Coast Australia Road Trip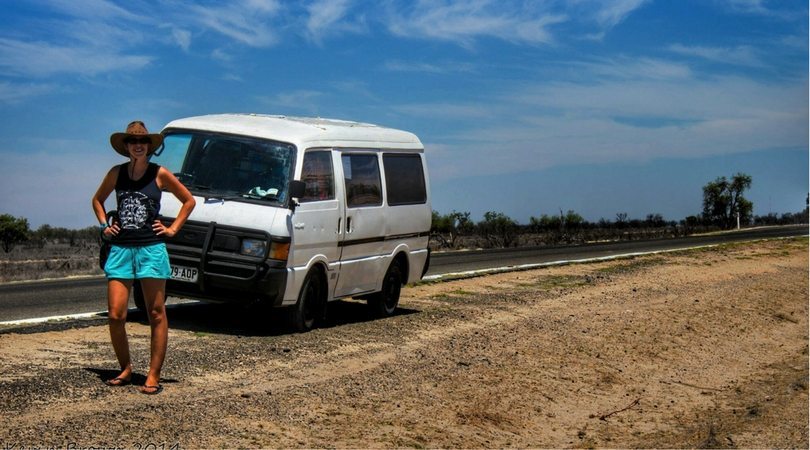 Best time to travel East Coast Australia
Anytime is good but if it's winter (June – August) then it may be a bit cold sleeping in a campervan in Southern Australia but perfect weather in QLD. In Summer watch out for stingers and monsoon rains in North Queensland.
How long do you need for an East Coast Australia road trip?
Many people don't realise just how huge Australia is and underestimate how long they need for an East Coast Australia road trip.
The distance between Cairns and Melbourne on the coastal route is over 3,500km which is about 40 hours of solid driving time, you could drive it in a week but that wouldn't leave hardly any time at all to see or do anything on the way.
I would recommend a minimum of 2 weeks for this road trip but a month is much better. You could tick off the highlights of Australia's East Coast in 2 weeks, but traveling slow and taking the time to discover those off the beaten track hidden gems, meet people and really soak up the place always leads to be better travel experience. If you have more time a month or even more is much better.
Pin Me 🙂
Hiring a campervan for an Australia road trip
I've travelled East Coast Australia by Greyhound bus and by campervan, and the best way to do a road trip in Australia is undoubtedly by campervan!
If your planning on doing an epic East Coast Australia road trip like this its handy to rent the campervan in one city and arrange to drop it off in a different city (usually for extra cost) to avoid traveling back on yourself.
To find the best campervan hire deals I use Motorhome Republic.  Being the largest campervan and motorhome rental site in the world you should be able to find the best deal by comparing all the leading campervan rental companies. You can also read real reviews from previous customers.
If the dates you want to take your eastcoast Australia road trip are flexible then also check out how you can rent a campervan for only $1 per day by scoring a relocation deal. But usually you only get a week so you have to rush a bit (I've done it but you won't get to see everything)
I spent at least $500 on fuel each time I've done an East Coast Australia road trip, but a campervan is still the most affordable way to travel Australia as it also saves you money on accommodation, tours and food as well as giving you ultimate freedom.
You could also rent a car and stay in hotels along the way, there are plenty of them, but it will cost alot more than camping!
If you plan on traveling Australia for longer (perhaps on a working holiday visa) then buying a campervan offers the ultimate freedom and flexibility and can be a really cost effective way to explore Oz if you can sell it at the end of your trip.
If you can't afford a campervan then cheaper options are a station wagon – chuck a mattress in the back or hire a car and take a tent. If you can't drive you can get the Greyhound bus to the major destinations or take a tour.
For more tips check out my post on backpacking East Coast Australia and see my Australia money saving tips and tips for traveling Australia by campervan.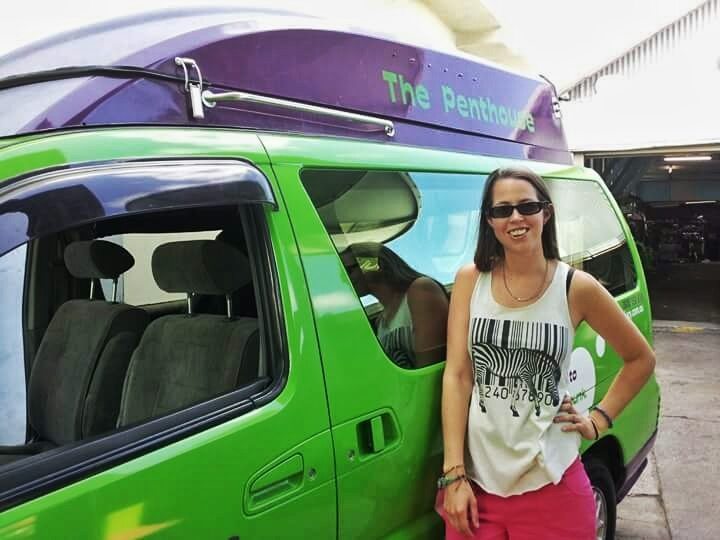 Accommodation, hostels and campsites
A campervan is the way to go for an epic East Coast Australia road trip, however, contrary to popular belief you can't just camp up and sleep anywhere.
I used the Camps Australia Wide book to find free campsites all down the East Coast. It lists the facilities you can find at each campsite and rest stop and also lists low cost campsites as well as more expensive camping resorts with swimming pools and loads of facilities.
I'm not going to list all the campsite because you'll need to maps to find them. The Camps book is really useful as it's also a map and contains points of interest and as there can be limited mobile internet reception outside of the towns the book is a really value resource for road tripping Australia on a budget. You can buy it here on Amazon. 
I also used the Lonely Planet East Coast Australia Guide Book to help me plan my Australia road trips- its packed with loads of useful maps, tips, info and things to do.
There are also many hotels and motels and backpacker hostels if you are on a budget. Some hostels will let you park up for the night and use the facilities for a small fee.
Visas: You get can an ETA or E Visa online for trips up to 3 months. Get more info and apply here. If you are under 31 and want to work and travel in Australia you may be eligible for a years working holiday visa
An Epic Cairns to Melbourne East Coast Australia Road Trip Itinerary
So starting from the North of Australia in Cairns, here are some essential stops and things to see on the perfect East Coast Australia road trip down to Melbourne. You can also reverse the route if you prefer.
I've listed the minimum amount of days to spend here, what to do and approximate driving times between the major stops for a 2 week East Coast Australia road trip itinerary.
If you can, also allow time for extra stops, to venture of the beaten track and just explore – take a road that looks interesting and just see what surprises you discover. Spontaneity is part of what makes a road trip around Australia so much fun.
Cairns –  4 days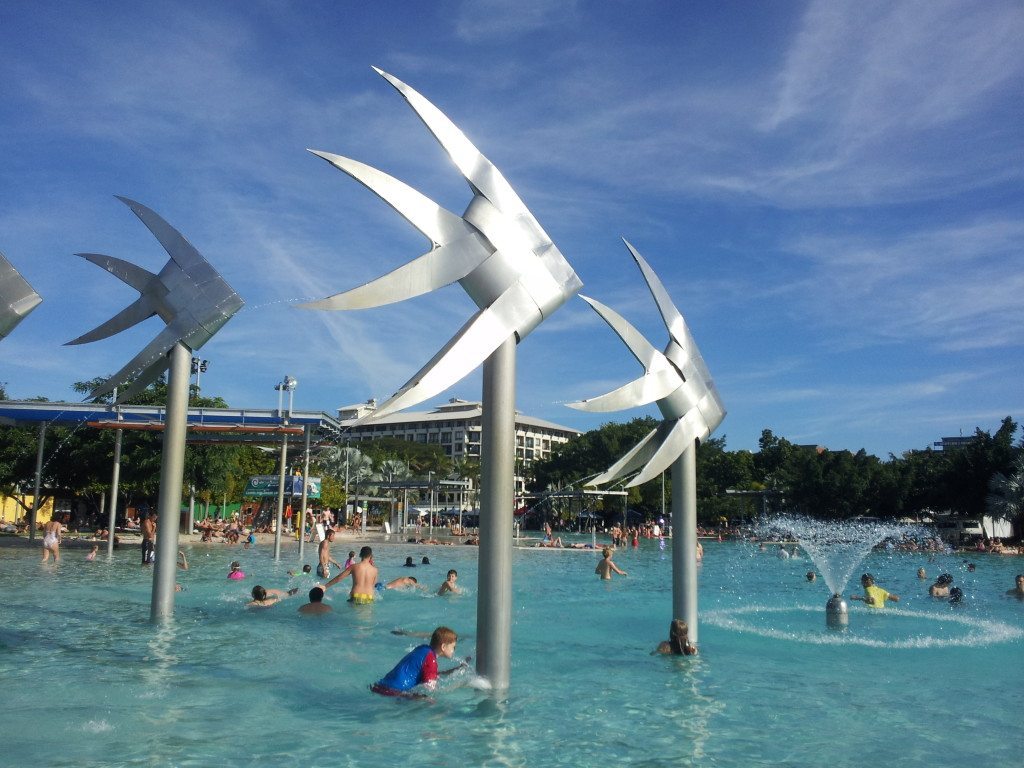 Cairns is most famous for being the gateway to the Great Barrier Reef and snorkelling or diving the reef is a must visit on any East Coast Australia road trip.
Cairns doesn't really have a beach but the Cairns Lagoon and esplanade and is a great place to swim, relax, BBQ and play sports. The city has become a bit of a backpacker party town and there are also many things to do and see in the beautiful scenery around Cairns too.
You can't visit Cairns without taking a trip snorkelling or diving the Great Barrier Reef . You can take a day trip or a live aboard multi day trip where you can go further out on the reef and maybe even do some night diving.
Be aware that sadly some of the inner reef areas nearer to Cairns are damaged, often cheaper companies are licensed only to visit the inner reef so it pays to be selective for which tour you take – both to get the best out of your experience and to help preserve the reef for the future.
The eco friendly, multi award winning Passions of Paradise is one of the best reef day trips from Cairns and the one I went on. They take you to 2 unique outer reef locations for diving and snorkelling on their sleek sailing catamaran and the staff are fun and friendly too. Check out the trip advisor reviews.
Before you head South its well worthwhile going North to visit UNESCO listed the Daintree Rainforest and Cape Tribulation and see where two world heritage sites meet. You can go as far as Cape Tribulation but after that the road ends and you'll need a 4WD.
As a day trip from Cairns you can head inland to explore the alternative town of Kuranda nestled in the rainforest only 20 mins drive from Cairns. Take the scenic railway or cable car to get there and visit the markets and art galleries. The AJ Hackett Bungjy jump and Minjin swing is also a thrilling way to enjoy the rainforest!
As you drive South you could drive the scenic route through the Atherton Tablelands and the waterfall circuit. (More info on where to go for the waterfalls here.) The AJ Hackett Bunjy jump and Minjin swing is also a thrilling way to enjoy the rainforest!
Cairns to Mission Beach  – 2 hours direct drive
The Cassowary Coast: Mission Beach, Tully and Innisfail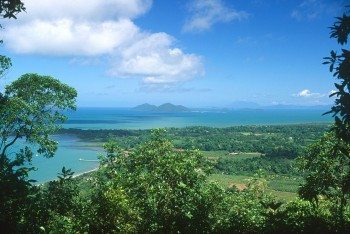 A big Cassowary welcomes you to Mission Beach, these huge, unique birds are only found in this area, around the Daintree Rainforest and parts of Papua New Guinea although it is not common to spot them this area is still worth a stop.
Chilled out Mission Beach is quite an underrated spot with a string of nice beaches and small communities and loads of activities like skydiving and also don't miss white water rafting nearby in Tully.
Mission Beach to Townsville – 3 hours drive
On the way to Townsville, known as the Great Green Way, you pass through national parks, rainforest and miles of fields of sugar cane and banana plantations while tropical islands lie just out to sea.
It's one of the most scenic parts of an East Coast Australia road trip so its worth taking the time to head inland from Ingham to visit Wallaman Falls, Australia's highest single drop waterfall.
Townsville and Magnetic Island – 3 days
Townsville is a pleasant town but the real draw is just across the water at Magnetic Island.  There are many walks you can do around the island and it's a great place to get close to the animals – we saw kangaroos, wallabies, and even rode horses on the beach and in the sea. There's also full moon parties.
If you want to get a taste of the Outback on your East Coast Australia road trip just take a detour about an hour ½ inland from Townsville to the tiny gold mining village of Ravenswood and the living museum of gold rush town Charters Towers.
There are quite a few free camping spots around Townsville listed in the Camps book. On Magnetic Island the Bungalow Bay Koala Village YHA is a lovely resort style hostel near the beach at Horseshoe Bay that offers camping, cabins, dorms, a swimming pool and even has its own wildlife park!
Townsville to Airlie Beach – 3 1/2 hours
Airlie Beach and The Whitsunday Islands – 3 days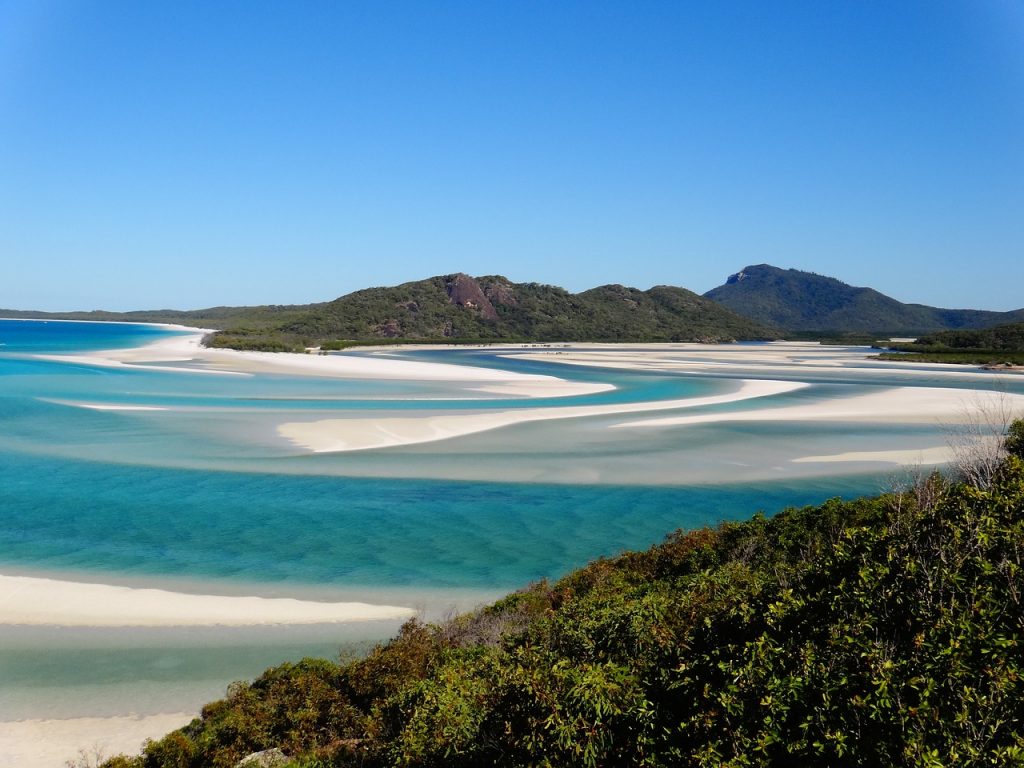 Airlie Beach is the jumping off point for exploring the beautiful Whitsunday Islands and a bit of a party town and backpacker hangout. Don't miss the Whitsunday Islands, one of the most stunning sights in the whole of Australia and an essential stop on any East Coast Australia road trip.
Seeing the view from the famous Hill Inlet and spending time on Whitehaven Beach is a must – this is one of the most beautiful places I've ever seen.
Multi day Live aboard trips cruising and sailing and diving the Whitsunday Islands are popular (and pricey) but you can also take a day trip with Ocean Rafting  like I did for a really fun and cheaper option.
You can also do a skydive here, in what must be one of the most beautiful locations in the world!
Free or cheap campsites are rare around popular Airlie Beach and the Whitsundays. Nomads and Base hostels are spacious resort style hostels that will also let you park your camper overnight and use the facilities for a reasonable fee. You can also camp on some islands for a little as $5.95 per person per night (get a permit first here)
Extra offbeat tip: Fancy seeing a platypus in the wild? You can with just a short diversion from your east coast Australia road trip route. Just after leaving Airlie Beach head about 1 hour inland to Eungella National Park – one of the best places in the world to see a platypus in the wild. On the way stop at the Pinnacle Pub for an amazing pie!
Airlie Beach to Agnes Water – 8 hours drive
After Airlie Beach it's a long stretch of at least 5 hours driving with not that much of interest to see between the big country towns of Mackay and Rockhampton apart from the funny signs along the highways to try and keep drivers awake.
If you want to break up the journey stop by the Capricorn Caves, spectacular above-ground caves in a limestone ridge. You could also get a cattle station experience at Myella Farm where you can learn to be a cowboy and try farm experiences like riding horses and motorbikes, milking cows, lassoing and even whip cracking.
This is the longest stretch of not much of interest on the East Coast Australia road trip route. If you're tired of driving, you could stay the night around Rockhampton (Capricorn Caves offers camping spots or you can find free campsites along the route in Camps Australia Wide book) or push on another 2 and a half hours to Agnes Water.
If you have more time (its about 6 hours driving one way) Carnavon Gorge is a beautiful place to explore with great walks and ancient aboriginal art. Camp at Takarakka Bush Resort.
Town of 1770, Agnes Water and Bundaberg
The Town of 1770 was the first western settlement in Australia, named after the year it was discovered by Captain Cook and has some cute surf beaches to break up the journey.
Agnes Water nearby is also a nice beach town to take a break, it's the first surf beach you'll reach coming this way and has probably the cheapest surf school in Australia – the Reef to Beach Surf School charges only $17 for a 3 hour lesson with all gear included.
You can explore explore nearby Eurimbula and Deepwater National Parks.
Agnes Water to Bundaberg – 1 1/2 hours driving
Along this East Coast Australia road trip route you will drive through miles and miles of fields of sugar cane. If you want to see how they make it into rum stop at the famous Bundaberg distillery, home to the famous Bundaberg (Bundie) Rum. Stop here for a tour of the rum distillery and stock up on discounted bottles for essential Queensland tipple!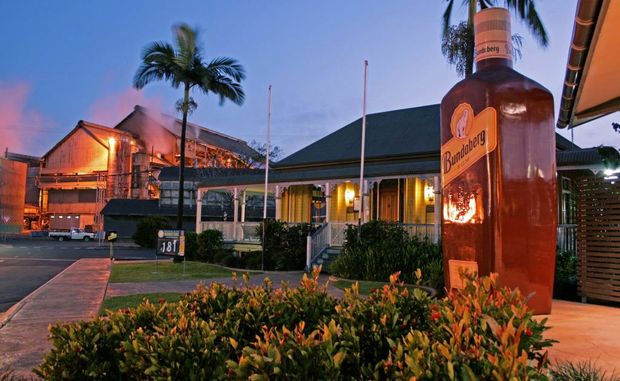 Bundaberg to Rainbow Beach – 2 1/2 hours drive
Fraser Island – 3 days
Hervey Bay and Rainbow Beach are both quaint coastal towns that offer a jumping off point for the amazing Fraser Island which shouldn't be missed off any East Coast Australia itinerary.
Don't miss visiting the World Heritage-listed Fraser Island. It's the largest sand island in the world, it's a unique and essential Australian experience with miles of beaches, rainforests and sparkling lakes, rusting shipwrecks and wild dingoes.
You can take a day tour of Fraser Island but it's better to spend at least a few days and nights exploring Fraser Island trekking, swimming and camping out on the sand dunes under the stars.
There are a few ways to do it but you won't be able to take your 2WD campervan or car onto the sandbar! You'll need to hire a 4WD and get the ferry across then you can explore yourself ( just don't get stuck in the sand!)
You could also go with a group as part of a self drive 'tag along' tour or take a tour like Cool Dingo that are affordable, fun and popular with backpackers.
In the winter Hervey Bay is also one of the best places in the world to see humpback whales on their migration (This is the whale watching tour I took, it was awesome how close they got!)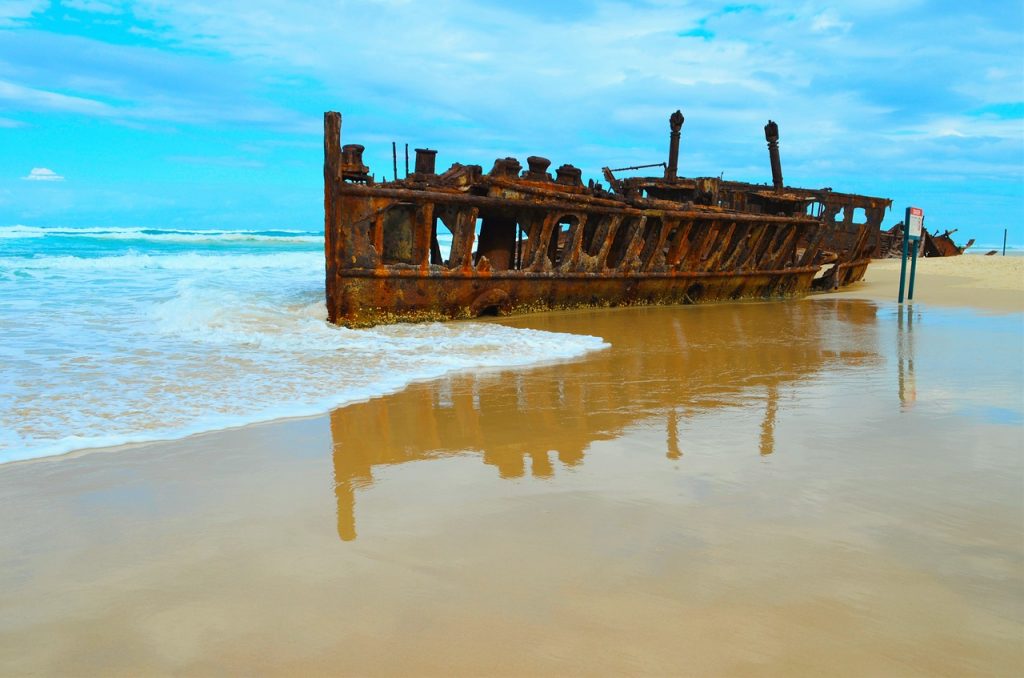 Rainbow Beach to Sunshine Coast – 2 hours driving
Next you will drive through Maryborough, Queensland's oldest provincial city and see a larger-then-life Ned Kelly and some nice historic buildings before hitting the coast again.
Sunshine Coast – 3 days
The Sunshine Coast is less developed and more sophisticated than the Gold Coast, if you prefer nature over bars and theme parks and only have time to stop at one on your East Coast Australia road trip then I'd recommend the Sunshine Coast.
Spend sun drenched days exploring the long, golden beaches, surf or just chill out in chic and charming, stylish Noosa, explore the Noosa everglades, enjoy the watersports and also check out the markets in new age Eumundi.
When on the Sunshine Coast also visit famous Australia Zoo and the ethereal volcanic crags of the Glasshouse Mountains national park. 
Sunshine Coast to Brisbane  – 2 hours drive
Brisbane – 2 days
Queensland's capital is no longer just a big country town – it's increasingly cultured and cool centered city worth including in your East Coast Australia road trip itinerary.
The city is centered around the winding river and has a great array of museums and a urban beach on the lovely southbank. For more see my Backpacker's Guide to Brisbane. 
You can also use Brisbane as a base to do many day trips and tours around the nearby area. Explore Morten, Stradbroke or Bribie Island or escape into the hinterland of lush rainforests and waterfalls.
As you'd expect with a large city there's not many places to camp near the center. Brisbane Holiday Village I think is the closest. But there's loads of good campsites not far from Brisbane.  There are also lots of cheap hostels you can stay in or look for a motel on the outskirts with parking.
Brisbane to the Gold Coast – 1 hour drive
The Gold Coast – 2 days
South of Brisbane is the Gold Coast. Home to Surfers Paradise, skyscrapers and theme parks. The Gold Coast is a bit tacky but can be fun.
Surf, shop, visit the theme parks and sample the lively night life. If you want to do lots of theme parks and attractions save money with a Gold Coast flexi attractions pass.
If it sounds a bit like Vegas on the beach then head inland and discover three World Heritage-listed national parks: Tamborine Mountain, Springbrook and Lamington and as you head South a detour to climb Mount Warning at sunrise is worthwhile for the amazing views.
Gold Coast to Bryon Bay – 1 hour drive
Byron Bay – 3 days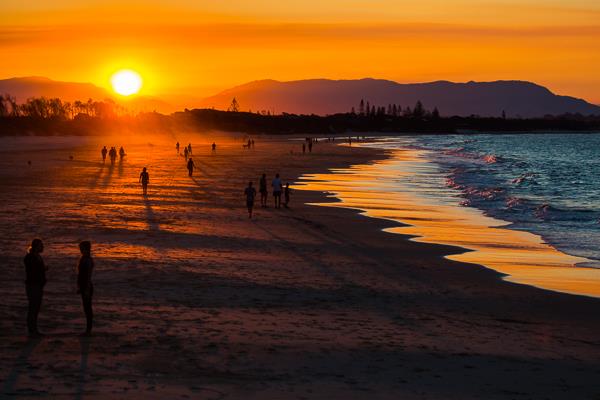 Bryon Bay is one of the most popular stops on an East Coast Australia road trip with it's amazing sunsets and surf, beach lifestyle and cool, bohemian, alternative vibe.
Walk along Cape Byron to the Byron Bay lighthouse on Australia's most easterly point, enjoy the beaches, try surfing, diving, kayaking with dolphins, take a yoga class or indulge in some alternative therapies, check out the towns many excellent eateries or shop for organic food at a farmers market.
You can also take a side trip to nearby Nimbin and hang out with the hippies or check out the creative and cultural arty scene in Lismore.
I loved the unique, quirky Arts Factory it's a super cool, hippiesh resort set in a private subtropical forest with a pond about 10 minutes walk from the town center. There's a swimming pool and hot tub, spa, restaurant, kitchen, beer garden, cinema, yoga classes, workshops and even a recording studio. You can stay in your camper outside and use the facilities and feel the vibe.
There are also many free parking spots where you can camp, for example the Yelgun rest area, if you head north of Byron Bay along the Pacific highway.
Byron Bay to Sydney – 9 hours drive
If you're short on time (for instance doing a campervan relocation deal ) you could steam down this section from Bryon to Sydney in about 9 hours, but if you've got the time for a longer East Coast Australia road trip then here's where you should check out:
Yamba about 1.5 hrs South from Bryon is a nice, laid back place with great beaches and surf and worth a stop. Ulmarra, a nice heritage town on the river makes a nice lunch stop.
Heading further South, look out for the Big Banana near Coffs Harbour which has been stopping traffic and the feature of many silly photos since 1964. A little further on the artsy, alternative hill town of Bellingen and Dorrigo National Park makes a nice quick detour.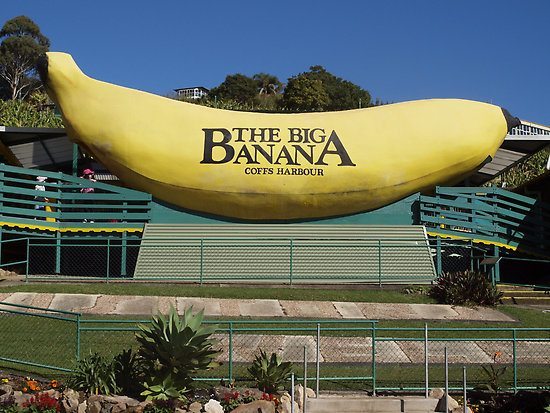 Further South Nambucca Heads and Port Macquarie are pleasant enough coastal towns worth a lunch stop or overnight rest but compared to the show stoppers further up the coast shouldn't keep you too long.
The Lakes Way which starts from Taree and winds through the Myall Lakes and Booti Booti National Parks is a scenic alternative to the Pacific Highway.
Newcastle, New South Wales easy going 2nd city has nice surf beaches and heritage architecture. Nearby Nelsons Bay (the dolphin capital of Australia) Port Stephens and the Tomaree Peninsula are home to some extraordinary sand dunes (that you can sand board on) deserted beaches, national park, the Worimi Conservation Lands.
Heading inland from Newcastle you can check out the wineries of the scenic Hunter Valley Australia's oldest wine region. Most wineries offer free tastings and there is also gourmet cheeses, chocolates and other foods to try.
You might want to leave the car or camper behind for this one! You can take a day trip from Newcastle or Sydney This Hunter Valley trip includes tasting not only wine but also chocolates, cheeses and includes a gourmet lunch.
There's also many national parks in the region including Barrington Tops, Yengo and Wollemi if you want to add them to your East Coast Australia road trip.
Sydney – 4 days
Sydney! Australia's most iconic city is a must see and an important stop on any East Coast Australia road trip! Sydney is blessed with a stunning harbour and beaches that make it one of the most beautiful cities in the world and home to one of the most iconic views.
Learning to surf on famous Bondi Beach and explore the beautiful harbour and nature by taking the spectacular cliff top walk from Bondi to Coogee and catch a ferry to Manly and do the scenic Manly to Spit walk. See more things to do in Sydney and tips in my Backpacker's Guide to Sydney.
If you want to stay in the centre of Sydney and enjoy amazing iconic views from the rooftop whilst not breaking the bank look no further than award wining Sydney Harbour YHA. They also have a heated pool, sauna, bar, cafe, cinema and lots of free activities and run one of Sydney's best pub crawls.
Also don't miss the UNESCO listed Blue Mountains National Park. You can visit the Blue Mountains on a day trip from Sydney, but if you have more time it's well worth spending a few days here. As the area is so huge do some research into where to stay in the Blue Mountains first.
Sydney to Melbourne –  9 hours drive inland or 13 hours via coastal route
So after Sydney you can choose – do you take the quickest route to Melbourne, take time out and see Australia's often overlooked capital Canberra, a purpose built city with many great museums, or take a bit more time and carry on along the coastal route to Melbourne – called the Sapphire Coast.
The highlights along the coastal route from Sydney to Melbourne include Jervis Bay and stunning Hyams Beach only about 3 hours south of Sydney. There's also Croajingalong national park and the Gippsland Lakes– Australia's biggest inland waterway.
If you have time, take a detour to the beautiful Mornington Peninsula or the Wilson's Promontory before hitting Melbourne.
Melbourne – 3 days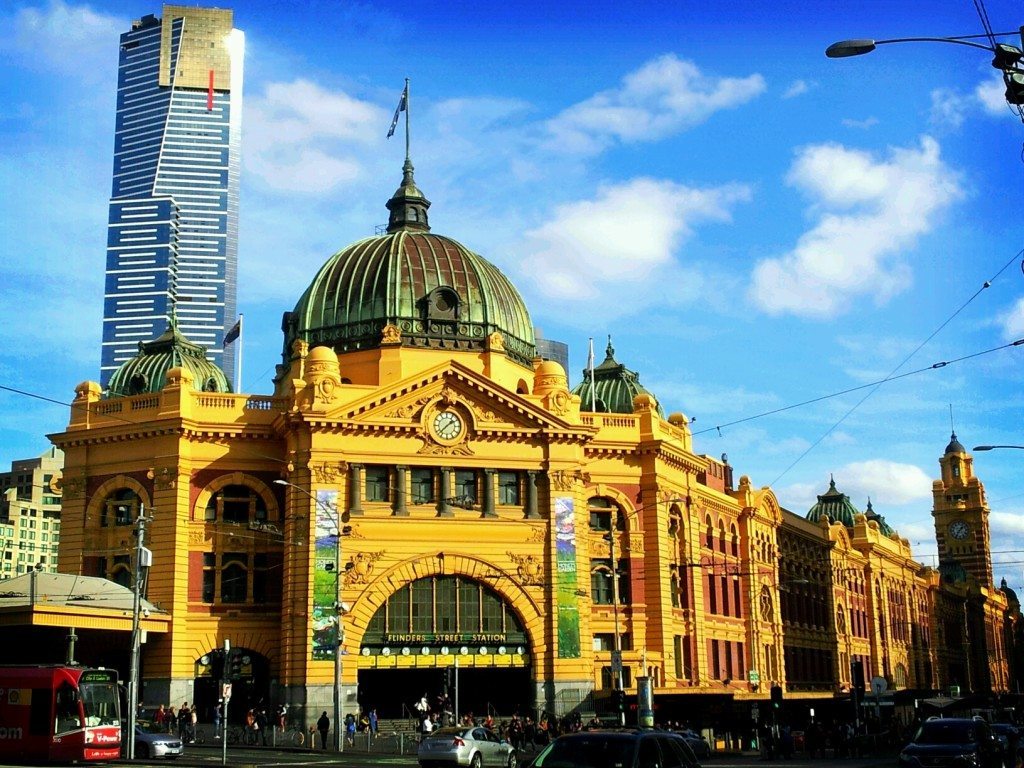 Melbourne is Australia's cultural capital of cool and Australia's most European city. Explore the laneways, art and culture, markets and food and sporting scene of this lively, trendy cosmopolitan city.
The jury's out about which city is cooler – Melbourne or Sydney so you will just have to visit both and decide for yourself… See more in my Backpacker's Guide to Melbourne.
The Great Ocean Road – 2 days
What better way to finish of an epic East Coast Australia road trip (or get off to a amazing start if you want to reverse the route) than with one of the best coastal drives in the world – The Great Ocean Road , just outside Melbourne.
The Great Ocean Road trip is famous for the magnificent Twelve Apostles, a constantly changing coast line and famous surf beaches.
But there is a lot more to see on a Great Ocean Road trip so don't rush it – take your time and soak up the scenery and discover all the other secrets it  holds along the way. Here's my tips for the perfect 3 day Great Ocean Road Tri[p itinerary. 
Where next after your East Coast Australia road trip?
Now you've seen all the highlights of East Coast Australia you could return to Melbourne or carry on driving to Adelaide and then head straight up through Australia's Red Center, the Outback, Uluru (Ayers Rock) and all the way up to the Top End and Darwin.  
Don't forget to go into the Outback at some point on your Australia road trip – the Outback is where the uniqueness and magical of the land down under really shines!…But that's another trip for another post!
To help with finding accommodation, practical tips and things to do I traveled with the Camps Australia Wide book to find free campsites all down the East Coast and a Lonely Planet Australia Travel Guide. I recommend buying this from Amazon
before you go (because it's cheaper) as it is packed with all the info you need for this epic East Coast Australia road trip. You'll also need a map – this Australia Map by Lonely Planet is really useful.
But don't forget to leave the well trodden route of the guide book behind sometimes because often the best things are the off beat surprises and hidden gems that you discover when you get lost or take a wrong turn!
I hope this post helps you to plan your own amazing East Coast Australia road trip!
If you want to stay longer and immerse yourself in Aussie culutre and earn some money for further travels then maybe consider a years working holiday visa then download my free backpacker's guide to see if you are eligible for a working holiday visa 
Pin Me 😉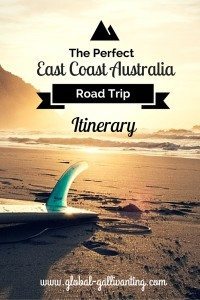 More Australia blog posts:
Have you traveled Australia? What do you think of my perfect East Coast Australia Road Trip itinerary anywhere you loved that I missed out, or any awesome free campsites you want to share?