How I scored a Campervan Relocation Deal in Australia for only $1 a day
In my opinion, the absolute best way to travel Australia is by campervan. Nothing can beat the thrill of the open road and the freedom to explore on your own set of wheels.
So it's not surprising that exploring Australia by campervan and taking a epic road trip is one of the most popular way to travel around Australia.
Plus, by staying in the campervan and cooking your own food you can save on accommodation and meals out whilst enjoying the best of the great outdoors.
The only downside is that renting a campervan in Australia can be quite expensive but did you know that you can score a campervan relocation deal in Australia from only $1 a day!?
Here's how I rented a camper for only $1 a day with a campervan relocation deal in Australia
My best friend and I drove from Cairns in the North of Queensland to Sydney in an epic East Coast Australian adventure with a campervan relocation deal.
And do you know how much we paid for the rental? Only $7! We even got a free tank of fuel thrown in to get us on our way!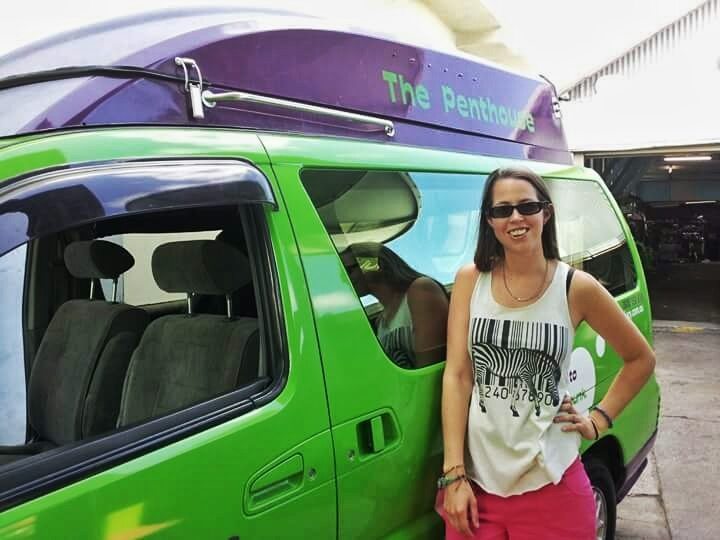 Our Epic Australian Campervan Road Trip
In a week we drove our Jucy Campervan down the East Coast of Australia, saving money on both a bus pass, hostel accommodation and eating out and having the freedom to stop wherever we wanted to discover both the highlights of Australia's East Coast and some less well known surprises.
From Cairns we headed South and drove through miles of waving sugar cane fields, stopped along the way at the stunning Airlie Beach to explore the beautiful Whitsunday Islands, and discovered a beautiful, deserted beach aptly called Hideaway Bay.
After a quick stop at the famous Bundaberg Rum factory we rolled onwards and enjoyed a whale watching tour from Hervey Bay before spending half a day on the world's largest sandbar – Fraser Island.
Heading further south, we explored Bryon Bay and it's famous lighthouse before driving over the iconic Sydney Harbour Bridge signalled the end of our journey.
 See the route we took in my Perfect East Coast Australia Road Trip Itinerary 
We managed to rent a camper for only $1 a day because it was a campervan relocation deal and you can do this not just in Australia but also in New Zealand, America, Canada and Europe.
What is a campervan relocation deal in Australia and how does it work
Car and campervan hire companies in Australia sometimes need a vehicle moving from one place to another to be in the right place ready for the next customer.
The hire company needs someone to relocate the vehicle and offers free or very discounted hire for someone to do that – this is called a campervan relocation deal.
Sometimes you get a free tank of fuel thrown in, $100, $350 or even all of your fuel paid back, I've even seen ones that give you $100 on top of this!
This means that if you say, want to go from Cairns to Sydney, and a campervan hire company needs a vehicle moving that way you could score a campervan relocation deal and rent a vehicle for a lot less!
Pin Me 🙂
How to find a campervan relocation deal in Australia
Most major car and campervan hire companies in Australia need their vehicles relocating. You could look directly on the company's website before you pay to hire something to see if they have any relocation deals.
But there are a lot of campervan rental companies in Australia so you could spend ages checking each company trying to find one that needs a vehicle relocating on the dates that you want to travel.
An easier way is to check campervan hire comparison websites that compare the campervan relocation deals from various campervan hire companies.
I find Drive Now.com.au the best site for comparing campervan rental companies and for finding campervan relocation delas in Australia and also New Zealand.  Every day they post campervan relocation deals from all the major campervan hire companies in Australia and New Zealand so you can find the best deal that suits your travel plans.
Campervan relocation deals get snapped up quickly so if you don't see anything that suits you straight away it's a good idea to sign up for the Drive Now relocation watch list and get to hear about the latest deals first.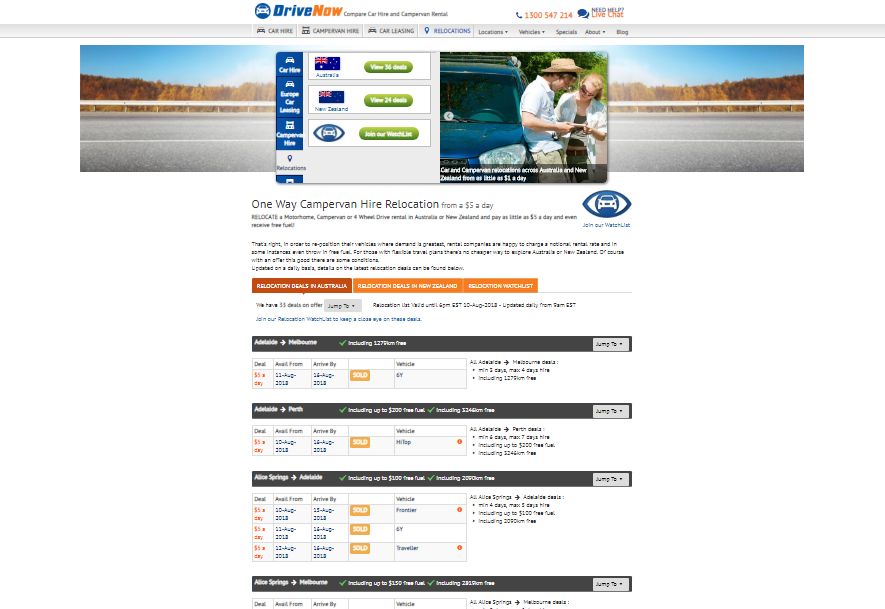 OK, so what's the catch?
If you can score a campervan relocation deal in Australia you can save alot of money both on the campervan hire and also on accommodation and food while you explore Oz. But there are some things to be aware of:
You often need to be quite flexible to be able to take up the offer. Campervan relocation deals in Australia are often posted at quite short notice as the company needs the van to be moved from one location to another and so it's not usually something you can plan months in advance. You have to be in the right place at the right time.
Time is the major factor. We had a week to drive the over 2,600 km from Cairns to Sydney. While we did get to see loads of awesome things on the way we were rushed for time, there's a lot of miles to cover so if you really want to explore a place in detail a campervan relocation deal might not be for you. On some deals you can pay a reduced price to extend the hire by a few more days which gives you a bit more time.
Take into account the cost of the fuel, it cost us $500 in petrol to get from Cairns to Sydney. See if you can find a deal that includes fuel or cashback for fuel. If we had simply wanted to get from A- B it would have been cheaper and quicker to fly but we wanted to have the campervanning experience. When we drove over the iconic Sydney Harbour Bridge after driving so many miles all down Australia and celebrated with sparkling wine at the Opera House Bar we really felt like we had arrived!  Anyway isn't it all about the journey.
Check if insurance is covered? Check what level of insurance (if any) the relocation deal include or you could find yourself shelling out a big excess payment if anything goes wrong or paying a extra daily rate for the insurance.
How about buying a campervan in Australia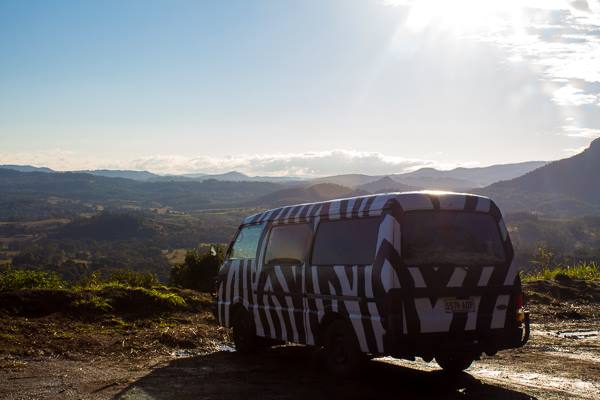 My experience with the campervan relocation deal really whetted my appetite to explore more of Australia by campervan. As I had a years working holiday visa I decided to buy my own campervan.
I loved the freedom and flexibility to get off the beaten track plus saved heaps on money compared to staying in hostels, bus tickets and eating out and even sold the campervan at the end of the trip for more money that we bought it for!
If you're going to spend a long time in Australia then maybe you should consider buying your own campervan so that you have plenty of time to explore at your own pace.
For more info check out Buying a Campervan in Australia – Is it worth it? or my guide on How to Buy a Campervan in Australia.
Like this? Pin Me!