Is it worth Buying a Campervan in Australia?
Australia is one massive, and expensive, country so you really need to give some thought about how you are going to get around.
Australia seems like it was just made for road trips and exploring Oz in a campervan is a popular choice, you've got the complete freedom to go wherever you want, whenever you want and the added benefit of having your accommodation and transport all in one – so you can save money instead of paying for hotel stays.
Renting a Campervan
Renting a campervan is easy to organise but it is expensive though, prices from at least AUD$300 a week.
If you are heading to Australia for more than a few weeks, or going for a year's working holiday and have some cash for the upfront cost of buying a van, then considering the cost of renting over that duration, it could be more affordable to buy your own campervan.
So how about buying a campervan? Is it worth it?
From my experience, and in my opinion buying a campervan is the best, and most affordable, way to experience Australia.
Buying our Campervan
We bought our campervan in Melbourne and found it on Gumtree. After checking out a few adverts, talking to the owners and taking a few for a test drive, we choose a 1990 Ford Ecovan that had been converted into a basic campervan called Gloria!
Gloria had a proper mattress, storage in the back, curtains, 9 months REGO and for AUD$4,000 came complete with all the camping gear we needed! The sale went through smoothly although when we came to transfer the registration we discovered that as the vehicle was registered in South Australia we had to have a SA address to register it to and we had to physically do this in person in an post office in SA within 14 days of sale. (Each state has different rules, it can seem confusing at first and it's worth checking these out first.)
Luckily we weren't too far away in Melbourne and as we were planning to drive the Great Ocean Road we just continued driving onto South Australia. We used a campsite as our address, the receipt was proof enough so we headed to the post office and the registration and documents were sorted out fairly easily. When it came to renewing the REGO months later we did that easily online without having to be physically in South Australia.
Epic Road Trips
We traveled across Australia on an epic outback trip which was one of the highlights of my year in Australia and would have been impossible to do on public transport.
I loved the freedom of going wherever we wanted, getting off the beaten track, exploring and discovering something new everyday.
We didn't have to worry about finding or paying for accommodation or carrying our backpacks around, we just used the Camps 7 book to find cheap or free campsites nearby to stop at for the night, We saved money on eating out by buying food at the supermarket and cooking it up on the camp stove while enjoying the nature and meeting other travellers doing the same thing. Sometimes we even stayed at free campsites for a week or so at a time (saving us $30 per night each on a bed in a hostel dorm room thats $420 per week) , we utilised the free showers and facilities and the public swimming pools, saved loads of money by buying food at the supermarket to cook at camp and hardly ever spent any money on accommodation.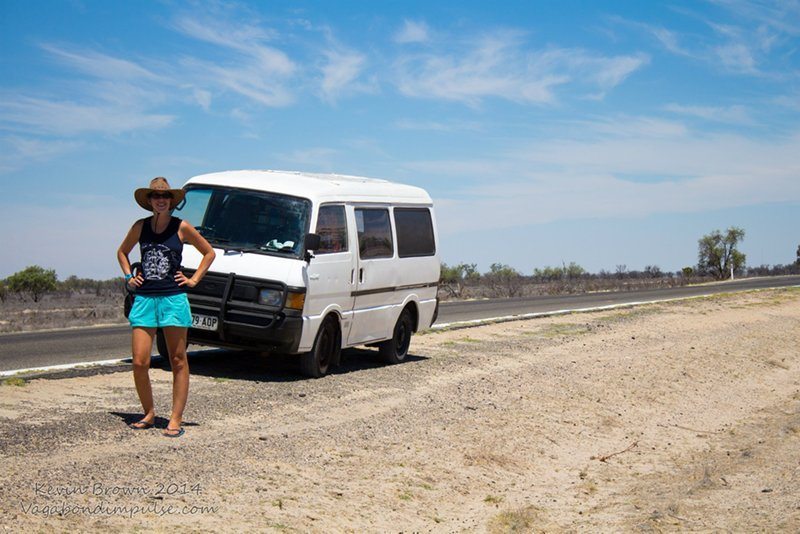 Working in a remote country pub
We worked for a few months in an remote country pub in Queensland and could have saved money on accommodation by sleeping in the van but decided that we preferred to pay a small amount from our wages to have the space of a proper room in the pub. Even so, having the van here was still invaluable because there was no public transport, shops or facilities within walking distance. Having transport enabled us to go into town and explore the local area on our days off, we attended rodeos, fairs, ANZAC day parades and other events, went swimming in the creek, hiking in the range and saw platypus in the creek. Plus Airlie Beach and the beautiful Whitsunday Islands were less than 2 hours drive away.
Selling the Campervan
After we explored up and down the East Coast from Cape Tribulation to Sydney. By the time we wanted to sell the van it was winter so selling in Sydney or Melbourne was not looking very likely. Instead we headed up north again to the warmer weather where all the backpackers were (I mean who wants to buy a campervan in the winter in Melbourne!) We had family to stay with in Brisbane so based ourselves there, repainted the van with a funky zebra print pain job and renewed the REGO for another 3 months to make the van more appealing for buyers, and ended up selling the van, for more than we bought it for!
Buying our campervan was for sure one of the best things I did in Australia and well worth the time and money involved.
The campervan was our accommodation and transport in one which allowed us to save considerable amounts of money on hostels, bus tickets and eating out and gave us the ultimate freedom and flexibility to explore and get off the beaten track which lead to some of the best experiences I had in Australia. It allowed me to work in a remote area which allowed me to save a lot of money and get more immersed in local life than a tourist would not normally see while being my connection to the outside world! Plus I love camping out and being in nature.
We got lucky as we did not have any major breakdowns or repairs to deal with and an added bonus was that we sold our campervan for $500 more than we bought it for! So we effectively got the money back that we spent on the van which meant that we pretty much had free transport and accommodation for the duration of your trip, only paying out for fuel and food!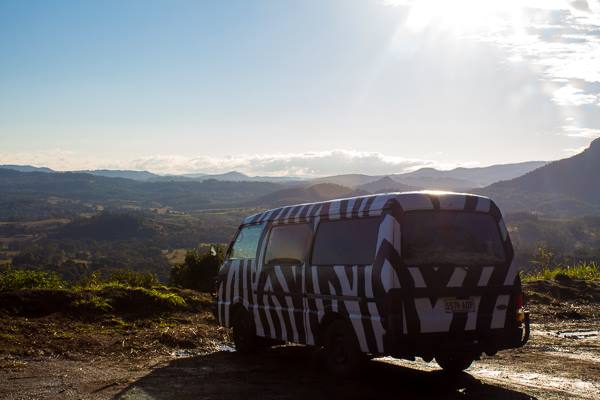 Things to Consider When Buying a Campervan in Australia
Of course there are always downsides, whilst I was lucky and had a great experience, before you buy a campervan give some thought the cons:
The Cons:
Getting familiar with new legislation
Buying a campervan in a different country may seem confusing at first. Getting familiar with the Australian legislation takes a bit of time and fines are big. It's a legal requirement in all states to have REGO but the good news is that the REGO usually also covers the tax and third party insurance and most of the time its easy to renew and pay online. Confusingly different states have different rules so do a bit of research beforehand. Luckily for you I've covered most of what you need to know here: How to Buy a Campervan in Australia
Overall though, once I got used to the technicalities and legislation buying a campervan was relatively easy, there were many vans to choose from and the paperwork was done without too much headache.
Camping restrictions
Actually you can't just park up and sleep anywhere, in many places overnight camping is not allowed and you could get moved on by the authorities or worse, face a fine. However there are many places where you can camp for free, the Camps book has details of free and low cost camping sites and a detailed map of Australia and is a veritable bible for road trippers. Even, If there is not a free campsite paying $20 – $30 or so for a pitch will still be saving a lot compared to staying in hostels or hotels.
Lack of space and facilities
Depending on how far your budget will stretch it's likely that your campervan may start to feel a little cramped and might not have bathroom facilities. Some of the free camping spots have none, or very basic, facilities. Even if you are on the tightest budget it's likely that after a couple of days without a shower and in close confines with your travel buddies you will be willing to pay anything for a hot shower and a bit more space! To maximise space make the most of the great outdoors and get a gazebo and some tables and chairs and enjoy sitting put in the nature and most second hand backpacker campervans come come complete with all equipment and camping gear you could ever need.
The Biggest Potential Downside –
When you buy a cheap second hand campervan, or any used car really, there is always the risk of mechanical failure and breakdowns. Beware that many backpacker vans have covered huge distances and have been whizzed around Oz at least a couple of times. Usually they have also not been looked after very well so the mechanical soundness of some of these vehicles may be questionable and while many mechanical issues can be fixed your campervan may be uneconomical to repair, the repairs may cost more than the value of the vehicle. It's hard for the untrained eye to spot potential problems and it's a big risk.
I was lucky, our campervan only had a few small issues that were easily fixed and didn't suffer any major breakdowns, but I know some backpackers who have had to abandon their van on the side of the road. I also knew a couple who broke down on the highway and ended up 'selling' their van in exchange for an aboriginal fish painting! – but you know some of those paintings have been known to be worth $5000 so who knows!
Buying a second hand car is always a bit of a gamble. If you don't have a friend who can check the van over for you if in and you are in doubt about the mechanical integrity of a van then it's really worth the extra expense of paying a mechanic to look at it to avoid potential risking thousands of dollars on an vehicle that doesn't work.
Also make sure that the vehicle you are buying has the necessary paperwork needed, check the registration certificate and the road worthy certificate if applicable. Also make sure no finance or unpaid fines are owing on the car.
Summary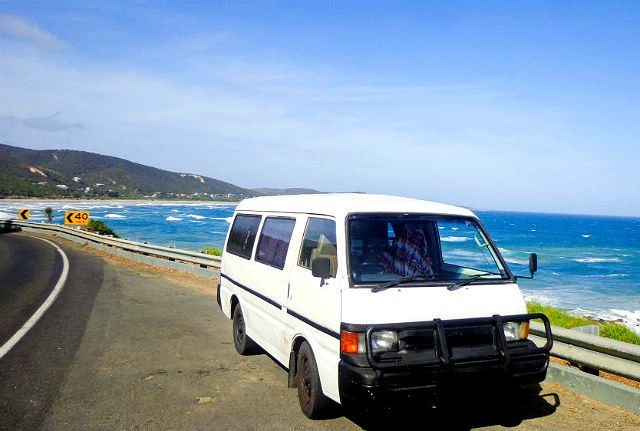 Thinking about buying and owning a car or campervan in Australia can seem confusing and costly at first. But for me, exploring Oz in my own campervan was a highlight of my year in Australia and a worthy investment that enabled me to see a whole lot more of the great big land down under.
Nothing beats the thrill of the open road and the ultimate freedom to explore Australia on your own four wheels. From epic Outback road trips, driving the stunning Great Ocean Road to just getting off the beaten track and having the flexibility to go wherever I wanted whilst saving money on transport, accommodation and eating out plus I sold the van back at the end of our trip and got all the money back! How's that for cost effective!
Just make sure you do your research, get familiar with local legislation and get a mechanic to check over a vehicle before parting with your cash!
Still interested in buying a campervan in Australia? Check out my article on How to Buy a Campervan in Australia
Have you bought a campervan while traveling Australia? Was it worth it for you?