Volunteering in Incredible India
India is an incredible, life changing country to visit but it's even better if you can get under the skin, learn and understand more about it's unique and captivating culture and impact the lives of local people. If you are looking to do something more meaningful in India then volunteering or interning with Leave Ur Mark could be ideal.
Leave Ur Mark offer a variety of programs and, chances are, if you tell them your specific interests and aspirations they may be able to find the perfect volunteering project, or internship, for you. With the right internship you can even gain credit towards your university studies whilst also experiencing incredible India.
I volunteered in Bangalore helping to empower vulnerable women and children – the work was so varied, busy and rewarding – have a look at my Day in the Life of a Volunteer in India post for more about my volunteering experience.
Check out the Leave Ur Mark website for more details of the projects and even if you decide to volunteer with a different company these tips may still be useful for you.
Tips for Volunteering in India with Leave Ur Mark
Pay attention to the pre departure orientation and induction
Leave Ur Mark provide really useful tips and support that could be invaluable, especially if you are coming to India for the first time as it can be quite a culture shock so pay attention and prepare yourself and get to know as much about India as you can before arriving.
Set goals and be clear on what you want to achieve from your experience
When volunteering or interning in India what you get out of the experience depends on how much you put in. Specify your goals for the experience, or what you want to learn, and let Leave Ur Mark and your placement know. They can not be mind readers and can best help you if you are not afraid to make yourself heard. If you have any queries or problems with your placement don't be afraid to let them know so they can sort it out for you and ensure you get the experience that you wanted.
Come for as long as you can
The longer you can come to India the more you will learn and the more impact you can make in your chosen project. A longer stay (at least a month really) is most beneficial to all involved.
Plan time to travel India afterwards
After you finish your placement you will likely be captivated with India and keen to explore more of this fascinating and diverse subcontinent. If you don't allow time to travel in India be prepared to feel very disappointed when you hear other volunteers excited discussing their plans to see the Taj Mahal, the beaches of Goa or to learn yoga in Rishikesh.
Be prepared to fall in love
There's something about India – be prepared to catch the bug and cancel all your other travel plans – once you come to India no where else will seem quite as exciting. Be prepared to fall in love with India and be drawn back time and time again.
Shop for Indian clothes
Be aware of cultural differences and safety tips for women. To avoid unwanted attention it's probably best to cover up when in India or adopt local dress. Don't worry you don't need to wear a sari! Look at what other young Indian women are wearing, like kurtas (long tops) and have fun shopping for colourful Indian clothes.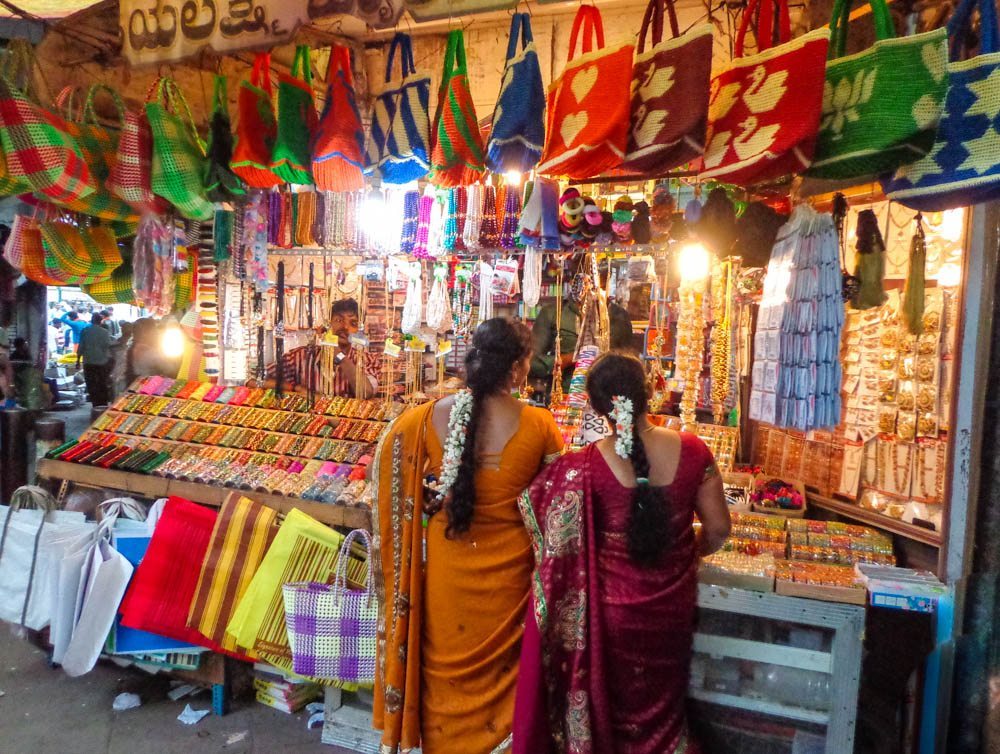 Don't bring a jam packed bag
Leave room in your bag or suitcase for all the purchases you made – things are pretty cheap over here and with the array of colourful clothes and cute souvenirs make sure you leave enough space to take all your shopping home.
Embrace vegetarian food
A large proportion of Indians are vegetarian, you may find that your work colleagues take you out to pure vegetarian restaurants and the food cooked in the Leave Ur Mark apartment is also predominately vegetarian. If you embrace it there is loads of tasty vegetarian Indian delicacies to try or, if you need a meat fix there are many great non vegetarian restaurants in Bangalore or for a taste of home all the major fast food chains are represented here and a also make sure to sample the western restaurants and pub scene that Bangalore is famous for.
Be assertive when dealing with auto rickshaw drivers.
It's likely that you need to take an auto rickshaw to your work or volunteering project each day and often the auto rickshaw drivers will try and rip you off. Never get in without agreeing on a price on insisting that the meter be turned on or you could be faced with a large bill and an uncomfortable argument at the end of the journey. Even if they use the meter you may find yourself being taken the long way around. It's best to find out what the price should be to your destination, be assertive and agree on a price before hand or walk away and wait for another driver.
Don't attempt too much for Weekend Trips.
Of course your excited about being in India and want to visit so many places but the weekend trips are one part of your experience that may not go completely to plan due to time constraints and the different interests and preferences of the other volunteers. It can also seem quite complicated at first trying to figure out where to go and organise transport and sightseeing for weekend trips – make sure to ask the Leave Ur Mark activities coordinator for ideas for weekend trips and help with booking bus tickets.
The beaches of Goa and the backwaters of Kerala are possible in a weekend but will be incredibly rushed – you'll probably spend more time on the bus that relaxing at your destination. It's better to visit places closer to Bangalore leave these excursions for travelling after you finish your Leave Ur Mark project. You can see more from my weekend trips here and things to do in Bangalore.
Take it slow
This is my number 1 tip for visiting India. Due to the cultural differences India can be overwhelming and exhausting sometimes and trying to do too much will wear you down. Everything feels worse when you are tired so if you feel ill or tired rest up and things will be better. The Leave Ur Mark apartment and the Mantri Mall next door is a great retreat from India and when your ready to dive back in to the craziness India is just out there waiting for you.
Bring a full bathing suit and cap
There is a nice swimming pool in the complex of the Leave Ur Mark apartment but women are required to wear a full bathing suit/ swimming costume and swimming cap (not a bikini) You could probably buy one in the mall next door but it's easier just to bring it with you.
Things work differently here
Be warned that western ideals of time keeping and efficiency are not valued so much in India – be prepared to embrace the differences, have a little patience and adapt to a different way of working.
Don't expect just to learn from your placement
Just being in India can be a learning process that can teach you many things, some you maybe didn't even realise you needed to learn. Soak up everything India surprises you with. India can be a challenging but rewarding and transformation destination. See my post Thank You India to learn more.
For more on my experience volunteering with Leave Ur Mark you may want to check out my 'day in the life' of a volunteer in India.