The Best Australia Backpacker Tours
There's so much to see and do in Australia, and its such a massive, diverse and expensive country that it can be a bit overwhelming to figure out how to see it all. A great way to pack in as much as possible in a short time, be safe and have fun and make new friends is by going on one of the awesome Australia backpacker tours.
Australia is home to some of the most beautiful beaches in the world, cultural sites and deserts, vibrant and cosmopolitan city centres, as well as having some pretty amazing, unique wildlife. Australia is also a dream backpacker destination because many people can get a years work and holiday visa. (Download my FREE guide to working in Australia here)
As Australia is such a dream backpacker destination there are a plethora of different tour companies out there that offer cool Australia backpacker tours specially designed for fun, young travellers. These Australia tours give backpackers the chance to tour around Oz with a group of like-minded travellers.
Whether you want to go on an East Coast Australia tour, travel through the incredible Red Centre of the country, or enjoy a West Coast Australia tour, there are so many awesome tours and holidays in Australia to choose from.
My all time favourite tour companies; G Adventures and Intrepid both run award winning, adventurous, fun, socially responsible and affordable small group backpacking tours of Australia. Contiki also are really well known for their fun Australia backpacker tours specially made for 18 – 35's. Tour Radar is also a great as you can check out all the tours available from all the different companies and read reviews from previous guests.
Or if you prefer to backpack Australia independently and don't want to take a tour, check out my perfect East Coast Australia Backpacker Itinerary post here. If you like it and want to follow the itinerary you can save money by booking activities, bus passes and accommodation in a package. My friend and fellow travel blogger Chris from Backpacker Banter put together a discounted package deal with all the cool stuff I did in East Coast Australia. You can also customize it to make your perfect package, staying at a the backpacker hostels that I recommend.
Pin Me 🙂
The Best Australia Backpacking Tours, Routes and Itineraries
To help you plan your tour of Australia a bit better, here are my 10 favourite Australia backpacking tours, with the best itineraries and prices, from my favourite tour companies.
As Australia is so big, if you only have a short holiday its best to focus on one region that try to see too much as you could end up spending more time and money on travel and end up not having as much time as you'd like at the actual sights.
I've listed these Australia tours by region so that you can see the best tours according to what part of Australia you want to explore. Some of them are just short stints that last less than 2 weeks, while others are longer, which means you will see that much more of this amazing country!
The Best East Coast Australia Tours
East Coast Australia is the most popular Australia backpacker route as it's home to so many iconic sights like the Great Barrier Reef, the Gold Coast, Brisbane and Byron Bay. There's some stunning beaches, national parks, mountains and natural wonders that stretch from Cairns south all the way to Sydney. You can go on East Coast Australia tours that last anywhere from 1 week to nearly 3 weeks…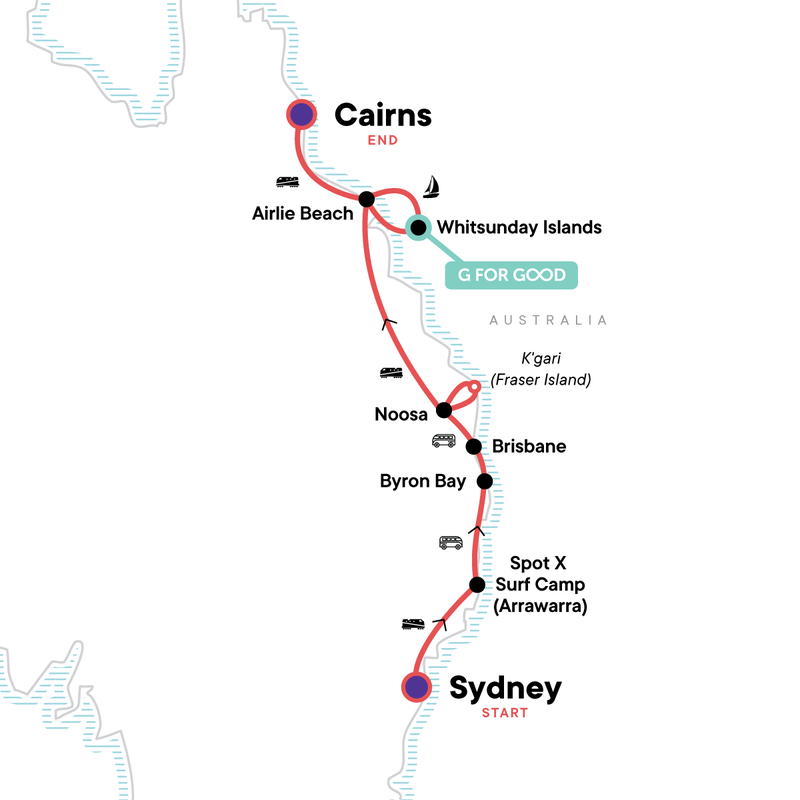 This East Coast Australia tour is one of the best if you want to travel up the coast and see all all the iconic sights and have a great time with like minded people while doing it.
Explore the city of Sydney, join a surf camp, hang out in Byron Bay, explore Noosa and Fraser Island, go sailing in the beautiful Whitsundays, party in Cairns and see the Great Barrier Reef. See more details here.
Hike through mangrove forests, relax on a stunning white sand beach and trek through the Daintree Rainforest. This Island and Rainforest tour of east coast Australia is a great way to explore Australia's famous tropical coastline.
This 7 day journey starts in Cairns, taking you north through the Daintree Rainforest and to the remote Cape Tribulation. You will meet a local aboriginal guide that will teach you all about the rainforest and life within it, with the day finishing off on the beaches at Cape Tribulation. Heading back to Cairns, you will explore the city and its night market, before heading south along the coast to Townsville to see its beautiful colonial buildings.
Spend the second half of the tour enjoying the Whitsunday Coast, where you'll relax on Airlie Beach. You can also chose to go sailing to the immaculate Whitehaven Beach, which is one of the best beaches in the whole world and one of the most beautiful places I've ever been! Click here for more info, prices and to book.
See the best of the best in the city of Sydney with a group of like-minded backpackers. This is a great tour for anyone starting a working holiday in Australia, as they help you get started and even give you access to 1,000s of job postings.
If you're coming to Australia on a working holiday visa and have no idea where to begin, this is the perfect tour for you. You will be visiting all of the best sites in Sydney and going on a tour that is packed with adventure.
You'll go on a Sydney harbour cruise, go jet boating at Bondi Beach and party at some of the city's best nightclubs. This tour also includes a trip to Port Stephens where you'll go sand boarding, feed kangaroos and stare at koalas. Click here for more info, prices and to book.
If you'd rather travel along the east coast at your own pace, I highly recommend the Hop on hop off pass. The pass travels along the entire East Coast from Sydney north to Cairns. You can get on and off wherever you'd like along the way, spending as much time as you want at each stop. There is no time limit other than a minimum of 13 days.
But you can explore the east coast and get on and off the bus anywhere, travelling from 2 weeks to up to 3 months! You can even stay for as long as 12 months. It really is completely up to you. All you have to do is book and pay for the tour and travel at your own pace.
Plus, there are some great activities included, like wine tasting in the Hunter Valley wine region, exploring the Barrington Tops National Park and climbing Mt Tyson. Click here for more info, prices and to book.

The Best Southern and Western Australia Tours
South Australia and Western Australia are extremely scenic areas of the country that are not so well travelled as East Coast Australia but are still packed with stunning beaches, quiet small towns and wineries. If you're considering exploring these less travelled areas of Oz, have a look at these tours…
This phenomenal Australia backpacker tour takes you south along the west coast and east along the south coast, stopping at Wave Rock, Cape Le Grand National Park, the Nullarbor Plain and the Wadlata Cultural Centre.
You'll go on coastal bushwalks, visit farms, swim with dolphins and see kangaroos. On this 9 day tour, Intrepid will take you to all of the best spots along these coastlines, staying in camping sites or bush camping along the way. It truly is the best tour to really immerse yourself in Australia's outdoors. Click here for more info, prices and to book.
Go completely off the beaten track on this incredible 22 day Western Australia tour. See jaw-dropping landscapes, experience the Outback, hang out with monkeys and camp under the stars. You'll also visit cattle stations, swim in waterholes in the Karijini National Park and snorkel above the Ningaloo Reef.
The journey begins in Perth, driving north all the way to Darwin. Along the way you'll stop to admire the ancient rock sculptures at the Pinnacles, hike around the Kalbarri National Park, meet the Monkey Mia dolphins and enjoy a Broome sunset.
And that's just the first half of the tour. On the second half Intrepid will take you on a drive along the legendary Gibb River Road to the Manning Gorge, El Questro Station, Purnululu National Park and Lake Argyle. Click here for more info, prices and to book.
The Best Northern Territory Tours
This is the real outback and the best region to spot native wildlife and enjoy the vast wide-open spaces in this very unique part of the country. It's also renowned for its Aboriginal cultural experiences and is home to the largest collection of Aboriginal art in the world!
If you really want to get away from it all and travel through the most undeveloped part of the country, then these Australia backpacker tours are a must.
Explore the real land 'Down Under' on this incredible 11 day outback Australia tour with Contiki. Not only will you be able to spot some incredible wildlife, but you're also guaranteed to be mesmerised by the incredible scenery.
You'll see the Florence Falls in the Litchfield National park, stare at ancient rock art in the Kakadu National Park, taste Aussie meat in Alice Springs, sleep under the stars at Kings Creek Station and stare at Uluru's 700-million year old rocks.
On top of all of this, Contiki will also take you on a tour around Darwin, to swim in the thermal pools in Mataranka, to spot UFOs in Wycliffe Well and to have a pint at the historic Daly waters Pub. This outback Australia tour is bursting with culture, history and phenomenal scenery. Click here for more info, prices and to book.
The Best Complete Australia Tour
If you have more time on your hands and want to see as much of Australia as possible, then you should consider going on an Australia backpacker tour that takes you to all regions across this vastly unique country. There's no better way to get the full Ozzie experience than by going on one of these tours.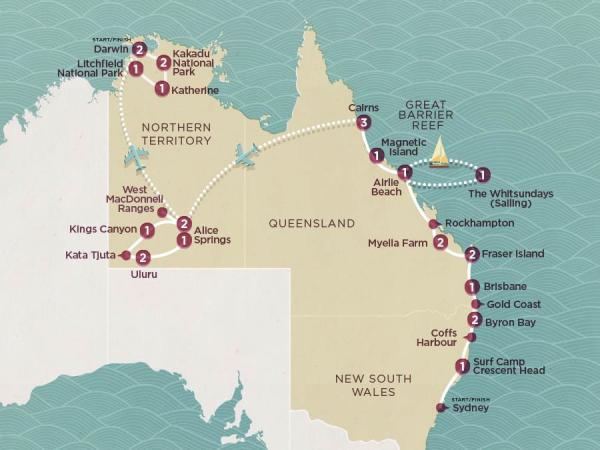 Delve into all that Australia has to offer in this 27 day Australia backpacker tour that takes you north along the east coast, into the Outback and around the Top End region of the Northern Territory. You'll get the chance to see most of the amazingly diverse landscapes within the country, from gorgeous sandy beaches to desert rock formations.
The tour starts in Sydney and takes you along the coast north to Byron Bay, the Gold Coast, Fraser island, Myella Farm and Cairns. You'll even take a cruise to the beautiful Whitehaven Beach, walk through the Springbrook National Park, explore the Pinnacles and go scuba diving at the Great Barrier Reef!
This is then followed by a flight to Alice Springs so that you can watch the sunset in Uluru, hike Kings Canyon and take a hot air balloon ride above the Outback. And things don't end there! Topdeck will then fly you to Darwin so that you can visit the UNESCO World Heritage Listed Kakadu National Park and the natural pool of Florence Falls. Click here for more info, prices and to book.