First Impressions and Tips from my Mum on her First Visit to Goa!
My amazing Mum, Jacqui, came to visit me in Goa for her first visit to Goa and her first visit to India! Overall, she had a great, if a little eye opening, time as we explored both North Goa near my home in Anjuna taking in the best of the beaches, markets, restaurants, yoga and even the odd beach party!
She also visited Dudhsagar Waterfall, Old Goa and the spice plantations before spending a relaxing couple of days in luxury at the Planet Hollywood Resort on the empty, pristine sands of South Goa so I feel like she had a good taste of all the variety that a holiday in Goa has to offer and is already planning a return trip next season!
Check out the full itinerary of what we did and get inspired for your own Goa adventure in my 1 week itinerary for the perfect holiday in Goa and if you are planning your first visit to the tropical shores of Goa perhaps you might find these observations, reflections and tips from my Mum useful!
First Impressions of Goa and tips from my Mum!
Here are some personal reflections from a middle age, middle class, white woman visiting Goa and India for the first time. In no particular order….
Scooters – Scooters are the best way to get about Goa as long you have nerves of steel or you are too jet lagged to notice! There don't seem to be many road rules – no road markings, extensive use of the horn and be careful to swerve out of the way of dogs, cows and potholes in the road or just make up your own route when there's too much traffic in the way. Wrap up well at night in the winter though as the night breeze is colder than you'd think.
Food and Drink – Goa is a really multi cultural place and you can get any type of cuisine here – from street food and typical Indian snacks to European food to top end fine dining. Enjoy lots of fresh juices and fresh coconuts. Kingfisher beer, the special Goan 'Kings' beer and cocktails are cheaper than wine. If you must drink wine, stick to Indian wine as imported wine (and foods) are very expensive. Also be careful where you eat seafood like prawns!
Haggling – Bargaining is all part of the experience at the markets and on the beach. The beach women are very observant and can spot a new pale body in an instant! If you ignore them they will go away – or say you are Romanian, or some other obscure nationality that doesn't understand English or Russian! If you want to buy you have to play the haggling game – "Your best price" "my good price" "you're killing me!" are all phrases you will hear. Those sarongs will be used in multiple ways – as a towel, wrap, scarf, cover up etc. Try the threading too but also take time to talk to them and find out something about their lives as it can be really interesting to get to know them.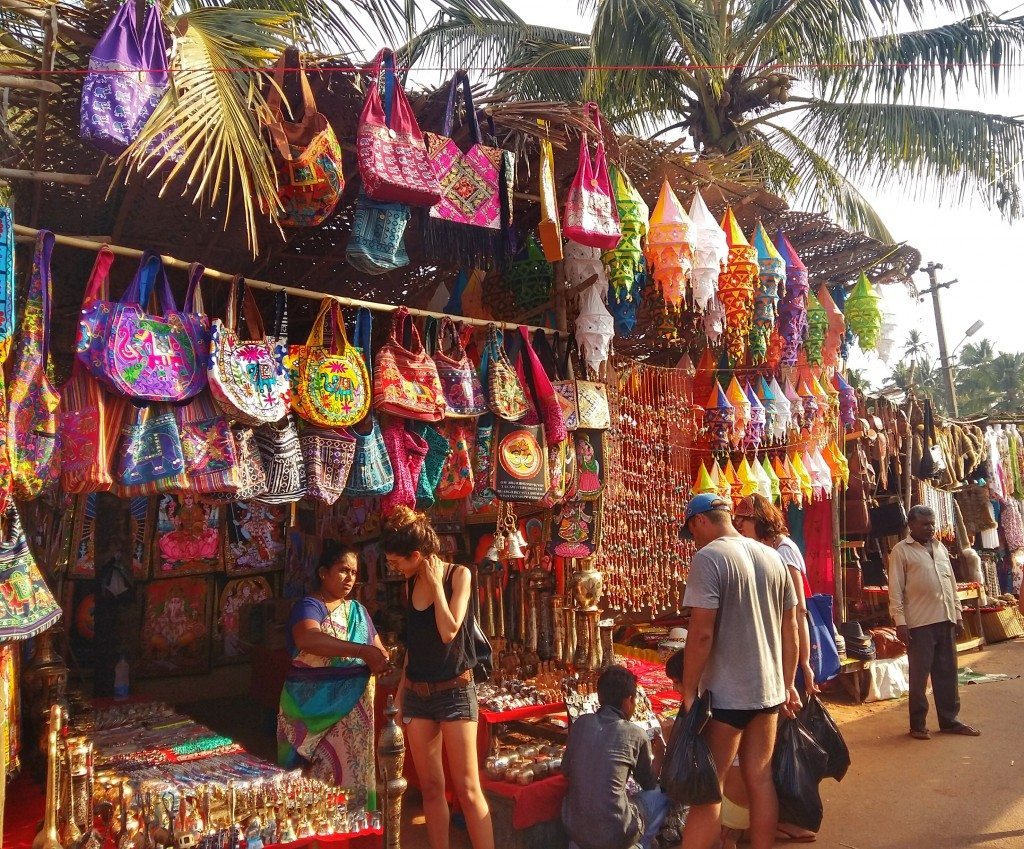 Clothes – Casual clothing is key in Goa. Beware of the omnipresent Goan red dust that gets everywhere – your white shirt will never be the same again after zipping around on the scooter and don't invest in smart sandals as they could also get ruined easily and don't even think about high heels! Also, even though India is a conservative country, Goa feels alot different from the rest of India and most foreign tourists feel comfortable enough wearing a bikini on Goa's beaches but Indian tourists often go into the water fully clothed!
Hippies – Yes, Goa is still home to Westerners who have been coming to Goa for the season for many years since the days of the infamous Hippie Trail! You can easily spot them by their "alternative" look – dreadlocks, tattoos and grunge style clothes and love of psy trance music. Yoga and many other alternative therapies are also available in order to maintain "Full Power" and "energy" and get in touch with your Kundalini and chakras! Trance parties start at sunset and go on till sunrise. If you do go to 9 Bar, Curlies or Hilltop – wearing those brightly coloured Ali Baba pants you got from the beach girls along with your brilliant white shirt to keep the mozzies away is sure to make you stand out – for all the wrong reasons. Dark clothing is a much better option to avoid standing out like a sore thumb at the trance party.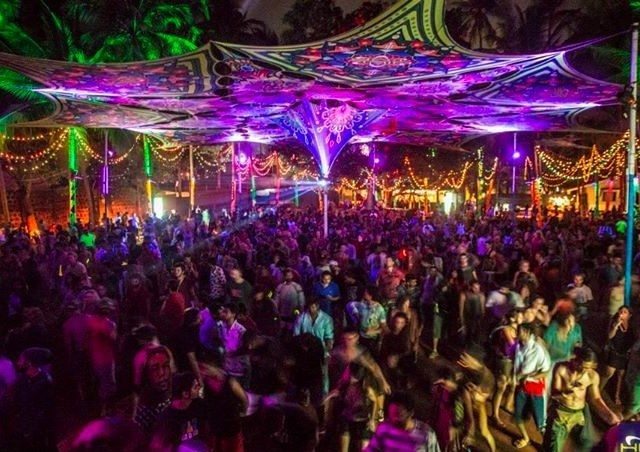 Hard Beds – The beds in India are hard unless you are staying in a luxury hotel. You might need a massage or yoga class to ease the stiffness in the morning.
Indian Toilets – the part that most visitors to India dread! Luckily most of the toilets in Goa are western style instead of squat toilets and whereas you might not find loo paper in many Indian toilets you will find that all toilets in India have a clever hose by the side of the loo or a bucket and jug. Without going into too many details, the purpose of the hose is to ensure a high level of cleaniness in this area – more environmentally friendly than toilet paper – and the bucket comes into its own when suffering the worst effects of the infamous and inevitable Delhi Belly!
Rubbish – It's hard to ignore the large amount of rubbish about in Goa, and the rest of India, as there's no infrastructure for garbage collection and 21st century products like plastics haven't kept in line with the traditional natural recycling methods carried out by animals or people. Seeing all the rubbish in Goa makes you think about how much we throw away without thinking in the West. Most trash is simply burnt at the side of the road in the early evenings so be careful where you step! Those fruit and veg scraps are gratefully eaten by the cows and dogs and filling up water bottles can help to reduce plastic waste. Fortunately the beaches are kept clean and despite the numbers of stray dogs and the ever present cows, I didn't see one dog or cow deposit. A mystery that I didn't delve into about where that goes!
Selfies – Indian's love their mobile phones and love taking selfies! Apparently India even has the highest number of deaths through selfies! In Goa you'll feel like a celebrity as you are approached by Indians tourists, especially young men and excitable children who want to have a selfie taken with you. It's a good chance to get to know people but can get a little overwhelming at times.
Wifi – Most beach shacks and restaurants have free wifi but don't expect it to be super fast or to work all the time but still you can keep your social media fans happy/ jealous with beach photos while they are in the cold back home and also to download the latest episodes of The Archers and Woman's Hour.
Money – In India cash is king – you'll need to get money out from the ATM as credit cards are hardly used apart from the high end hotels. You might also see ATM signs but with no sign of the hole in the wall – just an old man with a book full of cash to change. Also, as the Indian rupee is a closed currency you usually can't obtain currency before you arrive in India so make sure that your bank card is set up for international withdrawals or take cash to change to rupees once you arrive. Unlike some airports in India where taxi scams are common, getting from Goa airport isn't a hassle as long as you take the fixed price pre paid taxis before you leave the airport.
Love and marriage – In India arranged marriages still commonplace, even amongst educated Indians. Upon meeting two academics, my comment about meeting at work was quickly rebutted. A bit of a paradox as both old and new style Bollywood music videos all feature the idea of romantic love. India is full of contrasts and contradictions but its all part of the magic that makes it so interesting.
Get away from the beach – Avoid Baga or Calangute, despite being the most popular resorts they are crowded and not the nicest. Make time to get away from the beach – this is where the real beauty of Goa lies. Simply explore the countryside on the scooter and witness life in the villages, see colourful Portuguese houses and white washed historic churches, visit Goa's hinterland of lush jungles, waterfalls and spice plantations, visit colourful and historic Panjim, the churches of Old Goa and the local market at Mapusa for a taste of "real" India.
Above all, have fun, enjoy and trust. Not once did I feel at risk or unsafe as a woman in Goa!
Thanks to my Mum for visiting me and for writing this post about her first impressions of Goa.
If you've been to Goa, what were your first impressions of Goa?
If you're visiting Goa make sure you check out my Insider's Guide to Goa!