Bir Billing: An Off Beat Gem in the Indian Himalayas
You might not have heard about Bir Billing, a small town in Himachal Pradesh, India but this off beat gem nestled in the foothills of the Himalayas amidst lush forests and tea gardens has so much to offer. Here's why you should add Bir Billing to your adventures in Himachal Pradesh.
My Essentail Bir Billing Travel Guide
The small town of Bir Billing is a perfect combination of an off beat getaway that still has plenty to see and do and makes a perfect stop between Dharamshala and Manali/Parvati Valley.
Unlike the other more well known tourist places in Himachal Pradesh where in peak season it can feel like the whole of Delhi has descended on these small mountain villages and some of the authentic and original Himachali charm has been lost due to tourism development, Bir still feels blissfully untouristy and retains its rural charm while still having enough attractions, guesthouses and places to eat for a comfortable stay.
You'll only see a handful of other tourists in Bir Billing and still be able to enjoy the peacefulness of the countryside and interact with local people untarnished by tourism as you explore all the Bir Billing has to offer.
Things to do in Bir Billing
Bir Billing's biggest claim to fame is what brings most tourists here – Bir Billing is considered to be the 2nd best place in the whole world for paragliding ( second only to Lake Como in Italy) and the best place in Asia. Bir Billing holds the paragliding world cup and other competitions and at about 2,000 Rupees for a half an hour tandem flight paragliding in Bir Billing is much more affordable than in Italy!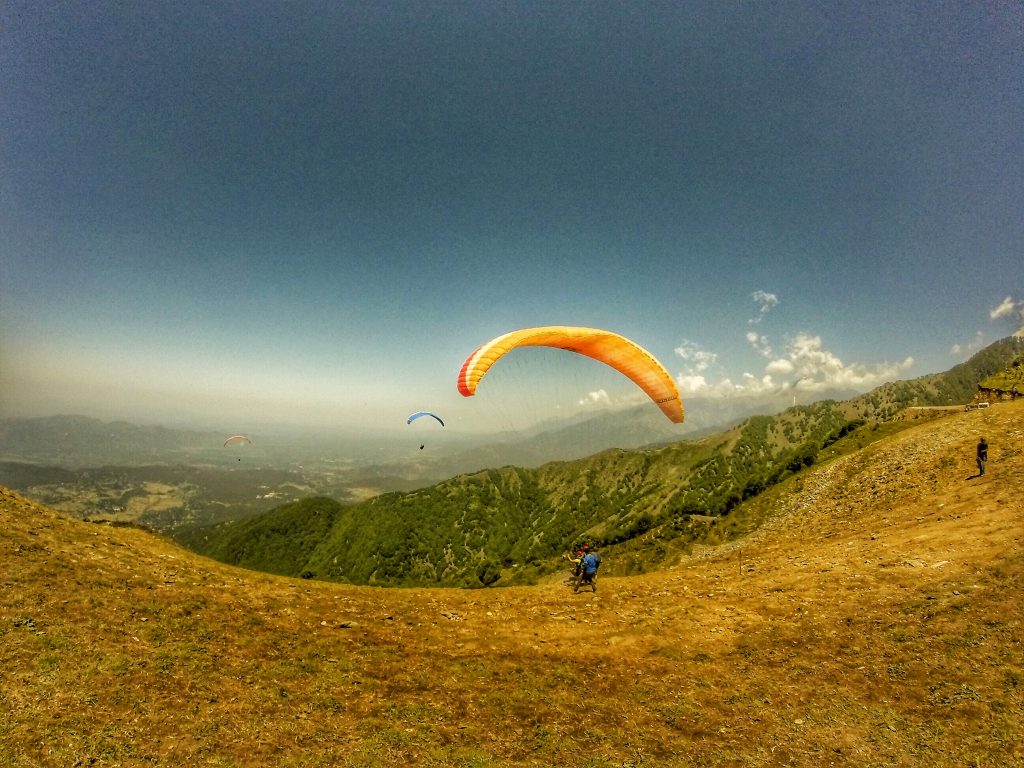 The paragliding launch point is at approximately 2400 meters on the top of a ridge at Billing (14 km north of Bir) and the landing area is in the fields on the outskirts of the Tibetan Colony in Chowgan. Even if you haven't had any experience or training in paragliding you can still enjoy the magical feeling of flying and the magnificent views with a tandem paraglide where an experienced pilot takes care of everything so that you can just relax and enjoy the experience.
The best time for paragliding in Bir Billing is from September to March, paragliding stops in the monsoon. I visited in May and had a warm, clear, calm and sunny day perfect for paragliding.
My Experience of Paragliding in Bir Billing
I, like many others, decided to head to Bir Billing to make my dream of flying come true. It was first experience of paragliding and whilst I was excited and a bit nervous, the scariest part was taking off. After I relaxed into the feeling of the flight and enjoyed the stunning scenery of the snow capped Dhauladhar mountain range and the forest peaks and rooftops of the monasteries and village houses below. You can read more about my experience of paragliding in Bir Billing here.
More Things to do in Bir Billing
Most people come to Bir for the world famous paragliding but there is much more to offer and many more things to do in Bir Billing.
Meditation courses in Bir
Bir Billing is a noted centre of eco tourism, spiritual and meditation studies as it offers some great learning and volunteering opportunities that attract spiritual seekers to the town. Deer Park Institute and Dharmalaya Institute both offer meditation courses and retreats as well as courses on a variety of topics including Buddhism, philosophy, culture, languages, dance, art, writing and more and accommodation is available at both centres for people who are participating on one of their programmes. Dharmalaya also offer hands on programmes where you can learn about eco, organic and sustainable living practices and the Shantideva Homeopathic Research Institute (SHRI) occasionally offers programmes in homeopathy and healthy living.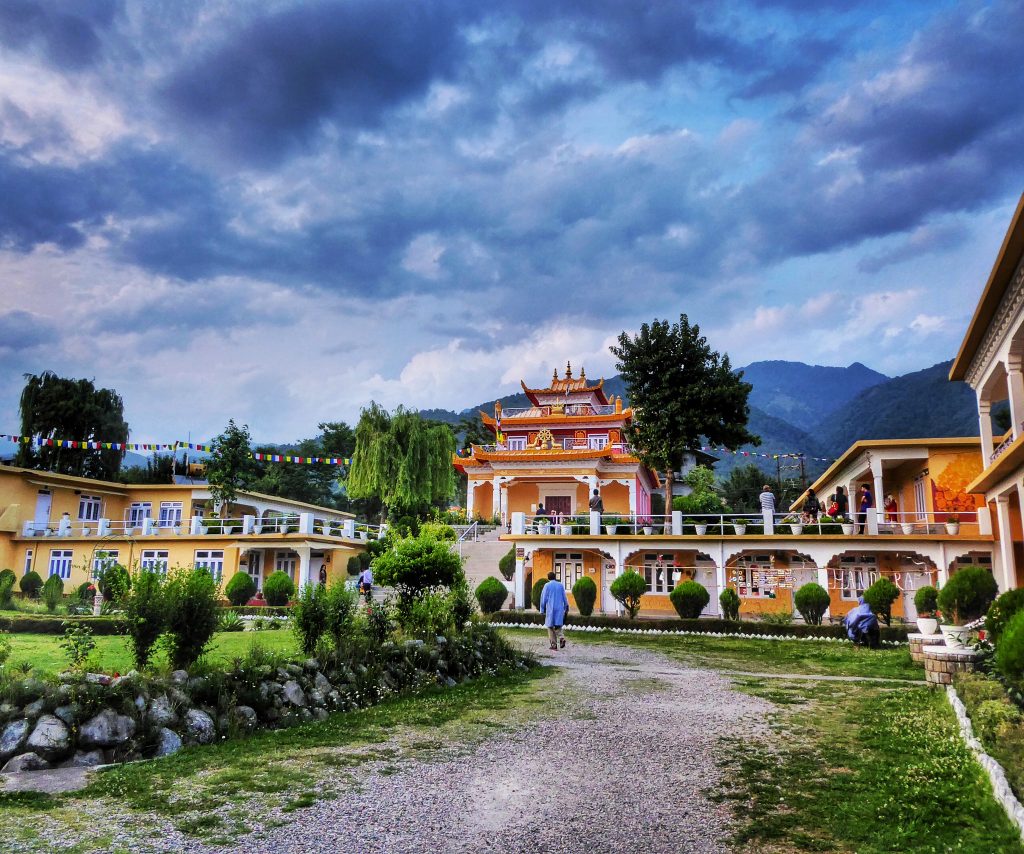 Tibetan Monasteries in Bir
The Tibetan Colony at Bir was established in the early 1960s following the exile of the Dalai Lama and other Tibetans from Tibet and the settlement still thrives today. A highlight of my visit to Bir was exploring the many colourful and serene Tibetan Buddhist monasteries and seeing the monks at prayer and playing in the early evenings.
All of the monasteries are different so you can enjoy exploring them all but some of the main monasteries that you should visit in Bir include the Chokling Monastery with it's imposing line of 8 stupas in front of the monastery and a grand statue of Padmasambhava in the main hall.
Dzongsar Khyentse Chökyi Lödrö College of Dialectics in located about 20 mins East of Bir in Chauntra and is a huge, impressive and quite new monastic college for advanced Buddhist studies that is home to over 600 monks and has a beautiful modern gompa.
Palpung Sherabling Monastery is another massive, colourful and impressive monastery located in the forest laced with prayer flags in Bhattu, East of Bir. The statue of the Buddha in here is huge, golden and quite a breathtaking sight and it offers periodic courses in Buddhist mediation and philosophy.
Other Tibetan Buddhist monasteries in Bir Tibetan Colony include the Dirru Monastery & Bir Sakya Lama Society, the Drikung Dozin Theckcho Ling Monastery and the Palyul Chökhorling Monastery all of which are worth a look to soak up the serene atmosphere and appreciate the colourful and beautiful architecture and art work.
For more photos of the Tibetan monasteries in Bir check out my photo essay and also some of my Instagram photos from Bir were even featured in The Guardian newspaper!
Other things to do in Bir
The Bir-Billing area is also a popular destination for ecotourism and adventure travel with many day hikes and longer treks through the stunning nature and camping, mountain biking and hang gliding also available.
Bir is surrounded by scenic tea plantations and the Bir Tea Factory is a longstanding Bir cooperative, which offers tours for those interested in the process of tea production and in the nearby town of Baijnath there is an 800-year-old Shiva temple that is also worth a visit.
The best place to watch the sunset in Bir Billing is the paragliding landing sight where you can join the saffron robed monks and families as they picnic in the grass as you watch the last of the days paragliders float down to land against the setting sun and the views of the rolling landscapes and mountains in the distance.
Where to Stay in Bir Billing
Bir Billing is a small town so it does not have a huge variety of accommodation but you should be able to find something to suit you.
Note that if you want to stay in the Tibetan Colony area of Bir (unless you are Indian, Tibetan, Nepali, or Bhutanese) you might need to apply for a Protected Area Permit (PAP) from the Indian Government. This includes if you are staying at the Deer Institute. You can get this in Delhi or in Dharamshala For information, see this page.
Budget and Backpacker Accommodation in Bir Billing
The best place for backpackers to stay in Bir Billing is the newly opened Zostel Hostel. It's about a 10 minute walk up from the main part of town (so no need for a permit) and is situated in a peaceful spot with dorms, private rooms and some tents. There are great funky common areas to hang out it in and make friends especially the rooftop hut with its colourful prayer flags and views over the countryside. They also serve breakfast, lunch and dinner and can organise paragliding, sightseeing and other activities. Dorm beds start at Rs 400.
Chokling Guesthouse (near Chokling Monastery) has 16 quite pleasant rooms with attached bathrooms and solar-heated showers and a restaurant that serves decent Tibetan food. Rooms start at Rs 250.
Palden Guesthouse is nice and clean with electric heated showers and genial owners. They also serve food and Wi-Fi Room start at Rs 200 for a single.
Sangrai Guesthouse is a small, family-run place tucked off the main Colony Road amidst tea gardens meaning you won't need a permit to stay here and it's a bit quieter.
There are also fixed bell tents at Camp Oak View and they also serve homely food.
Mid Range Accommodation in Bir Billing
Hotel Surya Classic is a modern budget hotel with 14 rooms with attached bathrooms, wifi and hot water. Rooms for Rs 700.
Bir Resort Hotel is older but has 12 decent rooms with hot showers and a restaurant. Rooms from Rs 400.
Bhawani Guest House is a quiet homestay at the west end of Upper Bir with 9 rooms that have attached bathrooms and hot water. Double rooms are from Rs 300-700.
Garden View is a new hotel and restaurant located near the paragliding landing site.
Upscale Accommodation in Bir Billing
The Colonel's Resort is the most upscale accommodation option in the area. The best rooms are in the newer wing and the cottages are nice too. The service is good, the restaurant serves good food and it's set amid pretty tea gardens.
You can also stay at the Sherab Ling Monastery's Guest House. The rooms are supposed to be good but its quite a long way out from Bir. If you are studying at the Dharmalaya Institute you can also stay there.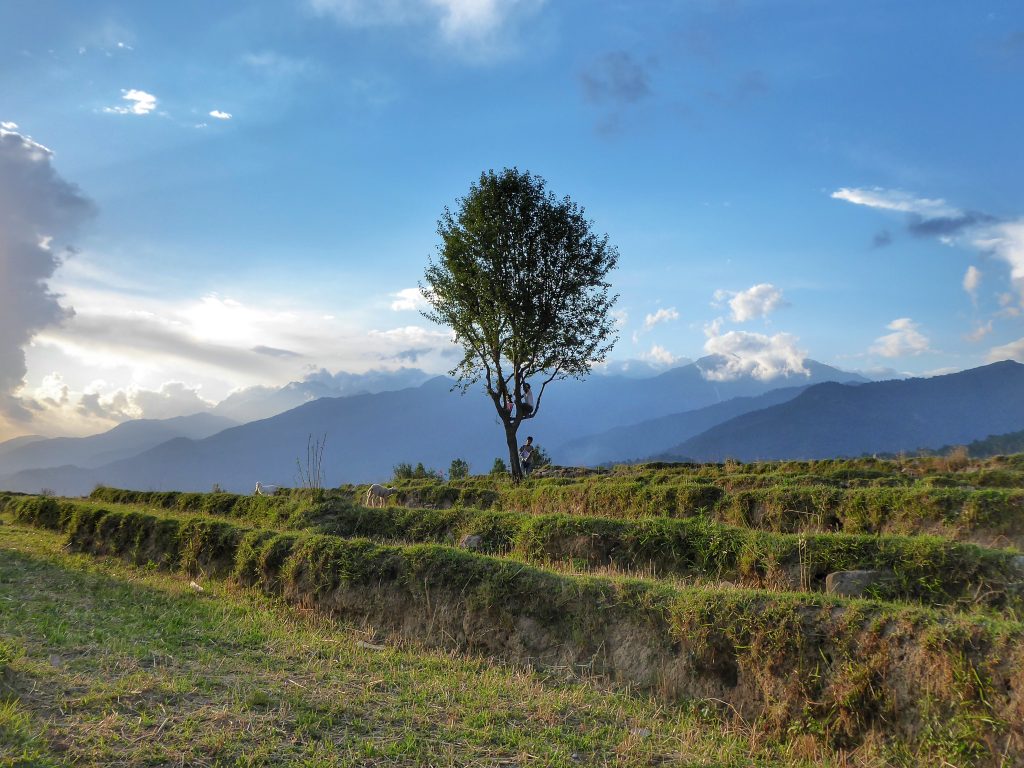 Where to Eat in Bir Billling
There aren't many restaurants in Bir but you can find Tibetan momos and Thukpa and some Indian fast food in the market and at the Tibetan colony. There are also couple of restaurants are the paragliding landing site that serve international food and cater for tourists and foreigners.
The Garden Café is one of the most popular places to eat for foreign students, long stayers and expats in Bir. It serves healthy vegetarian and vegan food in it's cute courtyard setting and menu of fresh salads, sandwiches and breakfasts.
Hotel Surya serves some decent Indian meals and has wi-fi. There are also 3 hole-in-the-wall joints near the Hotel Surya where you can find good momos, parathas, and simple Indian meals. Friends Café does good Tibetan snacks and snow bakery is also worth a stop.
Just off the main street and on the way up to Zostel, Lakhpa is a local dhaba that serves good Tibetan food.
The Four Tables is a nice restaurant serving International and fusion cuisine run by Frank, a good Indo-German cook. There is also an art gallery and 4 nice rooms here which is about 10 mins away from Bir in Gunehar.
Be aware that there's not really any night life in off beat Bir and most restaurants close at about 8pm but at Zostel they serve breakfast, lunch and dinner until 10.30 pm
How to Reach Bir Billing
Bir is located between the popular destinations of Dharamshala and Parvati Valley/ Manali (which have easy and direct overnight deluxe tourist bus connections to Delhi) Bir makes a perfect stop along the way. It's only 2 hours drive or taxi from Dharamshala to Bir (taxi costs about 2,000 Rupees)
You can also get the local bus which will take about 4/5 hours, depending on the timing of buses and number of connections. There are two daily direct local buses to Bir Road/Upper Bir leaving at 6:00am & 2:00pm and taking about 4 hours from the bus station in (lower) Dharamshala. You can also take a local bus from Dharamshala to Baijnath, possibly going direct or changing at Palampur. From Baijnath you can get another local bus the last 20 – 30 minutes up to Bir or a taxi (about 250 Rupees).
You won't regret visiting this off beat gem. If you're thinking of heading to Bir Billing for paragliding check out my experience of paragliding in Bir Billing and my photo essay of the beautiful Tibetan monasteries in Bir.
The community portal Bir HP.com also has useful info for visiting Bir.
Pin Me! 🙂