Don't Make These Common Mistakes When Visiting India for the First Time
India really is one of the most exotic, colorful, crazy and captivating destinations on the planet but traveling in India, and especially visiting India for the first time, is no walk in the park – India is one of the last remaining places on earth that you can still get a real dose of culture shock and traveling in India can be challenging and frustrating for even the most experienced globetrotter.
Still, the incredible sights, experiences and rewards of visiting India for the first time totally outweigh the hassles, dirt and scams if you do it right.
Many first time visitors agree that their first trip was difficult and develop a love/hate relationship with India but then return again and again to this mind blowing country.
I've visited India 5 times now and each time traveling here gets easier because I understand more about the culture, I've adapted the way I travel to suit India and learned from the mistakes I made when visiting India for the first time. Here are my tips to make it easier for you…
Don't make the same mistakes – Here are 5 things to avoid when visiting India for the first time:
Rushing
Everyone seems like they are rushing to get somewhere in India but that doesn't mean that you should be too. Trying to cram too much in and traveling too quickly in this massive country is the biggest mistake that many people make when visiting India for the first time. Long distances, poor roads and infrastructure and a massive population mean that getting around, or getting anything done, always takes longer than you think.
Plus, India is so diverse it feels like many different countries and each region will take some getting used to. Rushing around India will only result in being tired, stressed and frustrated and also missing out on the surprises and local connections that make for the most Incredible India moments! So be patient and take your time, India is not a place to be rushed. 
If you only have a short time focus on seeing one state or region in detail rather than trying to rush around the whole country in a few weeks and ruining your trip.
Underestimating the culture shock
Perhaps you've travelled to many countries before and think you've seen everything but don't underestimate the culture shock of India!
Visiting India for the first time really can be a challenging assault on all the senses at first and it would be a mistake not to allow a couple of days to adjust to avoid feeling overwhelmed and ruining your trip to India as soon as it's begun.
India is one of the most crazy countries in the world and it is so different from anywhere else. Although nothing can really prepare you for visiting India for the first time it can help to learn as much as you can about the rich Indian culture before you go to ease the culture shock but most importantly be open minded, accept that things work differently and be prepared to adapt the way that you travel to suit India.
See my top 10 tips for making your first time traveling in India easier.
Heading straight for the Taj Mahal
Many people arrive in India in the capital, Delhi. Of course it's tempting to want to rush and tick off the most famous sights like the Taj Mahal and travel the Golden Triangle.
While the Taj Mahal lives up to the hype as the most beautiful building in the world and there are many amazing sights to experience on the Golden Triangle route these touristy places and big North Indian cities are where you will find the most dirt, chaos and hassle which you may find hard to deal with when visiting India for the first time and could end up ruining your trip to India.
I usually suggest to my friends that are visiting India for the first time to start their trip somewhere easier like Goa or Kerala and then work their way up to the North. South India feels cleaner, less chaotic, less hassled and safer which will get your trip off to a much better start than tackling the Taj Mahal straight away.
See My Perfect Itinerary for 3 Months Traveling Across India for the perfect route to take or if your short on time check out the top 5 must see places in India that you really can't miss.
Trusting too easily
Unfortunately there are a lot of scams and hassles that travellers need to contend with. After a while you can spot them easily but when visiting India for the first time you do need to be on your guard to avoid getting scammed and ripped off – a sure fire way to ruin your trip!
Do research before on the common scams that happen in India and be careful who you trust especially around popular tourist attractions and places like airports, bus and train stations where you may be overwhelmed by the sheer amount of people who will try to get your attention and make you part with your money in some way.
Once you've been in India for a while you will be able to tell who is genuine and recognise if someone is trying to cheat you but always trust your gut instinct and don't be naive. It might seem rude but it's often best just to ignore hassle from touts, don't even engage with a polite 'no thank you' as it will be taken as a sign of interest. Don't be afraid to be assertive and stand up for yourself if you feel you are being taken for a ride or made to feel uncomfortable.
Read More: Tips for women traveling in India.
Letting the little things get to you
Traveling in India can be stressful, tiring and frustrating if you let it, but it doesn't have to be.
India is so different from anywhere else and sometimes things don't go to plan, sometimes you will get overcharged or ripped off but sometimes you just have to give in and not let the little annoyances get to you and ruin your trip. Sometimes it can be hard as it can be overwhelming, especially when visiting India for the first time, but if you travel slowly it makes everything much easier.
Just keep it in perspective, don't sweat the small things, know when to give in to save your sanity – is worrying about a few rupees worth ruining your day and do you really need to haggle over an small change when that could go toward feeding a whole family?
Also, be cautious but don't get too paranoid about trusting people, the majority of Indian people don't want to harm you or rip you off and are some of the most open, friendly, wonderful and amazingly hospitable people I've ever met.
Visiting India for the first time may seem a bit daunting and while it is more challenging than some other countries it's totally worth it. Don't let the hassle put you off, you will learn to deal with it, become a stronger person and be rewarded with the most amazing experience.  Don't let fear and worry ruin your trip or stop you from experiencing things.
India can be a transformative travel destination if you go with an open mind and a positive attitude – it might just change your life!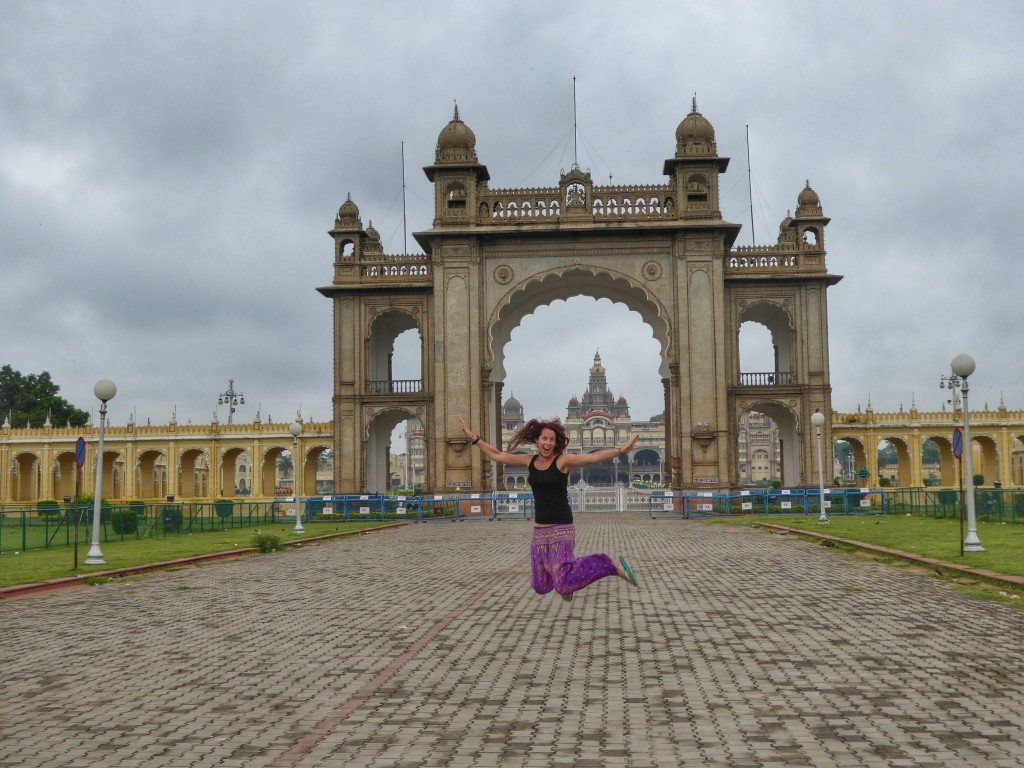 Despite the challenges, I love traveling in India
More Tips for Traveling in India:
10 Tips to make your first time traveling in India easier
My top tips for women traveling in India
How to prepare for your first trip to India
Top 5 Places you must visit in India
The perfect itinerary for 3 months traveling around India
30 Unique and amazing experiences you can only have in India 
7 reasons why traveling in India is easy!
Pin Me and help other travellers! 🙂