Meeting the Apatani Tribe of Ziro Valley: A Photo Essay
The Ziro Valley is home to not only some of the picturesque scenery in North East India but also the unique Apatani tribe. Nestled within Arunachal Pradesh's mystical and rugged Himalayan mountainscape this layered landscape of green rice fields, rivers, gently rolling pine-clad hills and traditional villages of bamboo houses and intriguing tribal people makes the Ziro Valley feels like a mythical kingdom, like a land lost in time.
Apart from soaking up the scenery, one of the biggest attractions of visiting the Ziro Valley is meeting the intriguing people of the Apatani tribe distinctive due to the huge nose plugs and facial tattoos worn by the older members of the tribe, some of whom I was lucky enough to meet myself on my recent tour of North East India with Holiday Scout
Arunachal Pradesh is one of the least explored regions of India and its definitely 'off the beaten track' quite literally! Getting around the formidable and rugged mountainous region involves long drives on bumpy roads to reach these places, but it all adds to the sense of exploration and adventure. The scenery as we winded through picturesque valleys and up the Himalayan mountains was mesmerizing and memorable to say the least.
The drive from Itanagar, Arunachal's capital, to Ziro took most of the day but on the way we stopped to visit a traditional tribal family who live in this traditional longhouse made from bamboo. The house stretches back really far and has 4 kitchens – one of each of the 4 wives! It's also funny to see how even though these people live mostly very traditional lives they had still embraced the modern world of cell phones, scooters and satellite TV!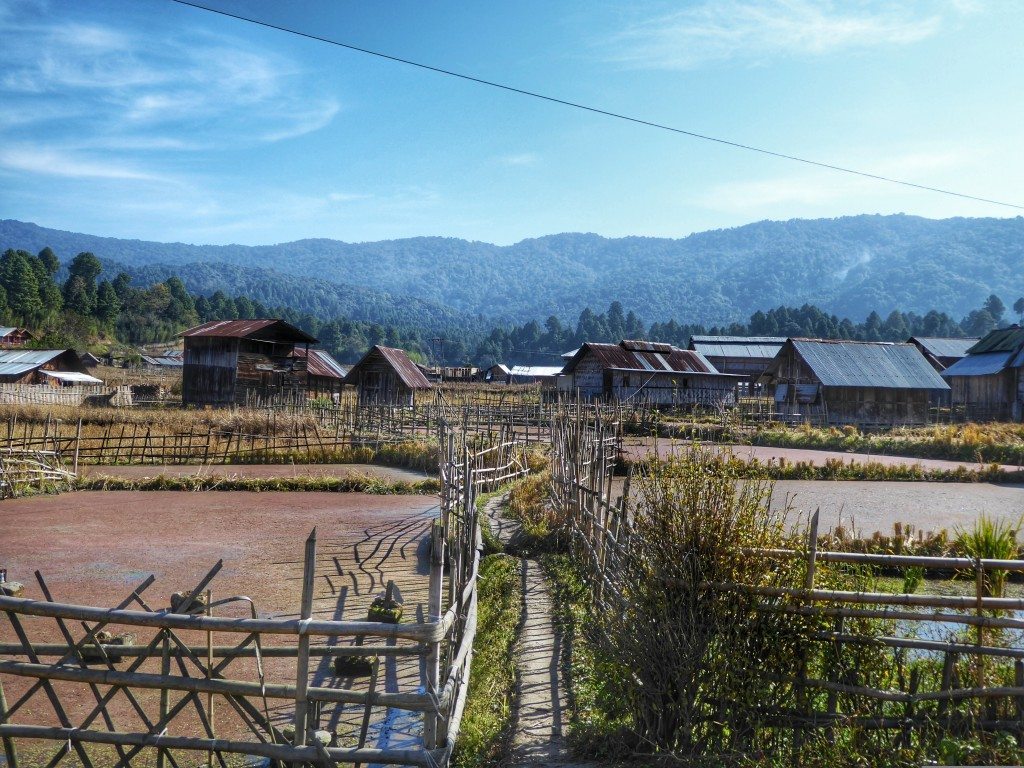 As we arrived in Ziro Valley I felt like I had stepped back in time. The scenery is idyllically beautiful – green valleys of rice paddy fields surround traditional villages of bamboo houses as the Apatani tribe go unhurriedly about their traditional way of life as if the modern world hardly exists. No wonder Ziro Valley has been described as one of the most beautiful landscapes in India and, in 2012, Ziro Valley was shortlisted for inscription to UNESCO World Heritage Site status.
Traditional Apatani houses in Hong – the largest village in Ziro Valley. Hong is home to over 10,000 Apatani people who live in these type of houses made from wood and bamboo. Other Apatani villages in Ziro Valley that are interesting to visit include Hija, Hari, Bamin and Duta, and they are all only about 10km apart. As this area is still largely untouched by tourism the Apatani people can be a little shy so it's best to visit with a local guide like Holiday Scout if you want to be made to feel welcome, to meet the people and to understand more about this unique and captivating place.
The Apatani houses are quite simple and sparsely furnished (although most houses we saw had a TV!) Life revolves around the huge open hearth in the middle of the living room – no Apatani house would be without one. Whilst it keeps the house warm and is essential for cooking, having an open fire in the house must be bad for the family's health as I could see how the roof beams were all charred and black but even so most Apatani people live to a decent age.
The distinctive nose plugs and facial tattoos of the older Apatani women are arguably the most famous aspect of the Ziro Valley. The tradition is no longer practiced among the younger generations but came about because the Apatani women were considered to be the most beautiful in Arunachal Pradesh and men from other tribes would often steal them so they tattooed their faces and made them wear massive nose plugs to make them less attractive to invading tribes.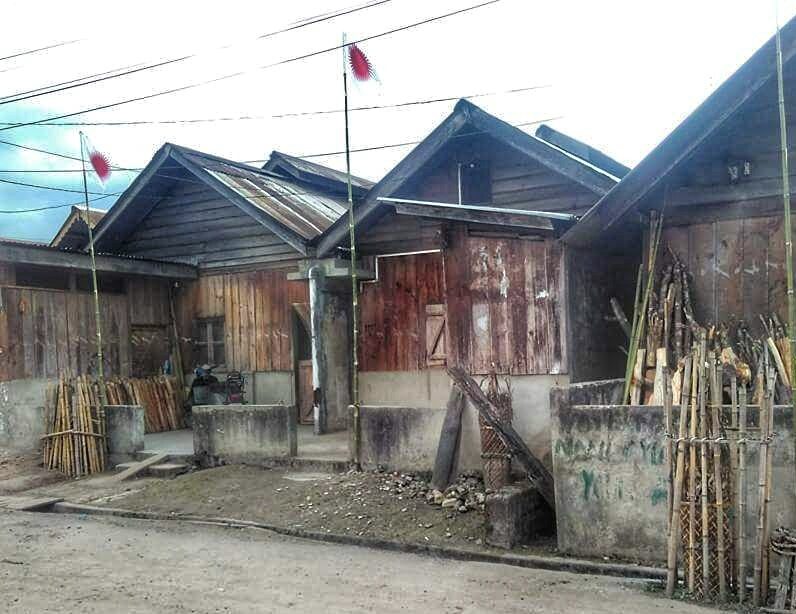 The Apatani tribe still practice an ancient shamanic, animist religion called 'Donyi-Polo' which translates to the worship of the sun and moon. These flags flutter above most of the houses to show that the family here are still worshiping the sun and moon and most of their festivals revolve around worshiping nature.
Meeting the women of the Apatani tribe was an amazing experience. As long as you visit with a local guide and ask first usually they are happy to have their photo taken. This lady showed me around her house and her husband was also keen for a photo. The women have formed a collective where they offer a homestay, traditional dinner of chicken and rice cooked in a bamboo stem and a dance ( we got to join in as well) the proceeds from this go into the collective to be used by the women if and when they need the money for something.
As part of the Apatani's sun and moon worship they perform sacrifices of chickens or Mithuns on special occasions, festivals or times of hardship. This stage where they hold the festival and perform the sacrifice is the heart of the village.
Also, many houses also have these 'altars' outside their homes for smaller sacrifices. They are usually places by the front gate or the house to bless and protect the household.
In the mountains of Arunachal Pradesh I came across an animal that I had never even heard of before! This is the Mithun – it's similar to a kind of cross between a cow and a buffalo but different and is only found in North East India, Northern Burma and Bangladesh. The Mithun is a domesticated animal that is very important to the tribal culture and is sacrificed for religious reasons.
This man was happy to show us his house and the horns of the Mithun that he had sacrificed during festivals in the past. He lives here with his wife and mother in law but his children are away studying in Itanagar.
A local market in the main, dusty town of Ziro. There are a couple of things you might not expect to see in this market including rats on sticks! I wasn't brave enough to try.
Ziro Valley also seems to be full of super cute puppies! These playful bundles of fluffy cuteness  seem to spill out of every house!
The late afternoon sunlight cast a dewy glow over the fields. The Apatani people are quite different from other tribes in Arunachal Pradesh, not only because of the facial tattoos but also because they are permanently settled in one place and are not nomadic and because they practice wet land cultivation like growing rice but what a beautiful landscape that has created!
Meeting the women of the Apatani tribe was incredible, this women had a real sense of humor and loved to these the photos of herself too!
Night falls over the Ziro Valley after an amazing day. It's just so fascinating to see how people live such different lives in this modern age.

The Ziro Valley and the Apatani people have cast a spell on me – it was amazing to see how people live such traditional tribal lives even in this modern age. As the day draws to an end and I prepare to leave this beautiful valley I feel so lucky to have witnessed such a unique way of life and inspired by their pride in their culture. Ziro Valley is really a magical place and adventure in the truest sense! 

How to visit Ziro Valley
Ziro Valley is located in Arunachal Pradesh in the remote tribal area of North East India. This is a truly fascinating region to explore but independent travel is not easy here. You need an Indian visa and an additional permit to visit Arunachal Pradesh.
I visited with an great local tour company called Holiday Scout on the Monastery and Tribal Discovery Tour  They organised all the paper work, transportation and accommodation and gave us a much better insight into this amazing region and I would definitely recommend a local guide in order to feel welcome and understand more about the Apatani villages.
Once in Ziro Valley it is possible to arrange a homestay with an Apatani family or the nearby Ziro Valley Resort is also a good choice.
Pin Me! 🙂
Read more about my amazing trip to North East India with Holiday Scout:
An Adventure to the Last 'Shangri-la' – Exploring the Mountains and Monasteries of Tawang. A Photo Essay
Kaziranga National Park – The last refuge of the endangered one horned rhino. 
Touring North East India with Holiday Scout: My Review
How to Backpack North East India: FAQs by Hippie in Heels 
The Lands of Shamans: The Nishi and Apatani Tribes in Arunachal Pradesh –