My Review of Traveling with Holiday Scout: Amazing North East India Tour!
North East India – The Final Frontier of Indian Exploration!
If you are looking for a real off the beaten track adventure, unlike anything else you might have seen in India, or anywhere in the world actually, then I'll let you in on a secret! India's North East is a diverse, fascinating and relatively unexplored region that is a world away from the chaos of the rest of India and a North East India tour offers the ultimate off the beaten track exploration.  
North East India is so off the beaten track that until recently even the Lonely Planet only gave it a small mention but now all this is changing and North East India is set to be the next hottest destination for travel in India. I was lucky enough to explore this region which is hard to travel independently with expert small tour company Holiday Scout on not one but two amazing North East India tours!
So now is the time to visit as Northeast India is just opening up to tourism, yet still blissfully untouched and touristy so, for the moment at least, you can pretty much have this unexplored paradise known as 'the last Shangri- la' to yourself.
North East India is separated both geographically and culturally from the rest of India and is bordered by Bhutan, China (Tibet), Bangladesh, and Myanmar. The North East consists of 7 sister states – Arunachal Pradesh, Assam, Manipur, Meghalaya, Mizoram, Nagaland, and Tripura all with different cultures, tribes, languages, food and scenery that are just heaven for intrepid explorers!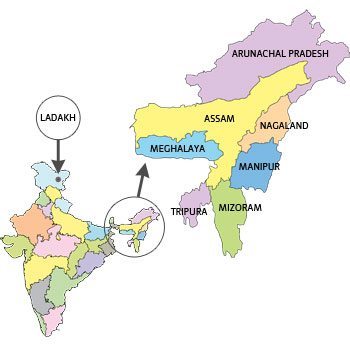 Why I took a tour around Northeast India
I've taken two incredible, unique and offbeat North East India tours with amazing local North East India tour operator called Holiday Scout.I explored Arunachal Pradesh and Assam for 2 weeks on the Monastery and Tribal Discovery Tour. I also met the headhunters of Nagaland and joined in unique local tribal festivals on a 10 day North East India tour – the Aoling & Mopin Festival and Kaziranga Tour. 
Both these North East India tours blew my mind and now it's safe to say that I'm a little obsessed with this region and I'm already planning to come back for more!
Even though I usually travel independently but North East India is one region where I would definitely recommend that you take a tour for several reasons:
Tourism is just in it's infancy in North East India and as such there is not a huge supply of transportation and hotels making it difficult to travel independently
Visitors require special permits to visit Arunachal Pradesh which would be difficult to obtain independently
Using a local tour operator will mean you can understand more about this diverse and fascinating region and give you better access to meeting tribal people who would probably not be so welcoming if you were without a guide who cousld translate.
My experience of Holiday Scout's North East India tours
I had high expectations of my Holiday Scout tour and from the moment Sange met us at the airport in Guwahati I knew this guy was special, not an ordinary tour guide!
Sange Tsering is the founder and driving force behind local specialised North East India tour operator Holiday Scout. Sange's story is really interesting – his uncle was the pioneering force for tourism in North East India and set up the first tour company here. Sange was so passionate to follow in his footsteps that he set up Holiday Scout when he was only 21 years old! You can read more about him in this interview.
Sange is from the Monpa tribe in Bomdila, a part of Arunachal Pradesh where the Tibetan influence is highly visible and it was a real treat to be able to stay at his family home in Bomdila, to meet his family, and experience his Mum's amazing Tibetan food and warm hospitality.
I really couldn't have asked for anymore from our North East India tour with Holiday Scout. Sange is the complete gentleman and his attention to detail, organisation, passion for the region, passion for tourism and all round kindness was faultless. Sange anticipated our every need and went out of his way to make sure we were happy – we were truly spoilt by Sange and his passion for the region was really infectious and his knowledge was second to none.
Unlike a packaged group tour for Holiday Scout's North East India tours we had a private car and driver and dedicated tour guide which gave us the flexibility to not feel like we were on a traditional tour as we were able to customise the itinerary to suit our needs and interests which meant that we really had the best of both worlds – the freedom to explore this amazing region without the hassles of independent travel which would be quite strenuous in this remote region.
To Sange's credit the whole trip, despite the lack of infrastructure in this, one of the world's least explored areas, ran exceptionally smoothly. From the plains of Assam where we enjoyed a close encounter with endangered one horned rhinos at Kaziranga National Park, to the colourful Tibetan monasteries of Tawang, to meeting the fascinating Apatani tribal people in Ziro Valley, meeting the headhunter tribes of Nagaland, attending the unique and mystical Mopin tribal festival, exploring North East India really blew me away and opened my eyes to a totally different, unique and oh so captivating aspect of India.
At the end of the tour I was sad to say goodbye to not only a tour guide but a new friend at the end of the trip and would also love to visit Ladakh with him!
Why I fell in love with Arunachal Pradesh
Out of all the states in North East India, mountainous and mysterious Arunachal Pradesh, nestled between Bhutan and Tibet, offers the ultimate adventure as it this is 'the final frontier of Indian exploration.' In fact, it's so off the beaten track that some parts of the Himalayan ranges in Arunachal Pradesh have not even been mapped yet!
Arunachal Pradesh is a most diverse state, where you could believe that you have stepped back in time as you witness the way the many different unique tribal people live their life nestled in these largely unexplored mountains. Arunachal is perhaps the last sanctuary for India's natural and anthropological heritage.
Arunachal means the 'Land of Dawn-lit Mountains' which is appropriate as the state is home to soaring Himalayan mountains, 26 unique, indigenous tribe with different and fascinating people and cultures, rare wildlife, colourful Tibetan Buddhist monasteries, including the largest Tibetan monastery in the world that is still in use in Tawang (Potala Palace in Lhasa is the largest but is now only a museum) vibrant festivals, beautiful handicrafts and a captivating and distinctive culture that makes it seem a world away from the rest of India.
If you want a real adventure, to step back in time, to experience the beauty and serenity of Tibetan culture and to witness tribal cultures unlike anything you have even seen before then come and explore Arunachal Pradesh!
Simply put, India's North East offers the ultimate adventure and Holiday Scout's North East India tours offer the perfect solution for women who want to explore in safety off the beaten track in India!
Don't just take my word for it! – See what Rachel from Hippie in Heels has to say in her honest review of Holiday Scout tours.