Things you should know before you go: Tips for Northeast India Travel
Northeast India is becoming the hottest new off beat destination in India – a diverse, fascinating and relatively unexplored region with distinctive tribal cultures that are a world away from the chaos of the rest of India. Traveling in North East India offers the ultimate off the beaten track exploration but with such a remote area you should read these tips for Northeast India travel before you go! 
Northeast India travel is so hot right now but you'll want to get there before everyone else hears about it! Northeast India is separated both geographically and culturally from the rest of India and is bordered by Bhutan, China (Tibet), Bangladesh, and Myanmar. The North East consists of 7 sister states – Arunachal Pradesh, Assam, Manipur, Meghalaya, Mizoram, Nagaland, and Tripura all with different cultures, tribes, languages, food and scenery that are just heaven for intrepid explorers! Sikkim, a beautiful mountain state above West Bengal, is slightly separated from the rest but still part of a North East India adventure.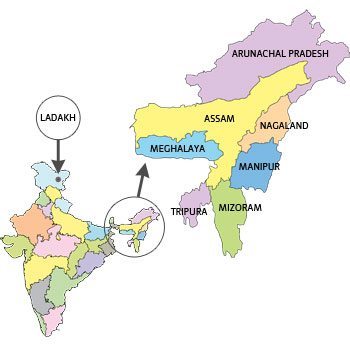 Northeast India travel has it all – from unspoilt nature, stunning scenery, waterfalls, mountains, colourful Tibetan monasteries, unique tribal people, rare wildlife, beautiful traditional handcrafts and vibrant festivals.  Now is the time to visit as the North East is just opening up to tourism, yet still blissfully untouched and touristy so, for the moment at least, you can pretty much have this unexplored paradise known as 'the last Shangri- la' to yourself. If you still need more convincing read – Why you should add North East India to your bucket list. 
However, as North East India is a very off the beaten track destination traveling here can be challenging so here are some of my tips and things you should know about traveling in North East India.
How to visit North East India
Perhaps not surprisingly for somewhere so off the beaten track, Northeast India is not so easy to visit independently. Although I usually like to travel independently, North East India is definitely a place where I would highly recommend using the services of a local tour operator like I did with Holiday Scout.
Tourism is just in it's infancy here and as such there is not a huge supply of transportation and hotels and combined with the lack of general infrastructure this makes it difficult to travel independently. Some states, especially Arunachal Pradesh, require special permits to visit which could be difficult to obtain as a solo traveller. Also using a local tour operator means you can understand more about this diverse and fascinating region and give you better access to meeting tribal people who would probably not be so welcoming if you were without a guide who could translate.
Permits and Visas for visiting North East India
Traveling in North East India used to be rather inaccessible due to the requirement for permits. Luckily the government has relaxed rules on permits to encourage more tourism in North East India but you need to carefully check the latest information to see whether you need a permit.
You will still need a valid Indian visa (see my step by step guide to obtaining your Indian visa here) to travel to North East India and may also require a special permit depending on where you plan to visit. There are different permit requirements for Indians and foreigners and obtaining permits can be confusing and sometimes difficult so by far the easiest way to obtain permits is to use a tour operator.
Until recently most of the states in North East India required permits to visit but things have been relaxed and now neither Indians or foreigners need permits to visit Assam, Meghalaya and Tripura.
Foreigners no longer require permits to visit Mizoram, Manipur, and Nagaland but must register/ check in and out at the Police Station or FFRO.
Protected Area Permits are required to visit Arunachal Pradesh and Sikkim. The permit is valid for 30 days and costs $50. You also still need to register at the police station or FFRO when you arrive in each place luckily our tour operator, Holiday Scout, sorted out the permits, registered us at the checkpoints and dealt with all the paperwork for us. I imagine that obtaining a permit independently could be quite complicated to arrange on your own, and as permit requirements state that 2 or more people should travel together you may not even get approved if you apply to travel solo.
Indians require an Inner Line Permit to visit Arunachal Pradesh, Manipur, Mizoram, Nagaland and some areas of Sikkim but do not need one to visit Assam, Tripura and Meghalaya. See more about Permits for North East India.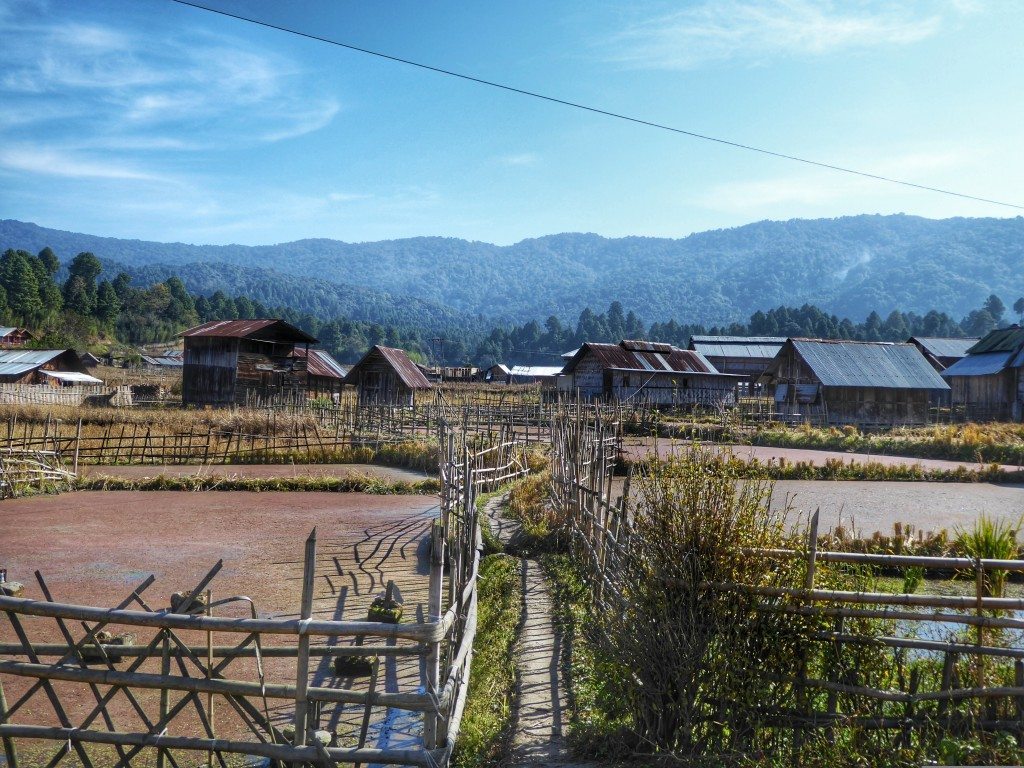 How to get to North East India
The gateway to Northeast India travel is Guwahati – the capital of Assam and the most developed and 'Indian' city in the North East. It has rail connections to the rest of India (although it's a really long journey) and regular flights from Delhi, Kolkata and Mumbai and connections to the rest of India.  There are a couple of interesting temples and museums here but you will probably mainly use it as a gateway for traveling in North East India.
Weather and when to visit North East India
The best time to visit the North East is between October and April due to heavy monsoon rains at other times that made travel very difficult and possibly dangerous due to the possibility of landslides. As this is the winter in the higher parts of the Himalayas it will be pretty cold. When I visited in November in Tawang it was -2°C  and be warned that most of the accommodations do not have heating but staff will usually go out of their way to bring extra blankets and hot water. Bring plenty of cold weather clothes to wrap up warm in.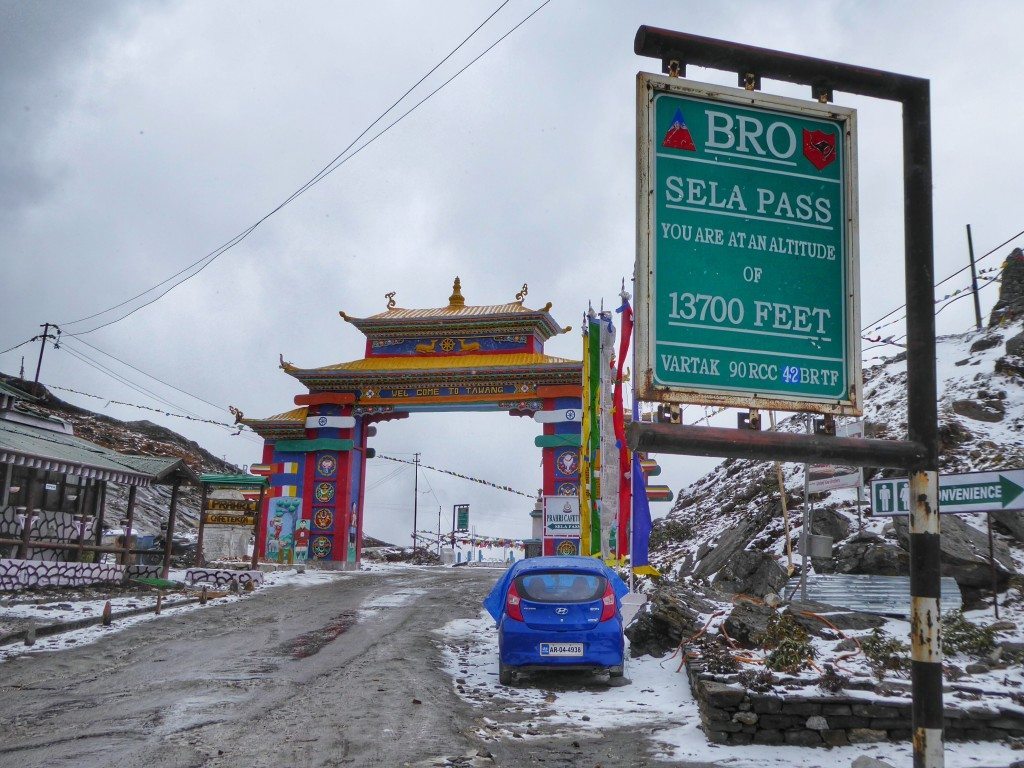 Where to go in North East India
Northeast India is huge and diverse and due to the long distances, poor infrastructure and difficulty in traveling in North East India you may want to focus on a smaller area to explore. Assam and Meghalaya are the easiest states to visit as they have the best infrastructure and no permit or registration requirements for both Indians and foreigners. Arunachal Pradesh is the most difficult state to visit due to the mountains landscape, lack of infrastructure and permit requirements. Nagaland is also starting to develop as a tourist destination but still suffers from bad roads that can make travel draining. See more about where to go in North East India. 
Getting Around North East India
Northeast India travel is always an adventure! The infrastructure in the North East is quite poor. Road travel can take a long time and be pretty uncomfortable especially in mountains regions, like Arunachal Pradesh and in Nagaland. In the more remote areas roads are still in the process of being built and that, combined with the snaking mountain roads, can lead to a long, bumpy ride, so this is probably not the best trip if you get motion sickness.  Getting around independently  can be difficult, there are no tourist or Volvo buses or trains and very few local buses so the best and easiest way to get around is with a tour and private car or you can also catch a shared taxi called a 'sumo' to get between villages but expect a cramped and bumpy ride.
Itineraries for North East India
Don't underestimate the time it takes for Northeast India travel! If you have limited time its best to focus on one area than trying to cover the whole region – traveling in North East India can be challenging and time consuming. Also in Arunachal Pradesh you can't actually just go anywhere – there are government approved tourist routes that you will need to stick to whether going solo or with a tour company.
Accommodation in North East India
As tourism is still in its infancy here hotels and accommodation can be lacking in quality and choice and most are not found on popular booking websites so it's better to get a tour operator to book your accommodation for you. In many places it might be good idea to opt for a homestay which will give a better, more personal experience and also help out local people although whichever accommodation option you choose don't expect much luxury as conditions can still be basic – expect frequent power outages, bucket showers, squat toilets and sometimes limited eating options. Nagaland can also be hard for vegetarians.
Phone and Internet Reception in North East India
Wifi is pretty much non-existent in hotels in remote areas of North East India. Mobile and 3G networks recently came to the North East but the signals can still be weak and often not available at all. Airtel has the best coverage but be prepared to be mostly offline while traveling in North East India.
Like this post? Pin Me! 🙂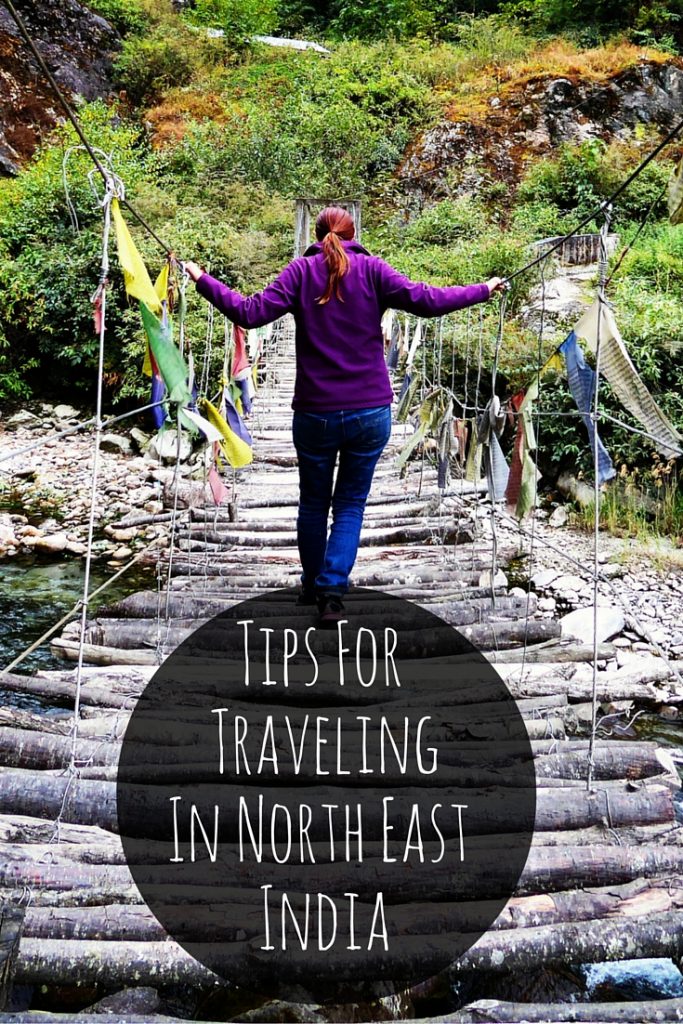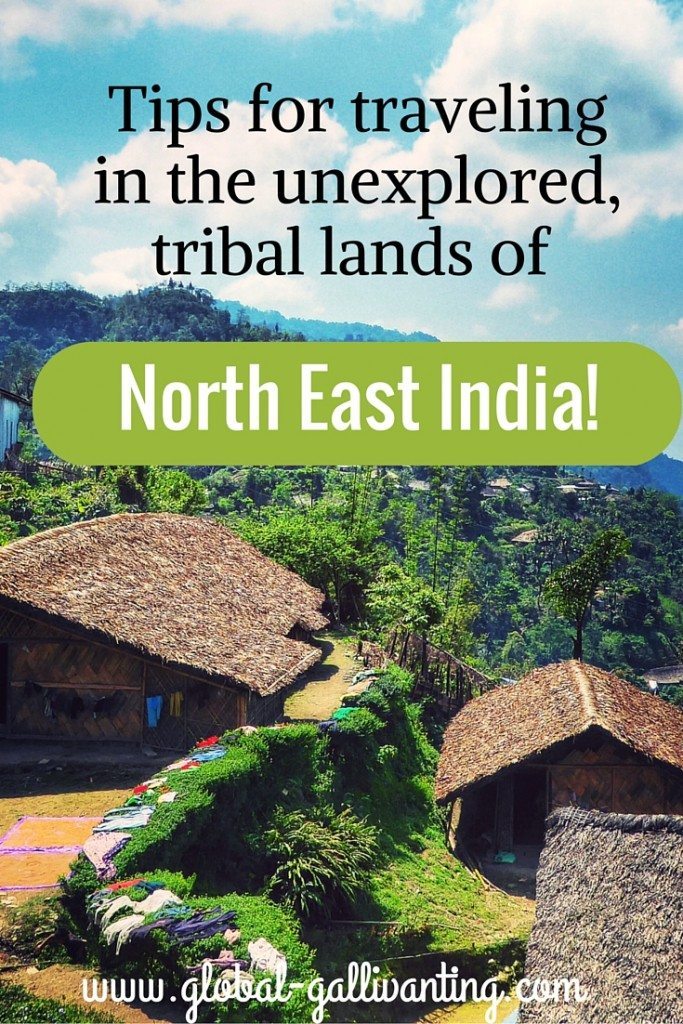 Read More about Northeast India travel:
See all my other posts about North East India
My Review of Touring North East India with Holiday Scout
Escaping it all in the tribal lands of North East India
Meeting the Apatani Tribe in Ziro Valley Photo Essay
Kaziranga National Park Photo Essay
8 Reasons you should add North East India to your bucket list
Why you should skip Tibet and visit Tawang instead
Have you been to North East India? Any more tips for Northeast India travel you can add?