Why Barcelona is my all time Favourite City in the World
'Where is your favourite place in the world?'
As a full time traveller, it's a question I get asked a lot but it's not the easiest question to answer. Every destination is so different – how can you choose just one favourite.  But, when Expedia asked me to share my all time favourite city in the world – that's easy to answer – Barcelona!
People are often surprised by my answer – probably because it's not in my beloved Asia. Asia is amazing, exotic and intoxicating, but for a city break you can't beat Europe's beautiful, historic, artistic, cultured cities!
I love Rome, Venice, Paris, Amsterdam and Berlin and feel they deserve the hype but Barcelona is easily my favourite city.
This cool Catalan capital and second city of Spain oozes with unique character and really has it all; art, culture, history, architecture, a relaxed vibe, sunny weather, fabulous food, wine, nightlife and shopping and even some nice city beaches!
I'm not really even a city person, I've always lived in the countryside or by the beach. So, for me to fall in love with a city it has to be a really special one.
I've visited Barcelona 5 times now and fell in love and felt so at home every time. Barcelona is one of the few cities I really feel I could live in, my top choice for a European weekend city break, and my all time favourite city in the world.  
Pin Me 🙂
Practical Tips for Barcelona
Visiting Barcelona is easy, there are 3 airports nearby offering cheap flight connections to the UK and rest of Europe so it's perfect for a quick weekend break and it's much better value for money than many other popular European cities.
There are so many cool hotels and places to stay in Barcelona and you can find great deals on hotels in Barcelona on Expedia.  My favourite area to stay in Barcelona is the Gothic Quarter or El Born as these are well located central areas with plenty of character, cool architecture and lots to explore. Barcelona's enchanting Gothic Quarter has over 2,000 years of history and I love just wandering around getting lost and exploring the enchanting squares, mysterious alleyways and the Gothic Cathedral. There's also great restaurants, bars and a buzzing nightlife scene here. Sant Antoni and Eixample are also good areas to consider.
My Favourite Things to do in Barcelona
For me, it's the art and architecture that really give Barcelona it's special and unique identity. Artists like Antoni Gaudí have blessed Barcelona with unforgettable, out of this world buildings that are like nothing you'll see anywhere else in the world. The highlight, of course, is the Sagrada Familia – the most unique, magical and also weirdest church I've ever seen. When its spires are finished, it will be the tallest church building in the world.
There's just so much detail to take in but the most interesting thing for me is that, even though it's been over 140 years, this impressive building is still not completed. So each time I visit it's different! Colourful Park Güell and fascinating Casa Batlló and Casa Milà are more of Gaudi's amazing, iconic Barcelona sights that lure art lovers to the city. There's also many fantastic art museums here.
Another one of my favourite things to do in Barcelona is catching the cable car up to Montjuïc to visit the art museums, Olympic sites, botanical gardens and castle. The Museu Nacional d'Art de Catalunya is one of my favourite spots in the city with its impressive architecture and art collections, magic fountains and amazing views over the city. And don't even get me started on the delicious food and wine! I especially love grazing on 'pintxos', Basque-style tapas/bar snacks, to accompany a crisp, cool glass of white wine or fruity sangria!
I also love cities that you can stroll around at your own pace, soaking up the architecture and vibe. One of my favourite routes is to walk from Plaça de Catalunya down Las Ramblas to the waterfront, watching the street performers.
I take a slight detour to the Mercado de la Boqueria to pick up some fresh bread with tasty cheese, ham and olives for a picnic, before strolling along Barcelona's beachfront boardwalk and relaxing on the beach.
I'm a huge beach lover so if I was to choose a city to live in it would have to be close to a beach. Barcelona fits the bill with it's lovely city beaches and sunny boardwalk.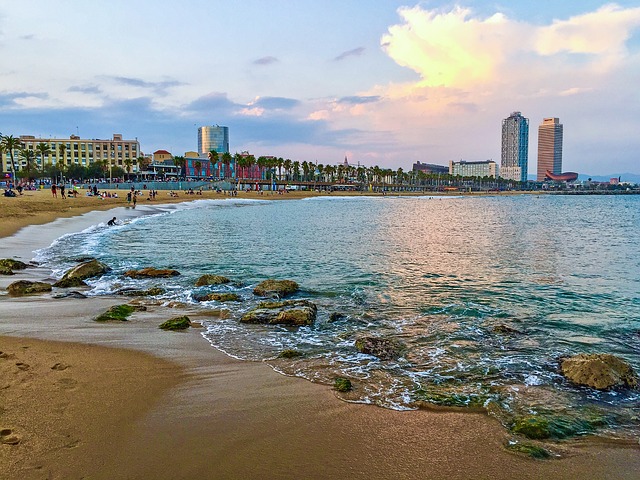 Barcelona really has it all, from unique, world class art and architecture to sunny beaches. It's my go to choice for an amazing European getaway – the only problem is I never want to leave. Unless it's to go to Seville – my other favourite city in Spain! 
Also Read: Our 2021 Epic Spain and Portugal Road Trip – Route, Itinerary and Tips!
Where's your favourite city? Anywhere you've been on your travels that you felt like moving to?
Top Photo Credit: Sunrise at Park Guell by Pajor Pawel and Shutterstock 
Pinterest Photo Credit: Ariel view of Barcelona port by Iakov Filimonov and Shutterstock