How to Rent a House in Goa
Or….. How to Live in Paradise for Less Than £10 a Day ($16)!?
Fed up of cold, grey winters and the daily grind? There is another option and it's totally affordable  … Let me show you how to rent a house in Goa!
Welcome to Goa, India
India, along with other countries in the South East Asia and among the cheapest places to travel in the world and boast tropical beaches, delicious food, friendly people, fascinating and colourful cultures, a low cost of living and year round warm climates. See why I love Goa so much and think its the best place on the planet here. 
If you are fed up of the cold, expensive monotony of winter and want to live in a tropical paradise on the cheap, South Asia is where you want to be – where it is possible to live in paradise for less than £10 a day (or about $16)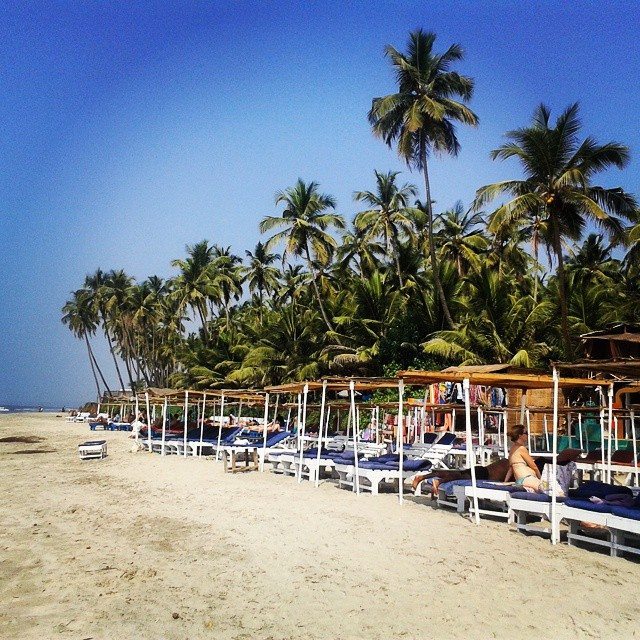 I want to debunk the common misconception that travel is expensive, in Goa it's not difficult to lead a comfortable life style in a beach paradise for only £10 ($16) a day and many Westerners return year after the year and stay for a whole 6 month season or more.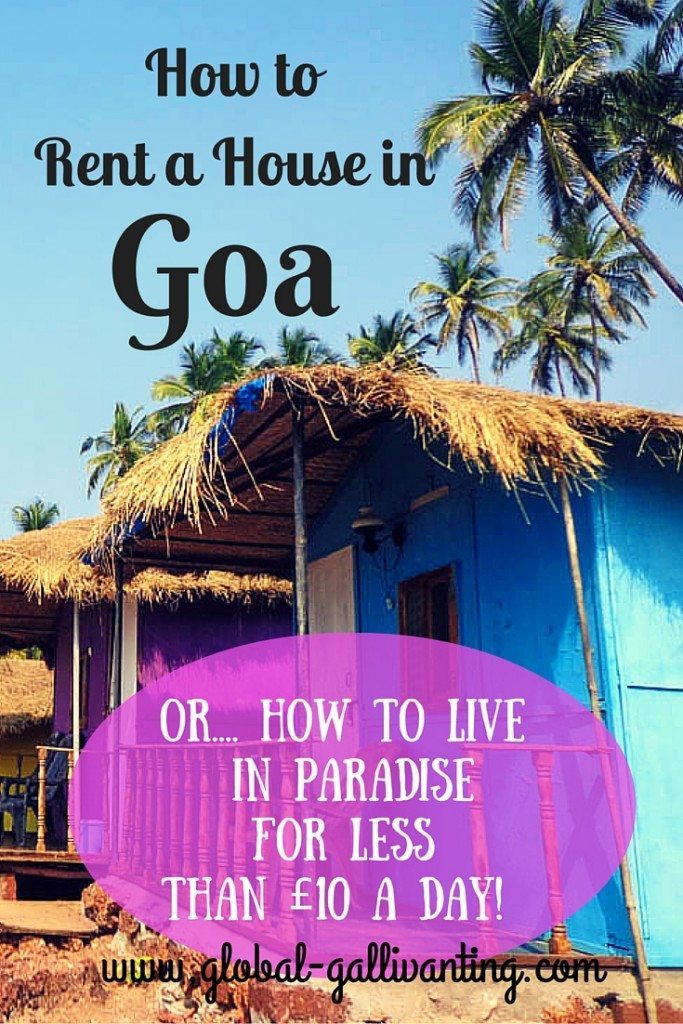 Living in Goa
I've rented a cute little house in Goa and I love living in Goa. Every day I wake up feeling so so lucky to be here in the warm sunshine, to have the luxury of freedom and time to just relax or pursue my passions and honestly, it really doesn't cost the earth! There's really nowhere else like Goa – here's why I think Goa is the best place on the planet.
So, I'm going to break down my costs of living (in Indian Rupees (INR) and show you how you can find a little place in Goa too.
First Step – Get to Goa!
The first step is to save up some money, negotiate as much time off as possible, or even better work remotely online, take a sabbatical, or quit all together!
Apply for a 6 or 12 month Indian Tourist Visa (here's my step by step guide to help you) , make that decision, take the leap of faith and book a flight to India – and that's the hardest part done! (In season there are direct flights from the UK with Thomson and Thomas Cook. You can find flights to India for the UK for less than £400 return outside of peak season, I always use Skyscanner to search for the best deals and get the best price by being flexible with dates and using the whole month search to find the cheapest days to fly.)
Finding a House to Rent in Goa
Do a little research on where you think you would like to be based or take a few days to explore Goa, each beach and community has a different vibe, from package holiday hordes in Baga and Calangute to happy and hippy Anjuna/Vagator and Arambol to beach hut bliss in the every popular Palolem to the wide, laid back, Russian dominated sands of Mandrem and Morjim.
Because all the beaches are different, the best beach for you will depend on what you are looking for, so to help you I put together this guide on the best beaches in Goa.  and a post on my favourite hotels and places to stay in Goa and you may also find my Budget Guide to Goa helpful too.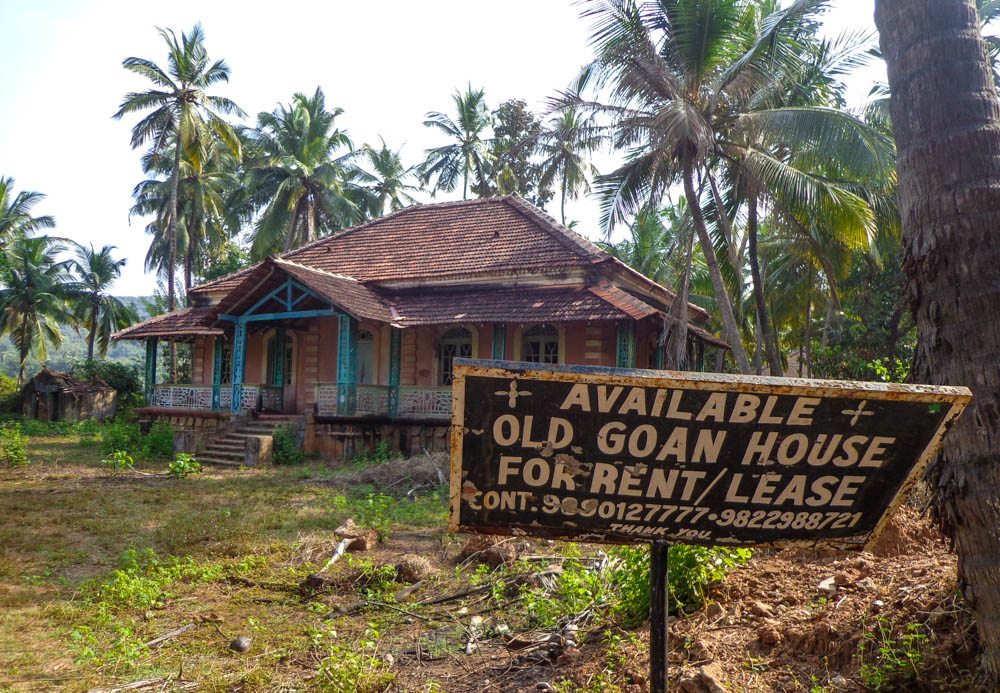 The best time to come and have the best pick of accommodation is when the dry season and tourist season is just starting up in November.
It's best to get to Goa to start your house hunt as the cheap places are not listed online, only the over priced villas for tourists who don't know any better.
If you do want to book online Air BnB and Flipkey have got quite a few nice options in Goa which might be ideal if you are just coming for a short time and want to have all the comforts of a house but don't have the time to search out a longer rental. If you want to check out Air BnB click this link to get $25 off your first booking! 
If you want to stay in Arambol there are some apartments listed on this site. You could also check out OLX and there are also several groups on Facebook for renting houses.  However, you could get a much better deal if renting for a month or more by coming an negotiating off line and with anything in India it's always best to check the place out for yourself before parting with any money.
Once you arrive find a cheap guest house for a couple of days and hire a bike to scout out the area. Ask around to find a cheap guesthouse or if you want to book in advance Booking.com has the cheapest rates. Once you find an area that you like look for the little 'house to rent' signs and ask around in the shops and restaurants and check out a couple of places before you make any commitments. If you work online or need the internet it can be hard to find somewhere with a decent connection in Goa – read this first about the difficulties of being a digital nomad in Goa.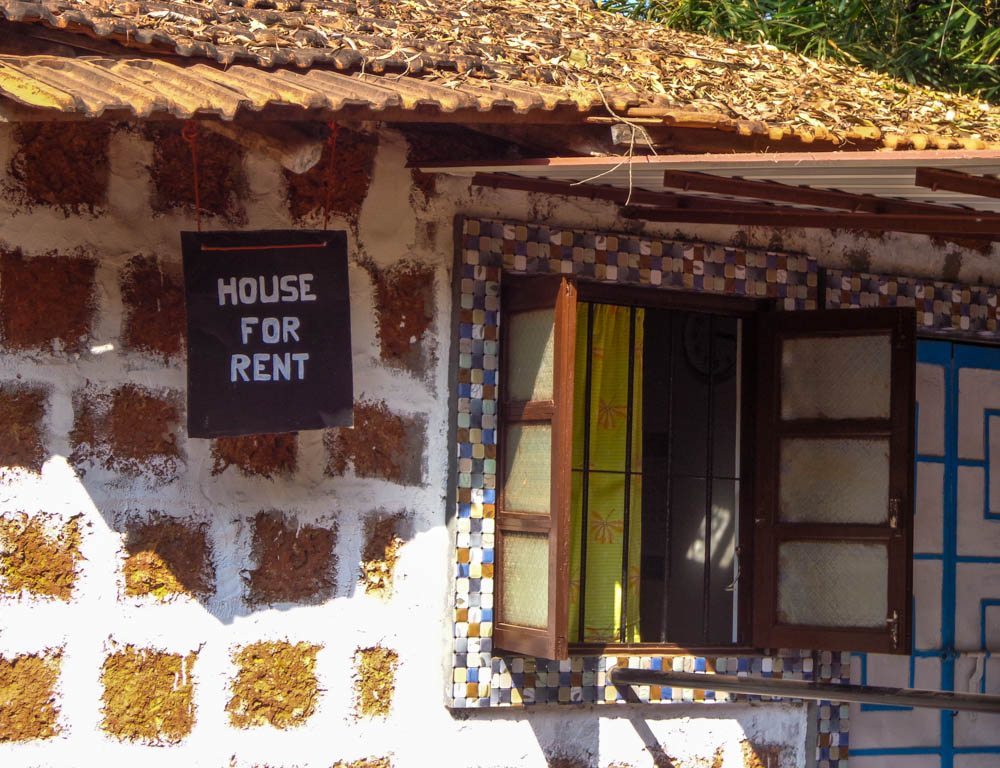 Usually you can find a short term, casual, verbal arrangements – no contracts to sign, just check the place out, give a copy of your passport and fill out a registration form like you would do when checking into a hotel in India and pay the agreed price a month up front. I've never paid extra for bills either, they are included in the rent, but each landlord might have slightly different 'rules'. Its very hard for foreigners to legally buy property in India so I'm not even going to go into that.
Cost of Accommodation in Goa
A basic private room in a guest house with an attached (probably cold water only) bathroom only a few minutes walk from the beach should cost about 500 INR per day and you could negotiate a lower rate if staying more longer term. You should be able to get a small, basically furnished, 1 bedroom house for between 10,000 and 20,000 INR a month.
Like this? Pin Me! 🙂

Getting Around Goa
Once you've found the perfect little place to hang your sarong for a few months you'll probably want to get out and explore – the captivating Indian culture is what makes me return to Goa rather than the beaches of Thailand or elsewhere but you need to get off the beach and explore the palm tree hinterland to find it so your going to need some wheels. Indian roads can be a little tricky at first but remember might is right (meaning the biggest vehicle has the right of way) expect the unexpected and use your horn (a lot!) and you will soon see a method in the madness. For more tips read my tips on how to survive riding a motorbike in India.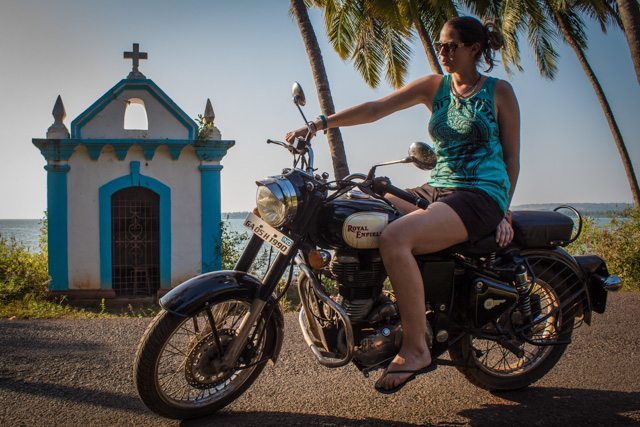 It's really easy to rent a scooter, motorbike or even an iconic Royal Enfield in Goa, its about 250 – 300 Rs a day or 4,000 – 5,000 a month for a scooter if you are taking it more long term. Enfields are about 500 Rs a day or 15,000 a month. Again it's usually a casual affair with no paper work or contracts to sign. It's best to have an international driving license though to avoid fines from the police who sit on the bridge to the capital, Panjim just waiting to pull over tourists.
Renting a car is also possible (usually comes with a driver). The longer you rent a scooter the cheaper it will be and petrol is pretty cheap too, its best to buy it in the petrol station but you can find it sold in bottles by the side of the road all over. The first time you buy petrol from a little shack in a plastic bottle is a weird experience but it's great that you are never far away from some juice!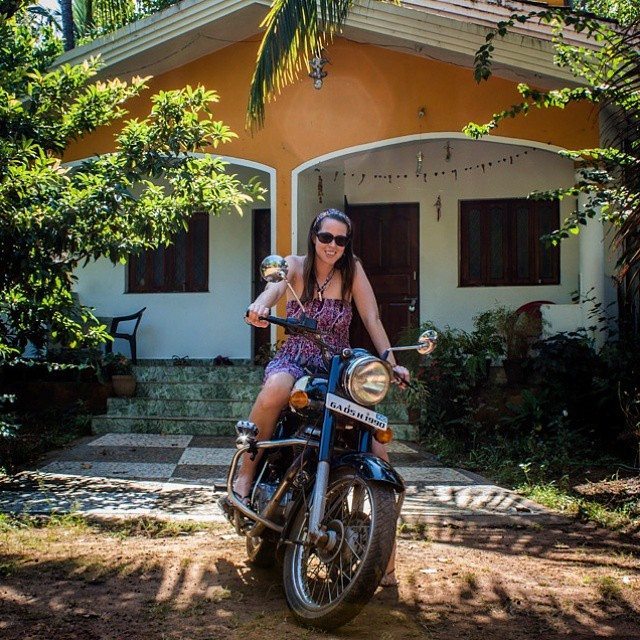 If you're not comfortable with riding a scooter consider a bicycle, or the local bus is only 15 INR for a half an hour ride from the beach into the nearest town or taxis can be 100 for a short trip or 2,000 INR for a whole day hire if you wanted to go sightseeing all around Goa.
Cost of Transport
You should be able to find a little scooter for 5,000 INR per month, but a motorbike or Royal Enfield will cost more. 200 INR will fill up the tank and I find that is enough to keep me buzzing from beach to beach and into town for about a week. The daily rental for a scooter is about 300 INR
Eating and Drinking
So you've settled down in a little corner of Goa to call your own, your tans coming on nicely, there is sand beneath your toes and salt water in your hair. You've started to get to know the area well and already got a couple of favourite restaurants and hangouts. For inspiration see my favourite restaurants around Anjuna.
Luckily being on a budget in Goa doesn't mean self catering.
If you are missing comfort food from home there are expat supermarkets with imported food galore for a taste of home, albeit at a price. If you want to save money shop at the local markets or stalls and avoid the imported food – I mean what the point in paying 370 INR for tinned tomatoes imported all the way from Australia when it's actually cheaper to just eat out. Indian food is sooooo full of flavour and most touristy restaurants will tone down the spice if you ask! 
If you buy food made in India and shop where the locals shop then grocery costs are very reasonable – I go to a fruit stall and buy a huge bag of fruits and vegetables for 100 INR.  A packet of Indian made tomato pasta sauce is only 35 INR instead of 350 INR for a jar imported from the US – you don't need to be a mathematician to work that one out and if you learn to cook Indian food and simple curries then your costs will be a lot less than eating imported Western brands.
I usually make breakfast and home and then eat a big lunch or dinner in a restaurant in the village or often on the beach. From delicious curries, to Chinese, Italian, Isreali, Japanese and Western favourites and fresh seafood the hardest part is choosing what to have.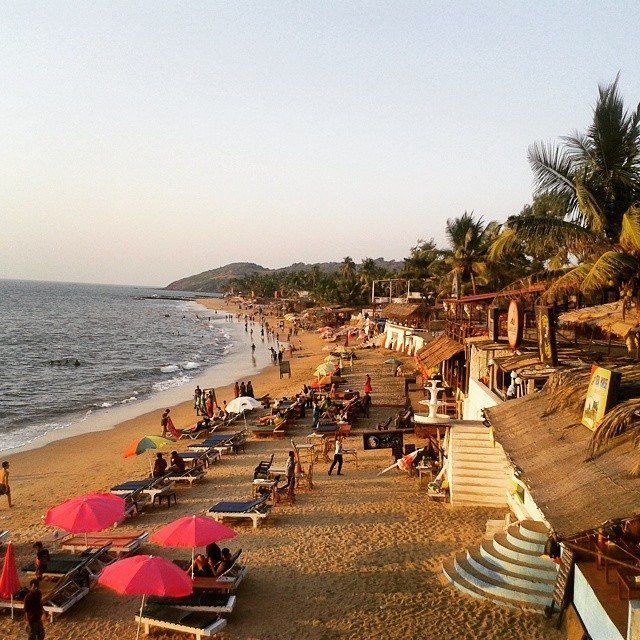 You can't drink the tap water here in Goa but you can buy 5 liters of filtered water for 60 INR and soft drinks are very cheap. Alcohol is more freely available than the rest of India but drinking is where you can blow your budget despite Goa being subject to cheaper alcohol taxes than other states in India. Obviously drinks in fancy bars and restaurants are more expensive and buying drinks from the shop is considerably less. Many nightclubs charge a cover charge, Club Cubana near Baga in Arpora charges 1,800 INR per couple but then it's a free bar for the night. Check out my top 10 parties and nightclubs in Goa.
Cost of Food in Goa
Groceries – On average we spend about 2000 INR a week at the local shop on groceries
Restaurants – We eat out at least once a day, sometimes twice. A dish in a restaurant on the beach usually costs about 100 – 300 INR
 Cost of Drinking in Goa
Bars – A beer in a beach shack at sunset will cost about 150 INR or splash out and get a cocktail for around 300 INR
Shops – To save money buy some beers from the shop costs about 60 INR and a bottle of Indian wine can be found for 300 INR
Shopping in Goa
You will need to learn the art of haggling to get a bargain at on of the many markets in Goa, Anjuna has the famous flea market on Wednesdays, visit the Saturday Night markets complete with food stalls and live music or get a more authentic experience at the local markets and getting clothes tailor made is really cheap here too. The beach resorts sell the usually touristy stuff but for everything else you would need a town like Mapusa, Margao or the state capital, Panaji (Panjim) is not too far away in tiny Goa and everywhere is connected by cheap buses. See more about the best markets in Goa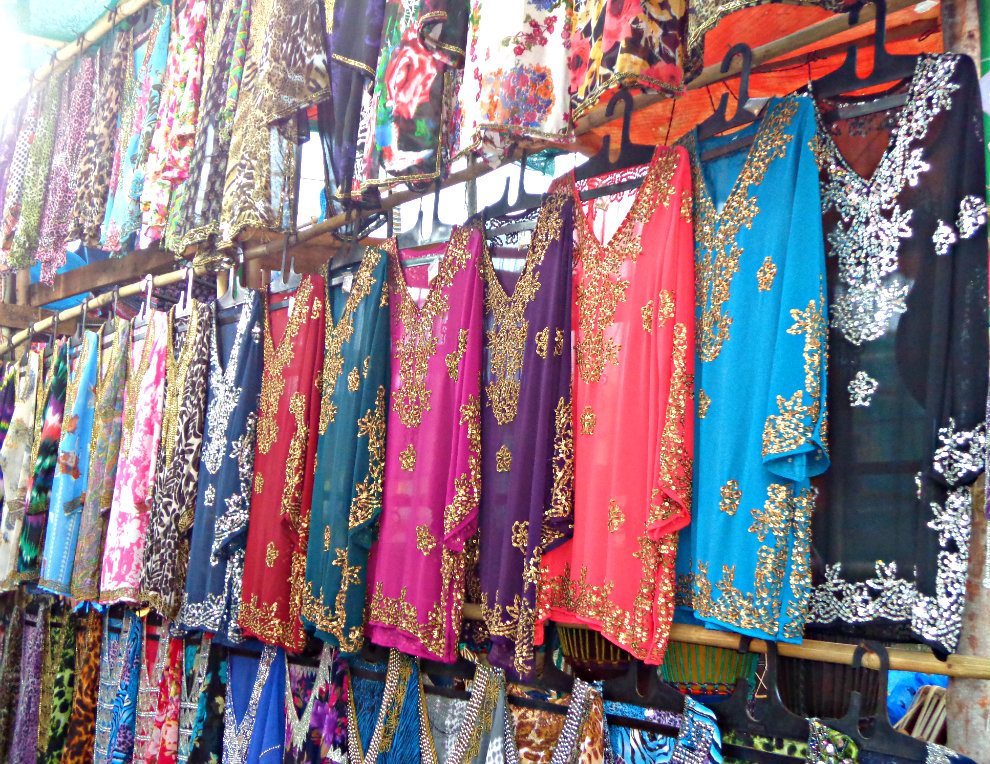 Cost of Shopping in Goa
The skies the limit here as, especially at the touristy markets it really depends how hard you haggle! A decent price for a cheap t shirt or sarong from the market is about 150 – 250 INR
Activities Off the Beach.
After the novelty of being on the beach everyday wears off there is plenty of culture to explore in Goa and activities to pursue off the beach. Goa is a popular destination for yoga and some famous schools are based here – just participate in a drop in class when it takes your fancy or commit to a longer course of practice or study to become a certified yoga teacher. Meditation, Ayurveda, Reiki. massage, Pilates, Bollywood Dance, Tai Chi, Tantra and so much are available in Goa. Or, if you cant get enough of Indian food then take a cooking class and learn to make it yourself (and save money on eating out!)See more things to do off the beach in Goa here.
Yoga is super popular in Goa, come on a retreat or even train to be a yoga teacher
Or learn more about the multi layered history of India's smallest state and see the Portuguese influence in one of the old forts or in the churches of Old Goa or for a bit more hustle and bustle explore the streets of the state capital Panjim or just explore the countryside, you can swim in India's 2nd highest waterfall, explore quaint villages or enjoy the nature in one of Goa's wildlife sanctuaries.
 Cost of Activities in Goa
Yoga Classes – 500 INR per class (But these are famous Western run establishments and I'm sure you could find for less)
Day Sightseeing Tour – 225 INR with GTDC
Mandovi River Cruise – 300 INR
Haggle, Haggle, Haggle!
As with everything in India, the price is always negotiable! The cost of a visit to Goa will also depend on your haggling skills – it's become 2nd nature to haggle over the cost of most things; the motorbike, taxis, the apartment, buying clothes and souvenirs at the markets. Sometimes people will even try and rip off and over charge a tourist at a fruit stall. If you don't haggle in India you will often pay more than double the price for many things which really eats up your budget.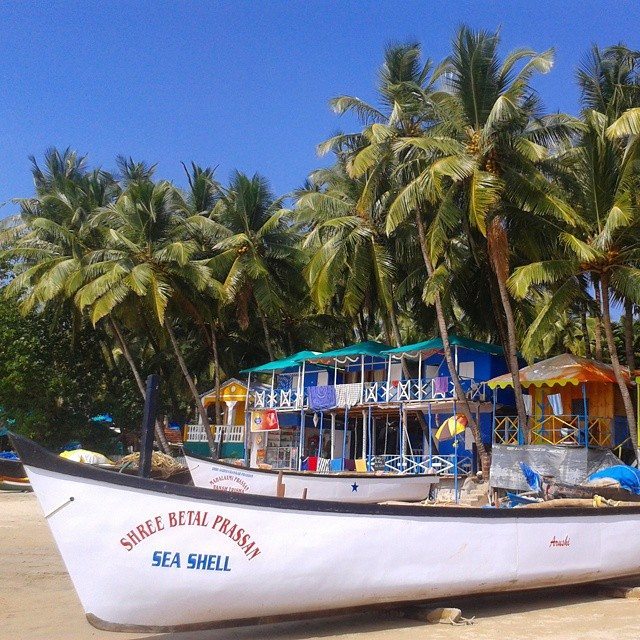 So how does this equate to just £10 ($16) a day…
So how do you actually live in paradise for less than £10 a Day? Most days we spend approximately 1,000 INR each that's only about £10 ($16). Some days we spend a little more than 1000 INR and some days we stay in and spend a lot less – it evens it out in the end. As I share the apartment many of our costs are divided between two people. I'm not a big shopper or party animal either and as we have the bike we don't need to take taxis or expensive tours.
Here is a quick run down of our monthly and daily costs in Rupees in Goa
Cost of Living In Goa

 

 

 

 

Total Monthly Cost for 2 people

Cost per person, per day

Rent (Small 1 bedroom house 3km from the beach)

Rs.17,000.00

Rs.283

Eating Out (1 or 2 times per day)

Rs.18,000.00

Rs.300

Bike (Yamaha Motorbike)

Rs.5,000.00

Rs.83

Petrol

Rs.1,000.00

Rs.17

Groceries (Try to avoid imported foods)

Rs.8,000.00

Rs.133

Drinking

Rs.3,200.00

Rs.53

Phone (Local Sim with calls, texts & internet)

Rs.800.00

Rs.13

Shopping

Rs.2,000.00

Rs.33

Other Activities (yoga, dance & cooking classes, day tours etc)

Rs.4,000.00

Rs.67

 

 

 

Total Costs

Rs.59,000.00

Rs.983

 

 

 
So, I'm spending less than 1000 INR  a day that's less than 10 or $16!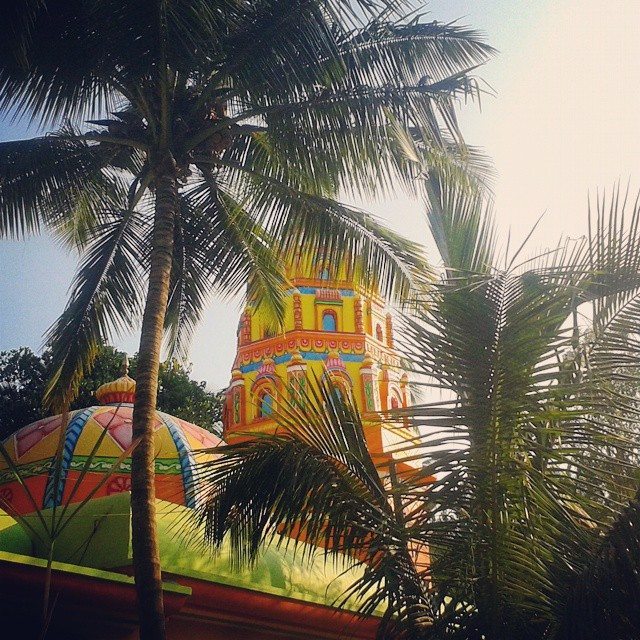 You could live here for less, you could get a smaller, scruffier house, or even just a room in a family home. You could eat out less or eat more street food, don't drink alcohol and do less activities. But you could also pay a lot more for a villa with a pool and spend heaps on imported food and drink, go out to expensive night clubs, take taxis and expensive tours and get over charged while shopping at the markets.
The cost of the apartment would differ depending on when you come (peak season or not) and how long you plan to stay for. The best time to come is early season around November, if you commit to 6 months and pay upfront then you can negotiated the price down even more. The prices I've listed here are for the peak season, (November – March) it would be a lot less if you came outside the peak season,and some long stayers swear this is the best time to be in Goa without the crowds, but it could also be unbearably hot in April and May or wet during monsoon (June  – September) and many tourism establishments close down over the low season.
OK, So what if you don't have 6 months to spare …
But hang on, I can't just quit my job, sell my house and travel indefinitely. OK, so if you don't have enough time to come and rent a house in Goa, you can still enjoy a little slice of paradise for just 1 or 2 weeks without breaking the bank. The flights will be the biggest cost, but after you've got here it will only cost a little more to enjoy a 2 week budget holiday in Goa.
Basic bamboo beach huts or guest houses (private rooms with an attached, usually cold water only, bathroom) 5 mins walk from the beach go for around 500 INR a day
Rent a bike for 300 INR a day, petrol is 80 INR a liter
Taxis are about 150 INR for a short trip or hire a car and driver for 2000 INR for a whole day sightseeing
You can find a breakfast in a beach shack restaurant for about 150 INR
Spend the day on the beach, relax on a sun lounger and swimming in the ocean, just spend some money on food and drinks (100 – 300 INR a dish from 30 INR for a soft drink)
Dinner and a cocktails in a nice restaurant 500 INR
Drop in Yoga class 500 INR
So it's still possible to holiday here for less than £20 or $30 a day,  even without worrying about counting every penny. Plus India recently introduced a 30 day visa on arrival, which saves you time, money and hassle if you don't need a 6 month visa.
Where Next?
If India is not your style then there's plenty of other options for cheap tropical living. From Thailand, Cambodia, Bali or the Philippines in South East Asia to Mexico, Guatemala, Nicaragua or Bolivia  for a taste of Latin America or try Morocco or Mozambique all for relatively very little money. Either work online as a digital nomad or save up and you don't need to limit your self to a 2 week holiday to escape the stresses of daily life and gloomy winter weather.
For more inspiration see:
How to Prepare for a Trip to India
How to Apply for an Indian Visa
Backpacking India: How much does it cost
Tips for Women Traveling in India
The Pros and Cons of Visiting Goa in Monsoon
Also see:
Our lovely little house in Goa by Further Bound
A do-it-yourself writing retreat, or how to live on a beach in India for $314 a month by Candace Rose Rardon
Hippie in Heels is a great blog from Goa expat Rachel. Check out her super useful and detailed post about How to Rent a House in Goa. 
10 Tropical islands and beach towns for digital nomads by DIY Genius
And the awesome Nomad List – the best places to live and work remotely. which even tells you what internet speed to expect (if you work online Goa is not the best place for digital nomads as the internet sucks. )